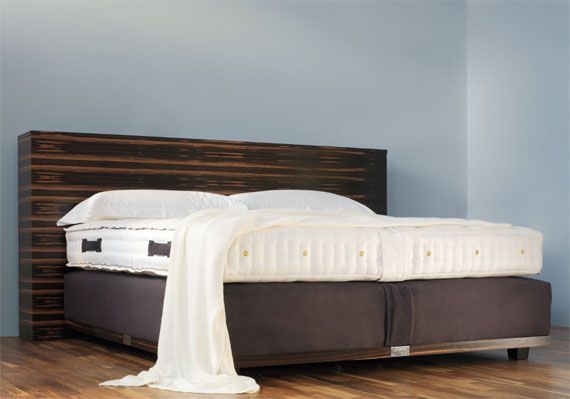 Photo Courtesy of Savoir Beds
Have you ever wondered what royalty, or even Hollywood royalty, sleeps on? What soft materials go into the fluffy clouds that they rest their heads on? Apparently the answer is Savoir Beds, an elite bed company dating back over a century.
In 1905, Savoir Beds began making super comfortable beds in a factory in the United Kingdom. Each product is entirely made by hand, including hand-crafting and stitching the box springs, mattresses and frames out of the finest materials, like tufts of hand-laid loose horse tail. Sixty hours of work goes into producing a king size bed and the artistry will be obvious as soon as you lay down.
The elite
Savoy Hotel
, who wanted to provide guests with an unparalleled night's sleep, took over the Savoir bed company in the 1930s. The beds were then made exclusively for the Savoy Hotel's visitors until 1997 when the company regained their autonomy and began producing for the general public. Savoir beds are now available in major cities around the world, including Berlin, Shanghai, New Delhi, Paris and the most recently in New York (SoHo).
These cozy beds range from $8,000-$55,000. Each is tailor made to accommodate variations in the height, weight and style of the individual customer. Each one is inscribed with the customer's name to ensure that the bespoke beds are completely personalized.
Fans of the super luxe beds include Liza Minnelli, King Hassan of Morocco and Princess Yasmin Aga Khan owns over eight of them. According to actress Emma Thompson, the Savoir bed is responsible for curing her insomnia. Visit
SavoirBeds.com
to learn more.