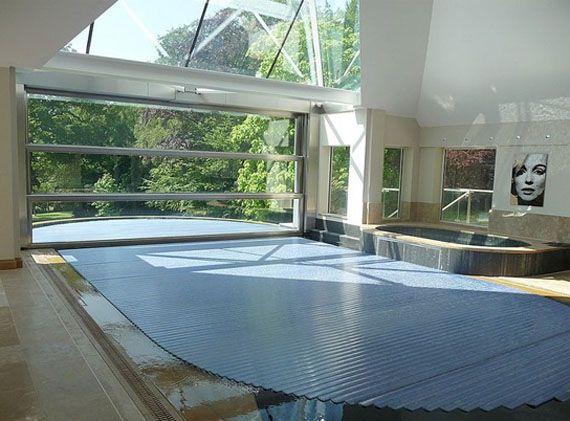 Photo Courtesy of Hydrofloors
Are you building your
dream house
and trying to decide between an indoor or outdoor pool? Maybe you like to swim laps but your kids want to play; or perhaps you want an indoor pool but don't want to compromise the space in your home. Hydrofloors® offers an array of beautiful systems that close, divide and cover your swimming area to solve any pool predicament.
Belgium-based Hydrofloors designs custom solutions for pools in Europe and beyond. Using top quality manufactured technological systems and having a strong focus on attention to detail and customer satisfaction, Hydrofloors offers moveable floors, covered hatches and submersible booms to create elegant luxury pools.
Hydrofloors vertically movable floors can transform your pool into any depth or completely close the pool, allowing you to use the surface area for other activities, such as additional entertainment space. You can also raise the water level of the pool to shallow depths, perfect for creating wading pools for children or those with special needs.
The Submersible Boom feature allows you to divide and partition the pool. This option is great for indoor/outdoor pools as well as offering separate compartments for those with different needs; perhaps a deeper side for more advanced swimmers and a shallower side for other activities. An automatic raised "boom" makes for an easy and fast transformation.
To cover the pool, a motorized hatch is actually concealed within the floor of the pool, so there is no unsightly cover lurking about. At the touch of a button, the hatch raises and unfolds to completely cover and conceal the pool's surface, thereby helping to reduce heating costs.
Hydrofloors manufactures and designs all of their products, making them experts in the field and creating practical and aesthetically pleasing solutions for pool owners around the world. Find them at
Hydrofloors.be
.