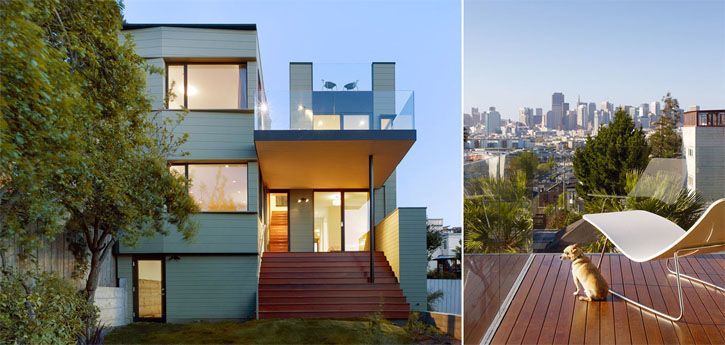 Photo Courtesy of Schwartz Architecture
Susan Chastain, though a professor of
architecture
herself at California College of the Arts, surrendered her 1920's, Marina-style home in Potrero Hill to the talents of Neal Schwartz and architects of the San Francisco Schwartz and Architecture firm. The project was a challenge for Schwartz, who had to work with the home's many different levels. Schwartz's goal was to find a way to bring the space together while minimizing a sense of disconnection between rooms. In a quote from the
San Francisco Chronicle
about the 2008 renovation, Chastain said, "Staircases don't just exist to get you up and down."
"Psychologically," Chastain explained, "they're also the places you understand that there are more spaces to explore. This sense of discovery makes the house seem larger than it is." Chastain also has a large collection of
art
work, which helped Schwartz to being cultivating the redesign of the home, taking subtle direction from the play of light and menagerie of color and form in Chastain's art pieces. Schwartz built an outdoor corridor that helped to separate the kitchen from the master bedroom while simultaneously connecting the kitchen balcony with an upper level deck.
A second passageway leads to the guest bedroom and a rooftop garden. The outdoor stairways help to merge the interior and exterior spaces, maximizing the home's living areas and taking advantage of the San Francisco skyline. Schwartz said, "The dramatic views of the city from the site, which is open on three sides, contribute their fare share to the project's success. Here, we worked specifically to 'curate' the natural light — using it to draw people up and through the space, to focus attention on the collection of art objects, and to propel them back out to panoramic views of the city beyond."
Schwartz also said, "As in all of our work, we were strategic in the use of resources, maintaining the original character of the front of the home, while subtly coaxing more character out of materials, such as simple exterior siding, at the rear."
To see more of Schwartz and Architecture projects visit
SchwartzArchitecture.com
.