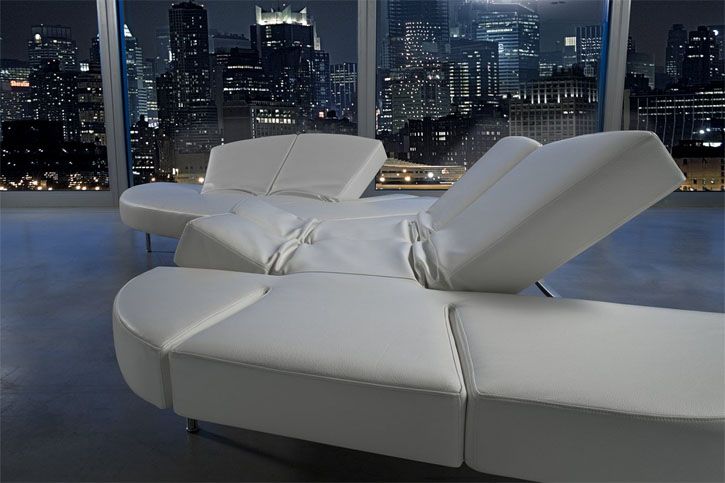 Photo Courtesy of Edra
By definition a couch is: "a piece of furniture for seating from two to four people, typically in the form of a bench with a back, sometimes having an armrest at one or each end, and partly or wholly upholstered and often fitted with springs, tailored cushions, skirts, etc." But in the hands of a clever designer, a sofa can really push those boundaries into much more.
Although couches are found in nearly every modern living space, rarely are any two exactly alike. And with designers continually upping the creativity ante, couches are able to be anything from comfortable to stately works of art. Unless your home happens to be a centuries old French chateau, the Versailles Sofa in the new Limited Edition Collection by
Boca do Lobo Design Studio
is likely too over the top for everyday life. But it does borrow a lot of the detail and decadence from the 17th century it is inspired by. ($22,800)
At the opposite end of the style spectrum is the uber modern, like the Orikami Sofa from designer
Karim Rashid
. Highlighting Rashid's signature focus on geometics and shape, the leather sofa is completely asymmetrical and looks better suited for the fantastic Iron Man beach house than the real world. With hat said, white leather has never looked more luxe than stretched across the seemingly impossibly long white surface of this elegant couch. ($8,160)
South Africa's design company,
Haldane Martin
, has very contemporary couches that pay tribute to traditional African designs and utilize the natural resources of the area. Eco-friendly and contemporary, the company utilizes both green materials and manufacturing processes whenever possible for designs that capture the attention and the imagination.
If you have a sense of the macabre, or just a goth vibe, then you're going to need one of these
Coffin Couches
. Made in LA, the line has Dodger blue coffin couches and Lakers couches for fans that would rather die than see their team lose. (Base price: $3,500)
Squint Limited
's quilted couches manage to be more crafty than clever, with bold designs and bright colors. Designer Lisa Whatmough combined her passion for textiles with her British design sensibility to create rich home goods that are a perfect blend of fashion and the decorative arts.
Edra
Flap Sofa is a creative and luxurious take on Lazy-Boy style recliner couches. Adjustable backs and Swarvoski crystals mean this flexible sofa might actually make it into a home because it could be as comfortable as it is functional. ($22,719)