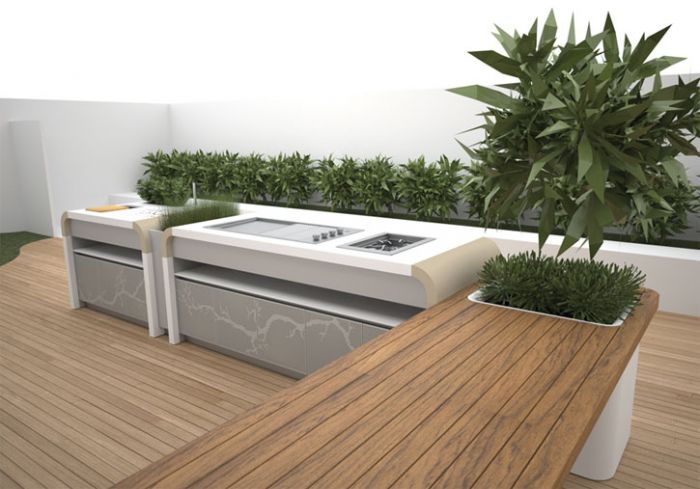 Photo Courtesy of Electrolux
Your backyard, whether it big or small, holds many possibilities for its use — relaxing, hosting parties, gardening and more. The Outdoor Kitchen from Electrolux helps you combine all of these functions so you can utilize and enjoy it even more. It is the result of a design collaboration with landscape designer Jamie Durie, which seamlessly blends a modern aesthetic with the natural beauty of the environment for the perfect place to gather friends and family.
"Australia has had a long standing love affair with outdoor entertaining, so it was important to redefine that space in respect to modern demands when designing The Outdoor Kitchen. We wanted something that would stylistically push the parameters of outdoor design and alfresco luxury whilst still keeping in harmony with garden elements," says Jamie. The Outdoor Kitchen is designed to compliment the contemporary outdoor entertaining area. It includes the Electrolux Integrated Barbecue and the new Electrolux Integrated Burner, additions to the Electrolux outdoor entertaining portfolio.
These Electrolux outdoor kitchen appliances aren't designed to be the focal point of your yard, however (although they probably will be). Instead, they are custom-designed to be added to your garden and organically evolve the outdoor entertaining area. To this end, the new pieces are sustainable and eco-friendly to incorporate the green nature of the great outdoors.
"The Outdoor Kitchen is an engineered green entertaining area, designed to meet contemporary life, it is not just a piece of furniture or a utilitarian space, it's an outdoor area designed to draw people out of their houses and into their gardens, where they seem to want to spend their leisure time these days," says Jamie. With an Electrolux Outdoor Kitchen, the backyard has never been more luxurious and welcoming. Visit
Electrolux.com
to learn more.