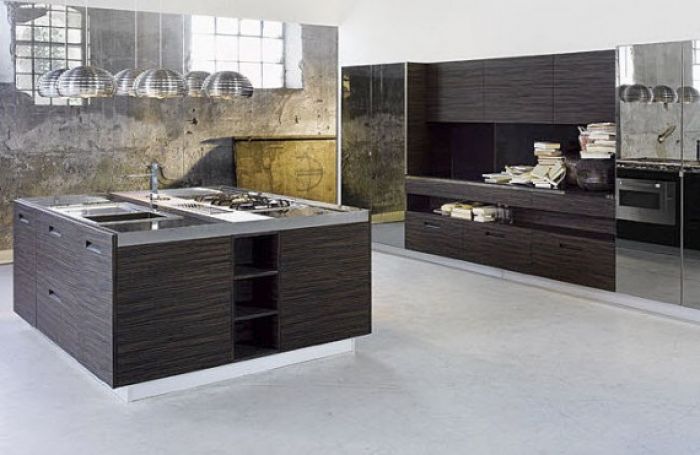 Photo Courtesy of Tinsettanta
The Brera Kitchen by Tisettanta design is simultaneously industrial and rustic in it's design aesthetic, using wood elements in a compact space. At first glance, the Brera Kitchen appears nearly minimalistic, with flat walls concealing the inner workings. But a closer look reveals that the flat walls and sides are actually cleverly concealed cabinetry, designed to keep all the necessary tools of a well-equipped kitchen close at hand.
According to Tisettanta, "This kitchen is given character by the integrated handle, a distinctive element for doors and drawers surfaces. The new incorporated top creates an exclusive design of strong impact, making it an integral part through to the living area. The ample selection of materials allows to obtaining numerous original solutions and creating new ambiences."
Combining rough and polished textures, Tisettanta's Brera design is one of the "kitchen systems" that has made Tisettanta so popular the world over. Although sleek and industrial, the combination of materials makes kitchens like the Brera able to fit into nearly any style home, from traditional Victorian to contemporary styles.
Roomy drawers with easy to pull handles and wooden veneers make the Brera kitchen practical for families because there are plenty of ways to conceal the culinary bric-a-brac that can take up valuable countertop real estate. When combined with the steely countertops, the wooden veneers suddenly become sleek rather than stale. Tisettanta showrooms can be found in Italy and London, with new designs constantly becoming available. Visit
Tisettanta.com
to learn more.