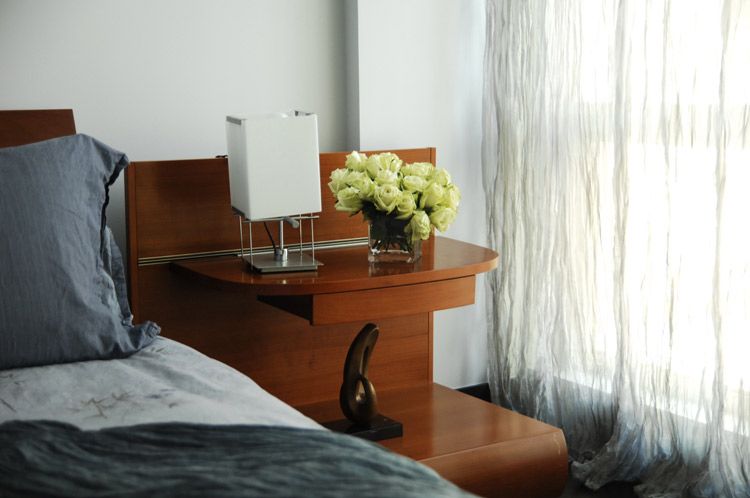 Photo Courtesy of Agus Interiors
Luxury designer
Jennifer Agus of Agus Interiors makes it her mission to capture the individual spirit of the home owner when envisioning a creative template for her clients. Jennifer specializes in residential and vacation homes throughout New York City, Long Island, New Jersey, The Hamptons, and Connecticut. When beginning a project, Jennifer begins constructing templates using a collection of pictures, color swatches, and fabrics from both the client and her own extensive knowledge of design.
Warmth is one of the most important things Jennifer seeks to infuse a home with. A space should be as functional as it is beautiful and finding a bridge between the two can be challenging. In Agus Interior's Lexington Avenue project Jennifer took inspiration from the fabric of the owner's favorite skirt and a picture of a beautifully textured concrete wall. Having worked with the Lexington Avenue clients before, Jennifer knew that a modern aesthetic was an important goal.
A silk rug from Fort Street furniture, as well as furnishings by Minotti brought both the client and Jennifer's vision into fruition. The children's bedrooms were each tailored to their individual interests including a blue and white palette for a daughter who loves the Yankees, tailored saville drapes and monogrammed hangers for a fashion-forward son, and a personalized display for the youngest's international snow globe collection.
Jennifer outfitted the master bedroom with
luxurious home furnishings
, including a Duxiana bed and headboard. She also incorporated the soft hues of gray and purple found throughout the rest of the house. She transformed the office space into a music room and an area to display treasured family photographs. Jennifer is a member of the American Society of Interior Designers. Her work has been featured in the
The New York Times
,
Elle Décor
, and
Decorating Space
.
To learn more about Agus Interiors visit
AgusInteriors.com
.