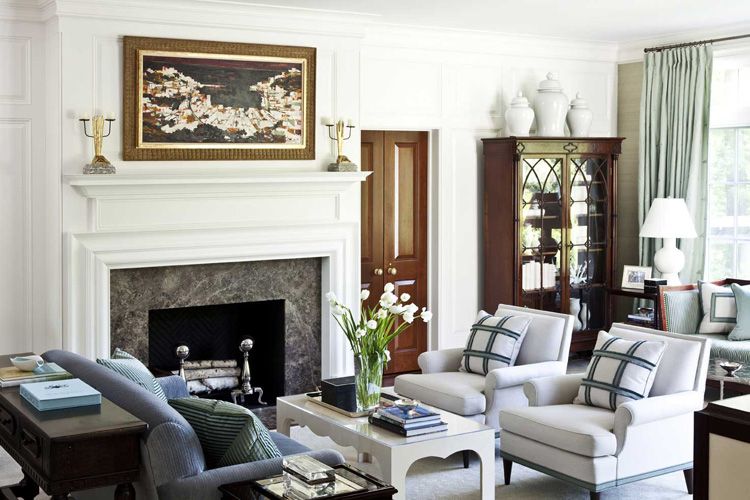 Photo Courtesy of Roughan Interior Design
Christina Sullivan Roughan is the talent behind Roughan Interior Design, a firm that puts the clients' needs first and is a favorite among design magazines, such as
Interior Design
and
Elle Décor
. The firm focuses on delivering warm, sophisticated interiors that will remain effortlessly timeless through the decades. The
luxury homes
are meant to look stylish but also uphold a comfortable lived-in quality that isn't intimidating or rigid. The design company has designed for a variety of clients in many different areas, from a luxury townhouse in London to personal luxury yachts to country estates.
Based in Greenwich, CT, Roughan Interior Design takes their time to make sure every aspect of the design is useful, while retaining a level of elegance. The blending of modern and traditional styles are enhanced by the firm's selection of unique antiques and contemporary
home furnishings
. "Each client has different design needs, desires, and budgets that pertain to their lifestyle, it is my job to extract that information and with that create a beautifully tailored space they love," says Roughan.
Having grown up in Massachusetts, as a child Roughan used to spend hours rearranging the furniture in her parents' house and eventually began working in retail boutiques and antique shops. However, when she was finally accepted to work as an intern in creative services at Ralph Lauren, she saw her passion coming to fruition. She stayed with Ralph Lauren for 10 years, as well as being recruited by Tommy Hilfiger to take over as Visual Director of Store Design, before she decided to spread her design talents under the helm of her own firm.
For more information visit
RoughanInteriors.com