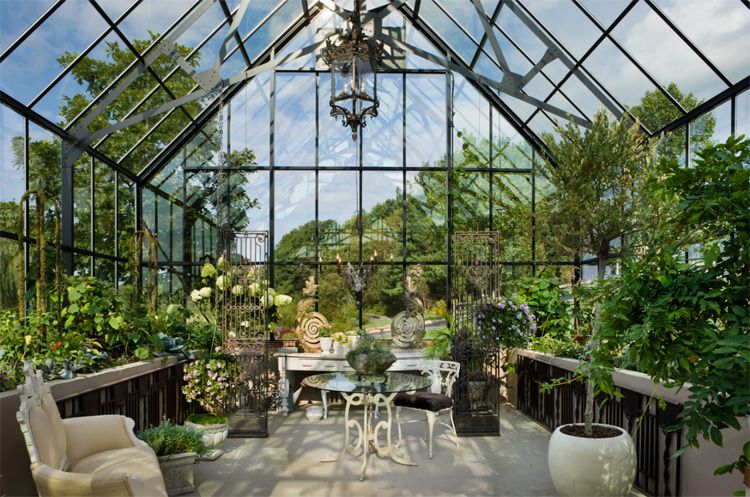 Photo Courtesy of The Farm
Many people think about urban sprawl when they think of
luxury living
, private cars cruising through city streets while a Chihuahua hangs out the window. Or maybe an island resort comes to mind, with sunbathing and fine dining. While all of that is certainly nice, it will be hard to beat the peace of mind that would come with living at The Farm, a 150-acre property in Western Pennsylvania that has had every design aspect, be it the layout of a kitchen or the furnishing in the green house, impeccably tailored by a team of caring professionals.
Esther Dormer, with the help from her team (including interior/exterior designer Lisa Dagnal and organic specialist Darrell Frey) spent over a decade with this property, which was apparently once littered with old car tires, trash, muddy soil, and dead plant-life. lltitle=Revitalized Pennsylvanian Farm Land### llcontent=A talented design team is behind the complete transformation of 150-acres of sprawling land in Pennsylvania. Once littered with garbage, this land is now thriving will lush greenery and thoughtful structures.
The land was restored with the help of permaculturists, and a pond was put in to help bring the property a more serene and natural feel. The various buildings that make up The Farm (including the guest house, barn with full horse stables, and greenhouse) were specifically placed based on the various positions of the sun and soil conditions. Even the surrounding forestry was given loving care as walking paths and water elements were brought in to support the revitalization of nature.
A lot of environmentally conscious planning went into the property's landscaping. The ponds help to keep the area lush and green, while the orchards bring organic food to the kitchen table. There's even an herb garden for all your tea and cooking needs.
Dormer has had an expansive career, including a jewelry store and part-owner of a high-tech company, and is most recently partner in The Future Fund, a small investment company. With her team, she seemed to have thought of everything and created structures and décor that made sense with the countryside landscape, like having a tool shed and an open-style barn for entertaining. There's uniquely crafted fireplaces outside on the rolling lawn, which look like open flames beneath wired cages, and many different hidden places to sit and relax. We especially love the little blue metal benches beside the pond and the wood gazebo with worn-looking seats attached. There's also various different kinds of lighting accents scattered outside, from simple candle lanterns and detailed metal pieces.
The greenhouse is surely one of the more beautiful structures the team designed. With glass covering every inch of the walls and ceiling, the room is filled with plants and interesting stone pieces. Unmatched furniture is brought in to help create a feeling of lived-in comfort, each bringing something new to the look.
Within the home one can find
luxury furnishings
, combining a rugged farmhouse feel with elegance and sophistication. The furniture all looks very retro, each giving off unique stories of their own. A lot of stone and worn-looking wood are utilized to help bring in the outside, like big barn-like doors and stone tables. There's an especially neat bathtub that rests in stone with wooden plant hangers suspended from the ceiling, looking like it belongs in a castle of the middle ages.
We've never seen the property for ourselves, but the photos blow us away. We love how much thought was put into integrating nature with the living spaces and can imagine how peaceful and calming it must be. It looks like the perfect refuge to get away from the world and just pretend that you're the only living soul left.
If you're interested in buying The Farm for yourself, it's on the market at $10,000,000.
For more information on The Farm and it's listing visit
TheFarm.ws
or
PittsburghMoves.com
.