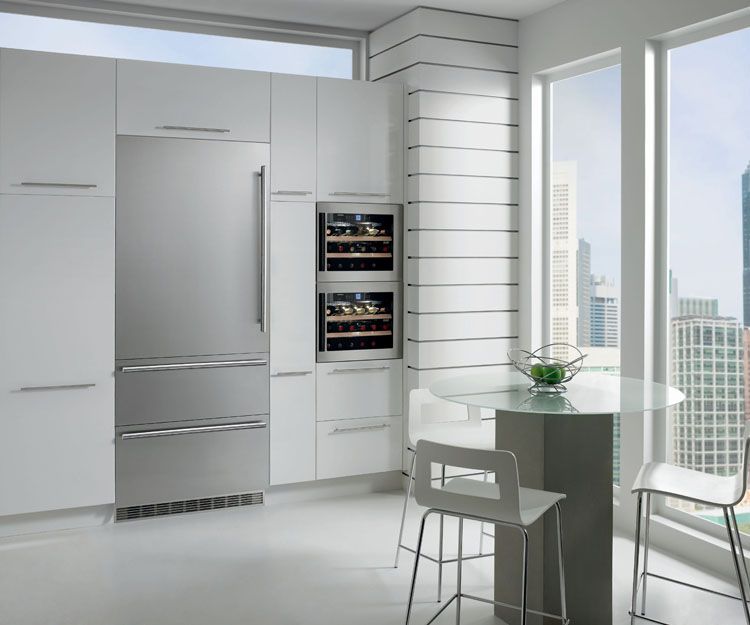 Photo Courtesy of Liebherr
Liebherr is one of the worldwide leaders in
luxury kitchen appliances
, specifically premium refrigerators, with over 50 years in the cooling business. Each year they strive to design dynamic units that will challenge the market and set them apart from the rest. With a longstanding collection of freestanding and built-in fridges, they expanded to their first 30" fully integrated refrigerator and freezer, the HCB 1560, earlier in the year.
The new fridge offers a lot of flexibility in terms of appearance. You can either have the facade show and be a part of the kitchen's overall design, or hide it behind a cabinet to fully integrate it. Liebherr promises that, unlike competing models, this unit "offers the possibility of custom design with flush 24" deep cabinet installation."
Anyone with a fridge knows that fruits and veggies can be the hardest foods to keep healthy. Most of the time you have to eat them right away so they don't go to waste. The HCB takes care of that problem for you with its BioFresh technology, which consists of separate compartments where the temperature is kept at a level right below freezing. An optimal humidity level is maintained, allowing your vegetables, fish, meats, and fruits to retain vitamins and minerals better, while lasting up to three times longer than when inside standard refrigerators, according to Liebherr.
There is a DrySafe compartment which is great for meat, fish and dairy, which give a lower humidity because exposure to air can damage these foods. Fruits and veggies are best in the HydroSafe drawer, which has a high level of humidity. The company suggests that they be kept unwrapped in the drawer to better circulate air flow. The DuoCooling system, with its "separate exceptionally efficient variable speed compressors," helps maintain the BioFresh compartments by keeping air from exchanging between them.
The company also promises that you'll be getting perfect ice cubes everytime from the automatic ice maker. The maker is permanently plumbed in and has a water filter with activated charcoal, so the ice will always be clean and pure. In terms of appearance, the HCB has LED lighting, GlassLine fittings that lend sophistication, and a MagicEye control panel that displays the temperature readings digitally.
Liebherr's HCB 1560 retails for around $5,479.
For more information visit
Liebherr.us
.