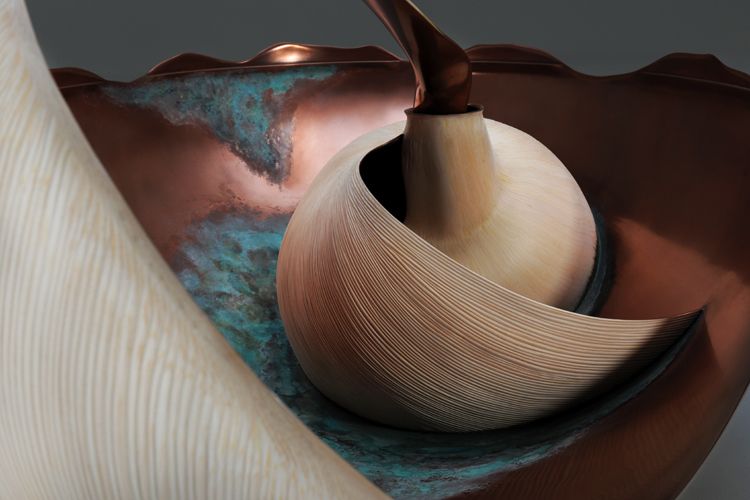 Photo Courtesy of Marc Fish
If the thought of having something truly special, a one-of-a-kind
home décor
piece, interests you, then you are going to want to take a look at the work of Marc Fish, a UK-based furniture designer.
As a former banker, furniture design wasn't the obvious career path for Fish, but a "burning desire" to create dining room chairs many years back has made him into a furniture-making sensation. His workshop, Robinson House Studio, is located at the end of a port in Newhaven, East Sussex, and while the location may not seem very glamorous, from within Fish turns out some of the most beautiful contemporary furniture found in Britain.
In a workspace shared with other designers (including Avery Howell, Simon Featherstone, Clive Merrett, Mark Hazell, and Derek Jones), Fish not only creates bespoke pieces, but also offers other furniture-related services, including furniture-making and related computer-aided design courses. Sharing space is like having a continual apprenticeship, as all the designers are able to learn from and collaborate with one another. A bench can be rented for a single day or for a full-time term, allowing artists access to necessary equipment and collective expertise.
Fish's first foray into craftsmanship began with steel work, where he learned methods he has transferred into woodworking. He has since studied with some of the world's best woodworkers and continues to learn in his daily life, paying off in the form of recognition and awards. He has been awarded four Guild Marks by The Worshipful Company of Furniture Makers, as well as the Claxton Stevens award.
Inspired by natural forms, art, sculpture and architecture, and by using the finest lumber and veneers, Marc produces heirloom-quality furnishings and accessories in all his commissions. One of his award-winning pieces is the Nautilus coffee table, which is a reflection of his interest in natural history and the sea. The unique piece showcases a "new technique [that] was developed to turn 4000 pieces of veneer strips into a 10 mm thick logarithmic spiral." With only five made, each Nautilus table is unique in style and color. You can buy one for yourself at
Andrew Lamberty, London
.
For more information on Marc Fish and his furniture, visit
MarcFish.co.uk
.