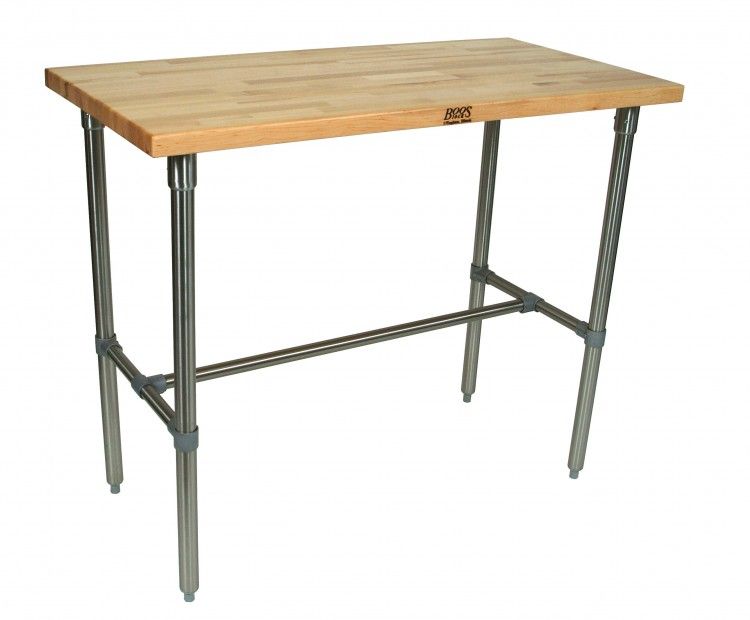 Photo Courtesy of John Boos
Admit it. Your kitchen is starting to look as old as your house that was built in 1984. Everyone knows a kitchen remodeling project is a massive undertaking but with just a couple of quick changes, you can modernize the entire look overnight. Introducing the John Boos Cucina Classico table in Maple made of 1.5-inch thick maple edge grain construction.
John Boos & Co. is based in Effingham, Illinois and is one of the oldest manufacturers of food service equipment and butcher blocks in the country. The company got its start in 1887 and today remains the only company in the US that has both stainless steel fabrication and wood manufacturing facilities in one location.
We chose the 48x30x40 Cucina Classico but there are several other sizes available. This 40-inch high table is extremely durable so you can easily and ergonomically cut directly on the wood surface or you can simply use it as a beautiful dining centerpiece. The stainless steel legs and center bracing only serve to enhance the modern look and appeal.
Simply measure out your kitchen to find the worktable size that is best for you and then visit the
John Boos
site to determine a model. John Boos also carries a range of stainless steel food service carts with hard rock maple tops, including Veneto with four dovetailed drawers, D'Vino with an optional maple wine rack and Pro Chef Diner with an infra-red burner built in.
The Cucina Classico table is easy to care for as well and can be cleaned with a damp cloth. To enhance the look and protect the surface, be sure to get the John Boos Wood Cream that combines natural unbleached beeswax with food grade mineral oil to penetrate deeply into the grains of the wood. The result? The wood cutting board will now have a silky wax barrier that locks moisture in that gets lost from repeated washings. It will also prevent the table from drying, bleaching and cracking.
Professional chefs like Gordon Ramsay love John Boos tables for not only their durability but versatility in the kitchen. The high quality, hard top makes these tables one of the best in the cooking industry. You can further modernize the look of any kitchen by adding a pot rack above and an additional stainless steel drawer below the maple top.
One of the coolest products John Boos offers just might be the Motorized Ergonomic Grande, a beautiful maple table that has a motorized lift system and control panel so you can adjust the overall table height from 30 inches to 40 inches.
John Boos does not only make wood board table tops. If you are looking for a real contemporary look for your kitchen, be sure to check out the Moderno table made with a sleek stainless steel top and base that comes in a variety of colors (we love black for an ultra sleek appeal). The Milano table is also made of 1.5" thick heavy duty food service grade stainless steel top for the professional chef.