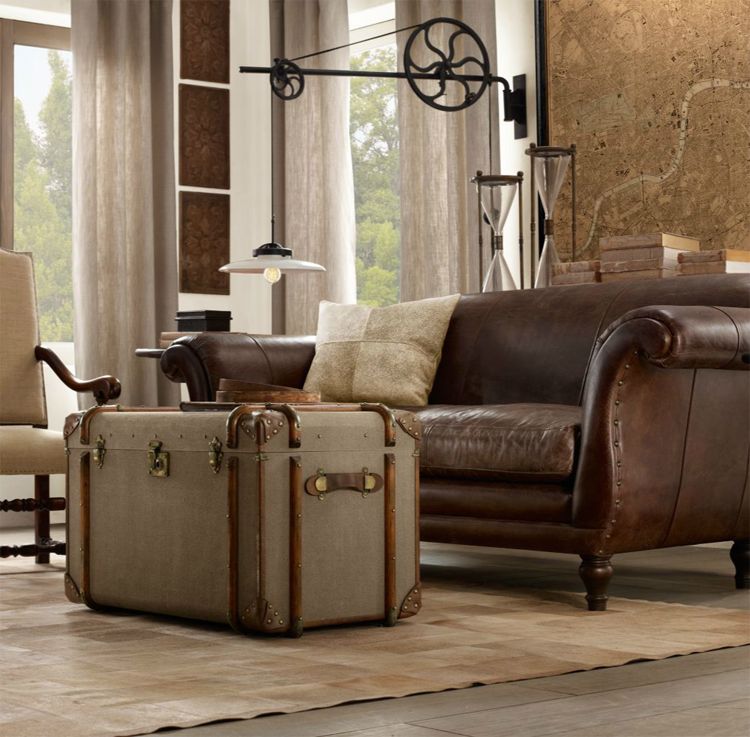 Photo Courtesy of Restoration Hardware
Steampunk used to be a microculture, one misunderstood by the masses and fanatically embraced by those on the fringe of society, but in the recent years it has broken into mainstream culture in a big way. The trend has been covered by countless publications (
IBM
is even predicting it will dominate the fashion industry in the coming years) and we've seen the likes of Gary Oldman walking the catwalk for
Prada's 2012 steampunk-inspired menswear
. The style can probably be replicated the easiest in home décor choices, especially with the current obsession with all things refurbished and industrial — the popular brand Restoration Hardware pretty much overhauled their entire catalogue with steampunk in mind. While it's usually made up of bulky, overly-masculine pieces, it's not that difficult to tone it down from a scream to a soft suggestion.
What is steampunk? The answer is actually more complicated than one might think and will change depending on the person answering. More than simple aesthetics, steampunk has always first been a literary genre (heavily borrowing from the likes of Jules Verne and H.G. Wells) — or at the very least a subgenre of science fiction — that reimagines social relationships and technological achievements of the Victorian 19th century (which is where the
steam
comes from). It's basically bringing future advancements to the past to create an alternative history and lifestyle. It's pretty much the ultimate in new-retro gadgets. Want your iPod to play on a gramophone? Steampunk. You may be a fan of the style and not even know it — Guy Ritchie's
Sherlock Holmes
comes to mind.
Getting your house to look like a steampunk dwelling isn't that tough. All you really need to know are the key staples so keep an eye out for exposed dark wood, rusty metals, leather, and machinery. While you want it to be deconstructed, you also want it to be tech-forward, so pair new with old. Maybe set a vintage 19th globe beneath a neat clock with exposed gears. Steampunk is easily adapted into any style so here are the pieces I would choose if I were to do an interior décor overhaul!
Photo Courtesy of 1stDibs.com
Terrestrial Standing Globe
Old globes are a pretty popular steampunk choice, as they enable one to look at the past and envision the future simultaneously. Priced at $12,000 on
1stDibs.com
, this 12" terrestrial globe by Heymann is dated 1880 and stands at 38 inches tall. It features 12 "color printed gores, the equatorial and anti-meridian graduated in degrees, the oceans showing ocean currents and steamship routes with ports of arrival and departure." The globe shows continents' nation states outlined in red, blue, yellow, orange and purple, as well as picturing towns, cities, mountains and rivers. The entire model is mounted in a brass framework and raised up on a turned mahogany tripod base with scroll-hipped legs.
Photo Courtesy of Restoration Hardware
Regency Leather Sofa
A sofa is a must-have for any comfortable living space and this subtle
Regency Leather Sofa from Restoration Hardware
would work in seamlessly with your new steampunk décor selection. Coming in four different lengths (six to nine feet; price ranging from $3,295 to $5,715), this 19th century leather couch is inspired by the Regency period, which is a combination of neoclassical, Chinese and Indian design. Made from kiln-dried hardwood, the sofa has wide scrolled arms with brass nail-head trim and a slight scrolled back. The turned feet come in a brown oak regardless of which leather color you choose (which ranges from a light whiskey to a dark cigar hue).
Steampunk Witch Doctor/Voodoo Bowler Hat
The fun thing about steampunk is that you can easily combine it with other looks and periods to create something new and interesting. This $200 hat by Todd Kimmell on
Etsy.com
uses steampunk tropes (like the vintage WWII welding goggles) with common witch doctor symbols (hand sculpted finger bones) to create a unique hat that would look pretty great sitting on the right side table. Originally made for the seller's Halloween costume, the hat features a handmade steampunk brooch, silk flowers, beads, ribbons, a pheasant feather, and various found objects. Everything has also been aged, including the felt, to bring extra realism to the piece.
Photo Courtesy of Modern Fifty
Victorian Mercantile Utility Sewing Table
Maybe you can put the Steampunk Witch Doctor Bowler hat on this
Modern Fifty Victorian sewing table
from the 1870's. Costing $1,560, this neat table has an adjustable height and an edging under the front surface edge to fit a ruler — just in case you actually plan to get some sewing done. With the rich detail work connecting the legs, this industrial table would fit in seamlessly with your new steampunk-inspired living room.
Photo Courtesy of Howard Miller
Howard Miller Allentown Wall Clock
Considering steampunk is categorized as portraying a post-apocalyptic future where steam power has hit mainstream use, one often sees machines stripped down to expose their working parts (think H. G. Wells'
Time Machine
). Clocks with gears showing are one of the easiest ways to portray this machine-dominated alternate history, and this $222
Howard Miller
Allentown wall clock is a great option. With a rusted, antique appearance, the 21" molded polyresin clock features aged hour and minute hands.
Media Console/Credenza
This $2,500 media console from leecowen and Combine9 on
Etsy.com
is part of their Woodrow series. The top, sides, and two of the doors are made using dark reclaimed wood, while two additional doors are made using mesh and the trim is metal. The seller offers many different customization options, from different woods (including historical woods from WWII) to various sizes.
Photo Courtesy of Modern Fifty
Vintage Cast Iron Chiminea Outdoor Fireplace
I probably wouldn't want to leave this outside, as it would look amazing in a living room — though I definitely wouldn't actually use it. Priced at $2,250 and sold through
Modern Fifty
, this circa 1930s three piece design doesn't have screens over the openings so if you do light a fire, be careful. The site promises that the fireplace is in very good condition, with zero cracks, and comes with a big metal fire plate to sit it on.
Restored Classic Steamer Trunk
No steampunk-inspired living space is complete without a vintage steamer trunk. Costing $745, this one from Lindsay Stone on
Etsy.com
is believed to be from the late 1800's and underwent three months of restoration. The wood panels, black canvas and metal structuring were cleaned, re-stained and re-finished to look as good as new, while the 550 studs were shined by hand using a Dremmel tool.
Photo Courtesy of Modern Fifty
19th Century Leather Lounge Club Chair
If you're looking for a great vintage armchair to add to your space, this 19th century lounge chair from
Modern Fifty
might be the perfect choice. Priced at $5,000, this dark leather chair features large copper upholstery rivets and has a relaxed California mission style to it.
Photo Courtesy of Restoration Hardware
Deconstructed English Club Chair
If you like the idea of a vintage chair but don't want to go through the hassle of having it cleaned, you may want to consider this
Deconstructed English Club Chair from Restoration Hardware
. Coming in a variety of colors (though I would recommend a darker color for a steampunk theme), this piece was inspired by a 19th century wing chair, exposing a distressed walnut frame and duplicating Old World artistry. Accented with nail heads, the English Club Chair can be bought in a variety of fabrics (including Belgian Linen, Vintage Velvet and Antiqued Linen) and features layers of burlap that cover the back and the rail below the seat. Depending on which color and fabric options you go with, the chair ranges in price from $1,295 to $1,725.
Photo Courtesy of Restoration Hardware
Framed Herbariums
If you're looking for something to adorn your wall, check out these herbarium boards from
Restoration Hardware
. Each one unique and mounted on paper, these are genuine botanical specimens from the 19th century. Coming in a set of six (costing $595), each one is framed in distressed wood and set in between two panes of glass. Every plant is labeled with a range of information on the species, date and place found, habitat conditions, and a short description including any special characteristics it may have.
Photo Courtesy of 1stDibs.com
Vintage English School Easel
Every room needs a good accent piece that is more form than function, and that's where this $350 Vintage English School Easel from
1stDibs.com
comes in. This 20th century wood easel has an eraser rest and shows minor wear that's consistent with the age and use. Of course you can use this for whatever you want, from hanging a blanket on it to using it as a coat rack, but I think it would look best as a standalone piece.