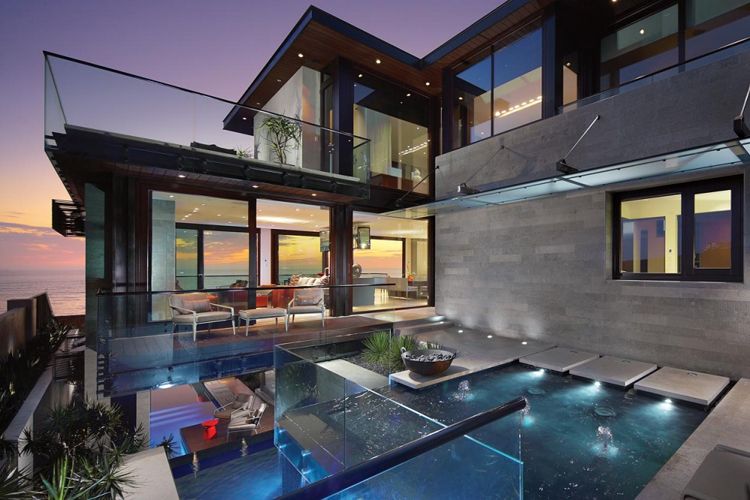 Photo Courtesy of Horst Architects
Mid-century modern architecture tends to feature wide open floor plans and tons of windows, intending to bring the outdoors in — sometimes walls will even be made entirely of glass. One can see these modern homes all over the California coast, which is why it's often called the California Modern style, and The Strand in Dana Point is a shining example.
The owners of The Strand bought the land when the lease on their seaside vacation cottage in Crystal Cove expired. They wanted to reestablish their lost familial base and enlisted in the help of
Horst Architects
, requesting a relaxed beach house that would have enough room for kids, parents, and grandparents.
Horst built the home around a centered courtyard, with three intersecting pavilions around it. The layered reflecting ponds are certainly the most striking feature of the courtyard, bringing a meditative calm to an already serene ocean view. Set in the back of the home, the courtyard can't be seen from the street but can be accessed through a "pivoting wood door" that opens onto a covered walkway along a stone wall. The architecture firm wanted the transition from street to privacy to create a mysterious atmosphere that "heightens the sense of arrival, while also revealing the ocean view sequentially."
The actual home itself was built to give every room an ocean view, which is helped by stacking them in unique ways and by utilizing open space to bring nature inside. "Indoor and outdoor living is orchestrated by balancing views with privacy, communal space with intimacy. The clear expression of the steel skeleton structure, in filled with glass and wood, allows the structure to sit lightly along the coastal terrain, while limestone walls anchor the structure," says Horst Architects. While much of the home is open, you'll find that the boxed front façade is actually very private and enclosed in concrete, belying the nature of the interior.