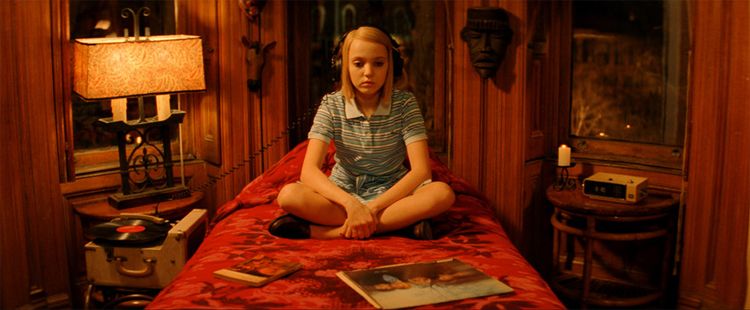 Photo Courtesy of The Criterion Collection
It's not unusual to have watched your favorite movie countless times, finding yourself wanting to replicate everything in it, from the fashion to the interior decorating. Whether you love the color scheme in
Amelie
or the African artifacts in
The Royal Tenenbaums
, there's probably at least one aspect of your favorite flick that you want to recreate. Here's our list of great films to inspire your next
home décor redesign
.
Photo Courtesy of The Criterion Collection
The Royal Tenenbaums
From the mind of Wes Anderson,
The Royal Tenenbaums
is iconic for not only its characters, but for its look — actually, you can pretty much count on any of his films to be visually fascinating. With disheveled bookcases, hanging wall art, African artifacts everywhere, intricate wallpapers and colors, this film set is full of character. One immediate way to get the same look is to invest in some
Scalamandre Zebra wallpaper
in Masai Red (sure, they offer other colors but the red is so striking in the film). If you're really serious about your Tenenbaum-inspired home, you may have to get yourself a falcon too.
Photo Courtesy of Art.com
Amélie
Marked by whimsical romance, French film
Amélie
is full of bold, bright colors and fun personal touches that could easily be replicated in your home. From the red wallpaper featuring French ornaments to the vintage lamps and furniture accents, Amélie's home is designed in feminine comfort. If I were to duplicate the look, the first thing I would do is snatch my own copies of the two Michael Sowa paintings hanging above her bed. "Fowl With Pearls" and "Filmhound" can be found on
Art.com
and while the prints themselves are pretty affordable at $17.99, I recommend getting them framed in something gilded and ornate, which could run around $400 depending on the options you choose.
Photo Courtesy of Restoration Hardware
Marie Antoinette
Mostly known for being a visual feast,
Marie Antoinette
is full of Rococo flair, soft pastels, floral prints, and elaborate furniture pieces. A great place to look for Versailles-inspired home décor choices is
Restoration Hardware
— especially their collection of Vintage French Seating. Designed to inspire the type of chair a porter in 18th-century France would have, the Versailles Chair in white ($1615-$2155) would be a fantastic choice for any
Marie Antoinette
theme.
Photo Courtesy of Fox Searchlight
500 Days of Summer
Chalkboard paint has become one of the trendiest and easiest ways to add creativity to any space, whether you scatter some framed chalkboards for versatility or paint an entire wall.
500 Days of Summer
may seem strange on this list but I love how Joseph Gordon-Levitt's character uses his chalkboard wall. Instead of scribbling on it, the young architect uses it to draw cityscape plans on and the result is stunning.
Photo Courtesy of Paramount Pictures
Breakfast at Tiffany's
Whenever I watch
Breakfast at Tiffany's
, I always notice the strange claw foot bathtub/sofa in Holly Golightly's living room. While the entire aesthetic of her apartment is very recognizable, it's the tub sofa that I want. Thankfully, a company called
Reestore
sells them for ?1,850 (around $2,856). Made from a vintage cast iron tub, you can choose the type of fabric you want the seat cushion upholstered in. Next, get yourself a black rotary phone and you're set!