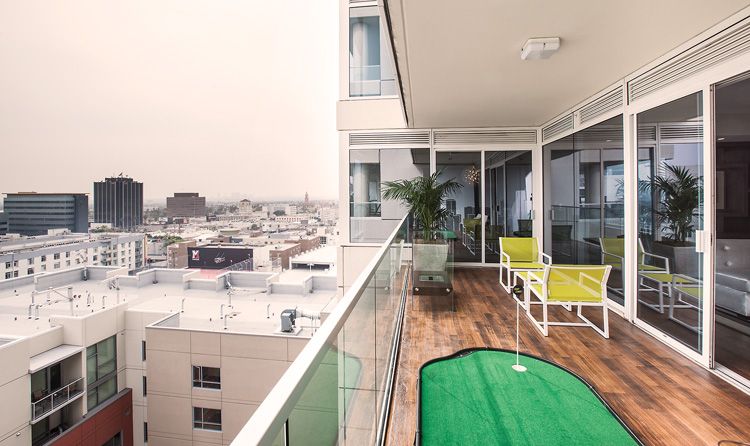 Photos Courtesy of The Residences at W Hollywood
Most children have some kind of playhouse, whether it be a pink plastic eyesore or a magnificent three-level tree house (maybe that was just me), and even though we grow older there's still a small part of us that wants to maintain that playful feeling in our own home. The Residences at W Hollywood in
Los Angeles
must know that feeling well, because they chose interior designer Christopher Grubb to give one of their luxury urban penthouses a "playhouse" liveliness fit for a CEO's inner child. If you're thinking this would be a good place to tuck in for the night, think again because instead of a bed, the master suite has a custom gaming table!
As president and founder of
Arch-Interiors Design Group
, Grubb certainly seems to know a thing or two about designing an unexpected space that focuses solely on fun. The
$1M "Penthouse 12G"
(which is officially priced at $999,000) was put together with versatility in mind, meaning that the furnishings chosen can be easily reconfigured depending on the type of gathering planned.
"We selected Christopher Grubb to bring that 'wow' factor into penthouse 12G," explains Ron Barnes, sales and marketing director at
The Residences at W Hollywood
. "As a top Los Angeles designer and style maker, Christopher is recognized internationally for his distinctive luxury design perspective. His 'playhouse' concept with creative features, including a putting green, is one of my favorites at The Residences at W Hollywood. It transforms space meant for a bedroom into a room for recreation, and it delights and inspires our discerning clientele with lively, unexpected touches."
While the entire penthouse certainly seems great, the game room is my favorite part — the putting green on the balcony is a close second because for me, it seems like a lawsuit waiting to happen. Instead of a bedroom, Grubb put an emphasis on playing (though there are pull-out couches if you
do
get sleepy). The centerpiece of the room is a custom game table with a starburst center, great for late-night poker games. One wall is adorned with four flat-screen televisions, so you'll never fall behind in your favorite shows or sporting events, and below them is a "cantilevered buffet" for snacking needs. In terms of décor choices, Grubb gives the entire room a sparkling finish in the form of Balinese seashell and a crystal chandelier.
Other neat perks in this 1,327-square-foot penthouse include the living room's projector and 110-inch screen with in-wall surround sound speakers, the sparkling wall treatment in the master bath, and the three-dimensional aluminum tile used for the kitchen's backsplash and bar façade.