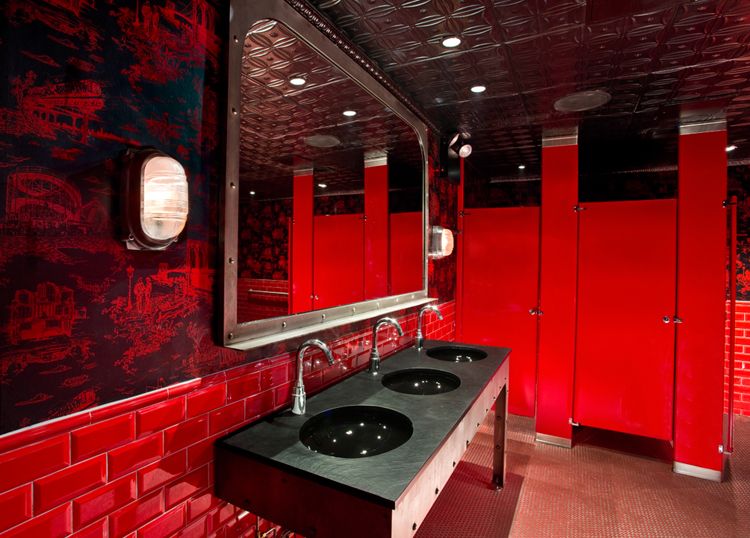 Photos Courtesy of Flavor Paper
Originally founded on the Oregon coast, Flavor Paper specializes in hand screenprinted wallpaper that ranges from vintage to contemporary patterns. Known for their large format silk screening, you can spot their work all over the world, from the W Hotel in New Orleans to The Capitol Theater in Port Chester, New York. More recently they worked with Mike Diamond (or Mike D to Beastie Boy fans) to help produce his Brookyln-inspired wallpaper design,
Brooklyn Toile
.
With help from Vincent J. Ficarra of Revolver New York, Mike D created the wallpaper design to cover the walls of his Brooklyn abode. He wanted images that paid tribute to everything he loved about the city, all while executed in a very traditional French Country Toile fashion. The unique pattern features "many angles of life in the King's borough from Coney Island to Hasidic Jews to Notorious B.I.G., the design covers many of the aspects of daily life dealing with subways and pigeons in a poetic way." Available in diamond red and porcelain blue, the order was originally produced as a digital print due to the amount of shading, but it can now be bought as a hand screened print.
If you want to mimic Mike D's own home, I suggest opting for the red
Brooklyn Toile
— which can also be found against black walls in the ladies restroom in Chelsea's Marquee nightclub. For standard and commercial vinyl, it's priced at $8 per sq/ft and for terralon and silky canvas, it's priced at $9 per sq/ft (you can also order samples for $2).
Flavor Paper has many different options to choose from already on the site, but can also have custom wallpaper made. From the ink colors to the images, you can make whatever design you come up with a realty — they'll even help you with the concept if you're not sure where to take it. So, whether you want your entryway to look just like Mike D's or you want a crazy floral pattern you thought up in a dream, Flavor Paper will be able to help you out.