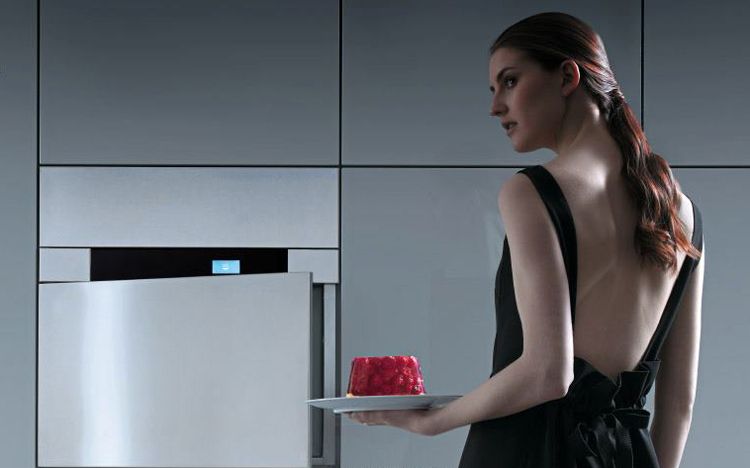 Photos Courtesy of Irinox
I'll be the first to admit that sometimes I survive off the leftovers from last night's dinner, and I know I'm not alone. Between our jobs and having a social life, cooking every night just isn't plausible. The only real drawback though is that freshly cooked food stored for later never really lasts that long, whether because the appeal of old food wanes after two days or because it becomes legitimately unhealthy to eat. According to
Irinox
, when food is chilled slowly in a standard refrigerator, bacteria has plenty of time to accumulate. Desiring a quicker cooling cycle, they designed (with help from
Decoma Design
) a blast chiller for all your dinner storage needs and named it Freddy.
Designed to industrial equipment standards, Freddy will quickly take your freshly cooked food from 194F to 37F — moving through the bacteria temperature zone between 104F and 50F, 20 times faster than anything else you've got. They promise that whatever the food is, once it's "blast chilled" it will last for five to seven days and still taste great, giving you a week of still-fresh food.
If you're looking to store food for longer, Freddy also comes with a shock freezing cycle that drops to -31F. Because it freezes the item so quickly, moisture is locked in as "micro-crystals, avoiding damage to fiber and cellular membranes." The food can be thawed 8-10 months later and apparently still taste fresh, with its original color, texture and consistency — which is great news for carnivores.
Other functions include controlled thawing, slow low-temperature cooking, customized storage temperatures, a bottle cooler and ice-makers. Starting at $5,000, Freddy can also help you with natural proofing so you can get a steady temperature when working with bread, pizza and brioche dough. The company promises that you can even thaw croissants in a way that will get them to rise and ready to bake.