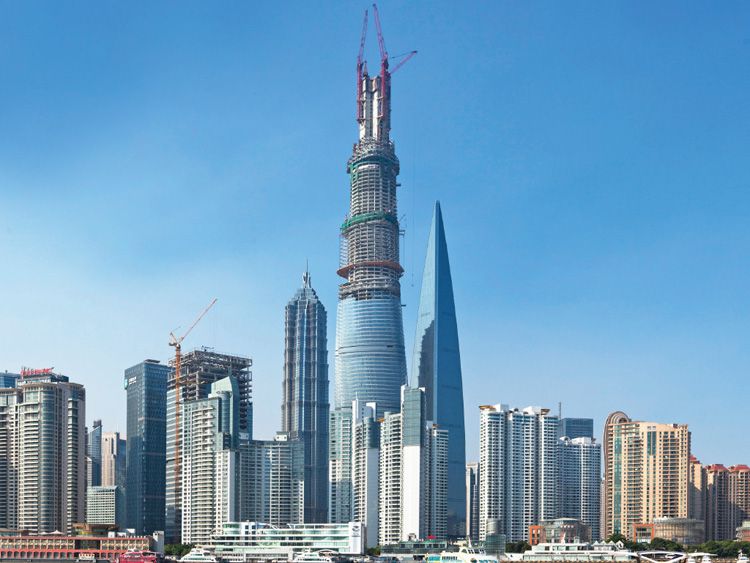 Photos Courtesy of Gensler
The Shanghai Tower — the tallest building in China at 2,073 feet — has topped out and put the final beam in place, according to
Thornton Tomasetti
, the engineering firm that is providing structural services for the building. Designed by architecture firm
Gensler
and developed by the Shanghai Tower Construction and Development Company, building of the mixed-use, 4.1-million-square-foot structure began back in 2008 and it is scheduled for completion in 2014.
Once finished, the Shanghai Tower will be the tallest in China and the second highest in the world. It is located in what's called Shanghai's 'super tall district,' which includes two other towering buildings: the Jin Mao Tower and the Shanghai World Financial Center, and makes up the Lujiazui Finance and Trade Zone. The tower's design features a unique twisting shape that rotates 120 degrees as it rises, with laminated glass panels that filter sun, wind and rain. A double curtain wall even provides natural ventilation and cooling, and collects and recycles rainwater. Within the structure will be office space, retail stores, cultural venues and a luxury hotel. At the top will be the world's highest, non-enclosed observation deck.
Thornton Tomasetti is a leader in engineering design, investigation and analysis. The company has serviced clients worldwide on projects of all sizes and complexity. The company, which was founded in 1956, has more than 700 engineering, architectural and support professionals in offices in the United States, Asia-Pacific, Europe, Latin America and the Middle East.