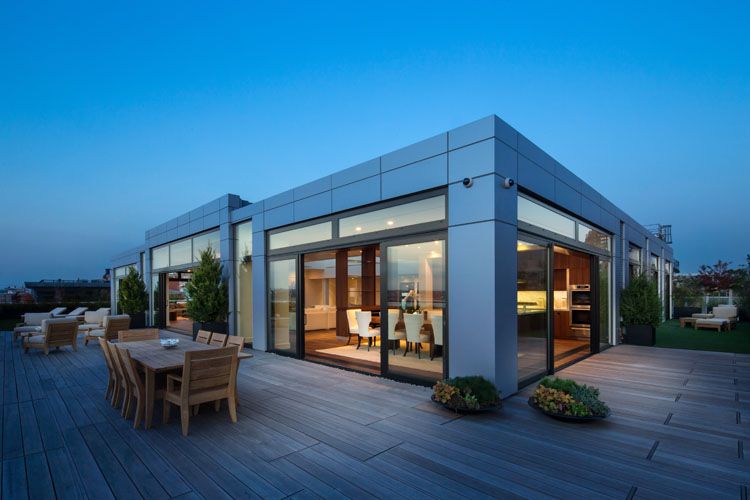 Photos Credit: Evan Joseph
Last month the penthouse apartment at 250 West Street, which is found in the middle of TriBeCa's landmark historic district, went on the market for $39.5M. With views of the Hudson River (nearly 120 feet of frontage, to be exact), this residence has its own private entrance on Hubert Street — complete with your own personal loading berth and lobby, where you're an elevator exclusive to the penthouse takes you right up to the 7,250-square-foot home.
The home has four bedrooms and 4.5 bathrooms, with a lavish master suite that features a bespoke walnut and glass walk-in closet. Within the master bath, you'll find a free-standing, custom-carved Bianco Rhino marble soaking tub that overlooks the terrace and the city. A waterproof LCD television is in the steam shower, making sure you never get bored while soaking up the heat, and an infrared sauna with its own vanity and cabinetry round out the bathroom accommodations.
Considered a "smart home," the penthouse includes a Creston control system that can be operated using a touch panel, computer, or smartphone — allowing you to control your home while on-the-go. You can control the streamlined surveillance system, motorized window shades and lighting.
Living in the building affords you 24-hour concierge, a private library with 13-foot ceilings and large windows for residents and their guests, an indoor swimming pool, children's playroom, fitness center, and rooftop terrace.
The listing is held exclusively with Raphael DeNiro and Leonard Steinberg of Douglas Elliman.