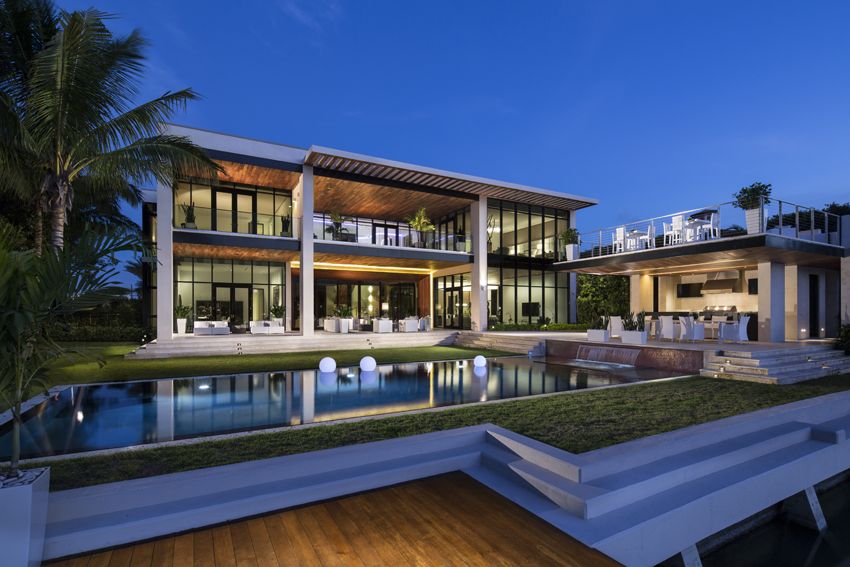 Photos Courtesy of Artefacto
If you're going to live in Miami Beach, you have to live on the water. Otherwise, what's the point? The coastal resort city has plenty of properties to choose from, but many of them are empty shells when you move in, leaving you to worry about getting a interior designer to help you out. Villa Artefacto at 2068 North Bay Road doesn't have that problem though, boasting a custom design and coming fully furnished — meaning that what you see in the photos, is literally what you get.
Built in 2013, the home is the result of a collaboration between builder Barry Brodsky and design company Artefacto's Paulo Bacchi. The 12,509-square-foot, two-story home sits on 100 feet of waterfront on a 28,000-square-foot lot, and immediately presents you with the type of lifestyle you can have while living there. "We know our market and we know our customers," says Bacchi. "They want great design, the finest materials, and impeccable craftsmanship. That is why Barry and I believe they will respond positively to this extraordinary property."
Burmese teak is used throughout the interior and can especially be seen along the high ceilings. The large kitchen is opened to the family room, while glass walls looking out onto the water give the floor plan an even bigger feeling. Within the home, you'll also find seven bedrooms, seven bathrooms and two half baths, an office, library, steam room, and a play room. A cabana is also on the property, complete with a summer kitchen and a rooftop terrace.
The property is listed with Nelson Gonzalez of Miami Beach Luxury Real Estate for $23.5 million.