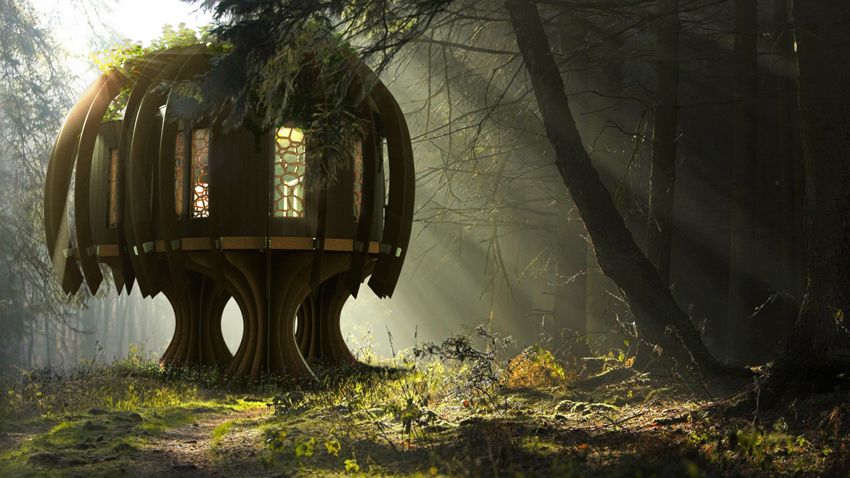 Photos Courtesy of Blue Forest
Many of us grew up with tree houses in the backyard (in my case, it was a three-story tree house), but now that we're adults, many of us have given up our dream of living in the trees for a more practical home. UK-based Blue Forest, considered to be a leading name in the world of tree house design, wants to bring that childlike wonder and excitement back to us by creating buildings that stand in harmony with nature. They're so good at their jobs that they were even approached by Quiet Mark (the international mark of approval from the UK's Noise Abatement Society) to design and construct the "next-generation Treehouse" to be the focal point of the Ideal Home Show, ultimately creating the Quiet Treehouse you see here. 
The Quiet Treehouse (officially known as "The Quiet Tree House by Quiet Mark and John Lewis designed by Blue Forest") is the first launch for the partnership between Quiet Mark and retailer John Lewis, celebrating their future and working towards eliminating noise pollution from our environment. "The design of the treehouse has centered on the desire to suppress the unwanted noise entering the building from the outside," says Blue Forest. "The objective was to create a quiet haven within the heart of the busy and noisy show, and it features many Quiet Mark awarded materials and brand partners."
In order to keep outside noise from getting in, Blue Forest lined the walls, floors and rook with Acoustiblok, which is an installation made using over 80 percent organic and recyclable materials. The Quiet Treehouse was also insulated with Rockwool's acoustic installation, which brings in stone wool technology that's sourced from lava deposits, while Kvadrat Soft Cell panels were brought in as a lining within the walls and ceilings. The noise reducing windows are made using Cantifix and glazed with Pilkington Optiphon, and natural Cedar wood was brought in for the structure.
The design itself is striking. The house isn't actually in a tree, instead taking on the shape of three trees clustered together with trunk-like bases. It somehow simultaneously looks like something from our past and something from the future. Though concept art can sometimes be more impressive than the reality, judging by these construction photos, Blue Forest isn't going to have a problem with that and we can't wait to see the finished tree house.
Once the design's installation at the Ideal Home Show (which runs March 14-30 at London's Earl Court) is complete, the tree house will be donated to The Chestnut Tree House children's hospice in West Sussex, UK. The house will be there as a place families can relax, visit with one another, and get away from the bustling world around them.