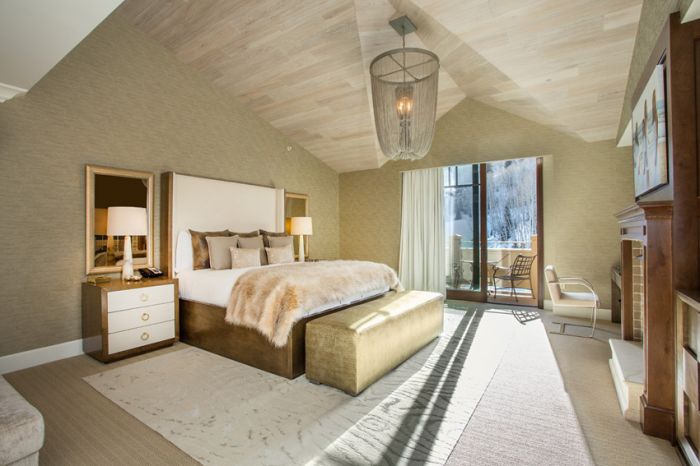 Photos Courtesy of ORES Realty Corp.
There are plenty of options in Deer Valley when you're looking into buying a new home — in fact, we've covered many of them here — but there has to be something that will set your home apart from the rest. Residence 1005 at Montage Deer Valley brings dark woods and elegant design to Park City, Utah in a completely modern and minimal way. With natural wood elements throughout the home, along with designer fittings that evoke a wintery log cabin, this luxury home comes exactly how it's pictured, furnishings and everything!
Priced at $4.9 million, this two-level, four bedroom, four bath home was designed by Beth Ann Shepherd of Los Angeles-based Dressed Design. The 3,668-square-foot residence is on the west side of the building, overlooking an aspen grove and the mountains. On the first floor you will find a bunk room, den, living space and the kitchen. While the second floor has the master suite and a second bedroom.
Shepherd used metallic fixtures throughout the home, which work to play off the earth tones and thick fabrics (like furs and suede), while bringing in a touch of wintery wonderland. We especially love the way she uses textured surfaces, which can be seen with several of the wall coverings and furniture pieces.
As with all Montage Residences (which are found in the top six floors of the resort), the home has dramatic roof forms (especially in the master bedroom) and high ceilings. And of course, living in Deer Valley gives you all the wintery activities you could ever want, from skiing to snowshoeing!