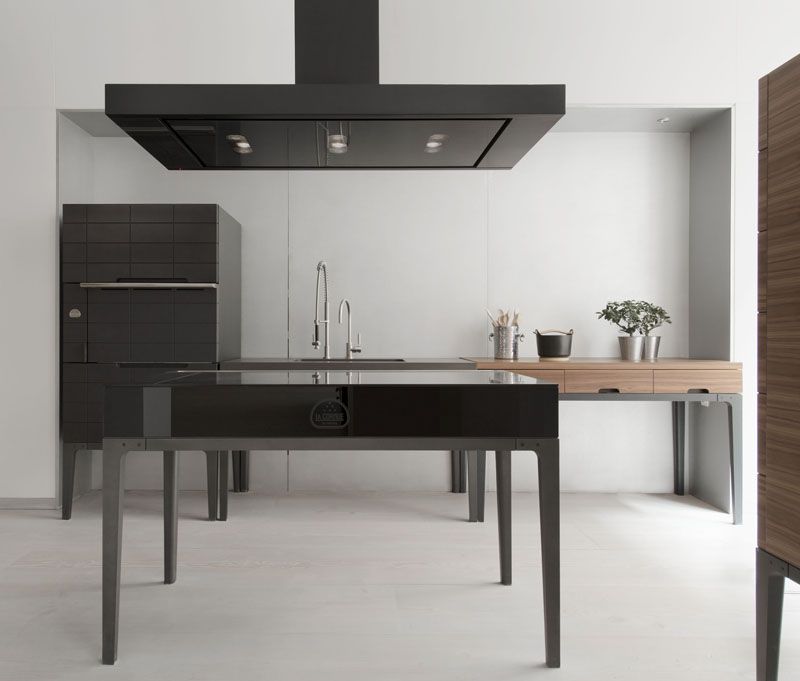 Photos Courtesy of La Cornue
La Cornue has long been one of our all-time favorite brands, earning a place year after year on our top picks for Best Luxury Kitchen Appliances. The reason is simple: La Cornue is an iconic name; perhaps even the crème de la crème of cookery. Starting around $20,000, La Cornue ranges get a lot of attention purely because of the cost associated with them, with higher-end models going for as much as $50,000.
In a recent interview with Xavier Dupuy, the third generation La Cornue company head explained that "It is expensive because of what it takes to make – [they are] a very complicated product to make." He says this because each unit is made by hand, built from start to finish by a single craftsman. The result is not only a beautiful product, but a high quality one. Without hesitation Dupuy assures buyers that "La Cornue is a genuine French product that keeps its value," also noting unsurprisingly that like any kitchen upgrade the name dually brings up the value of any home, although in this case buying one probably gets you a little more bang for your buck.
Up until now, anyone in the market for a La Cornue range would have had to also be a fan of the fairly ornate look the brand is known for. Even CornuFè, a more mass-market line released in 2005 (units come in closer to $8,000 thanks to factory assembly) still maintains a very French provincial design. But in late 2013 that changed, bringing us to the company's latest project: a collaboration between Xavier Dupuy and architect and designer Jean-Michel Wilmotte.
Having now been in charge of the family business for the past 25 years, Xavier Dupuy has decided to bring the French brand straight into the 21st century with the new La Cornue W. by Wilmotte line. The brand new collection was designed specifically for people with more modern design tastes. The first new aesthetic to be introduced in 30 years, the idea was born over a friendly dinner between the two and has just recently become available after four full years of thought and design. In comparison to the brand's previous appliances, the new collection boasts minimalist form married with 100 years of craftsmanship.
La Cornue W. by Wilmotte
Currently only available in black, as of right now the W. line consists of a desk-like 150 centimeter range that features induction heating, a minimalist hood and an electric "oven vault" offering four cooking modes that are "high performance but Class A, electronically controlled in steps of 5°."
Just a glance at the new line and it's easy to see what Dupuy and Wilmotte mean when they say the goal was to create "kitchen furniture." The term is fitting and the La Cornue CEO feels that the appliances are much more than material items; Dupuy even goes so far as to call them out as "emotional product." And he might be right. The kitchen is the heart of the home and especially these days families tend to gather in them, creating memories over a fresh batch of cookies.
La Cornue W. by Wilmotte
For the last 100 years La Cornue has always had a distinctive feel: old-world, classic and undeniably French. When I pressed the modern day Dupuy in asking if his grandfather would approve of the new slick design, the man gave me an unequivocal "yes." A sentiment grounded in the fact that the founder invented the gas stove by opportunistically tapping into gas lines under the city of Paris meant for street lights. Clearly he was a man of innovation. Despite its foundation in tradition, La Cornue has kept that same cutting-edge spirit that inspired Albert's original vision and the company continues to utilize the latest technology.
Each Dupuy that has taken over La Cornue has left their mark on the company. Albert Dupuy of course invented the first gas stove, an endeavor that was born from his love of the culinary world; the man from the beginning was "close with chefs and gastronomy," according to Xavier.
In 1964 Xavier's father was the first to introduce the Château line, which is now what most of us think of as synonymous with the brand, also coming up with the idea of offering custom colors. The artistic collection was so popular at the time that VIPs all over France were snatching them up, including the then-owners of Dior and Chanel.
La Cornue Grand Palais 180, Chateau Line
Now nearly three decades after taking over the family business, Xavier is looking to "keep roots with the original products and bring in new technology to keep things relevant." So he built a line that he says is "very cool. But very, very efficient."
Not unlike the company itself actually. Despite the fact that La Cornue is a global brand and currently in 40 countries (soon they plan on branching into China), the company is quite small. According to Mr. Dupuy the people behind every unit love what they do as much as he does, "They stay for life," he says, "…it's like a community." And that small tidbit makes the company that much more likeable. Chances are if you have ever owned a La Cornue product you could walk right into their studio in France and shake hands with the very person who built the machine standing in your kitchen. Just. For. You. That's pretty cool.
La Cornue W. by Wilmotte
To sum up the new La Cornue W. line by Wilmotte, Xavier expresses that "this is a line for a richer, younger consumer...gourmet people of the 21st century...much more international than Chateau; much more European." Indeed high net worth consumers may have their wealth in common, but much of the similarity stops there.
Dupuy has certainly grasped that fact wholeheartedly, expanding the brand to appeal to different tastes and home decor. Because what makes a house a home is different for everyone, isn't it? A central part of every suburban modern American home, every French chateau, every London flat and every New York penthouse, our kitchens are nothing without their appliances and each one should be, according to Xavier like a "fireplace…bringing happiness." Now, regardless of whether your taste is classic or modern, La Cornue can be the happiness in your home.