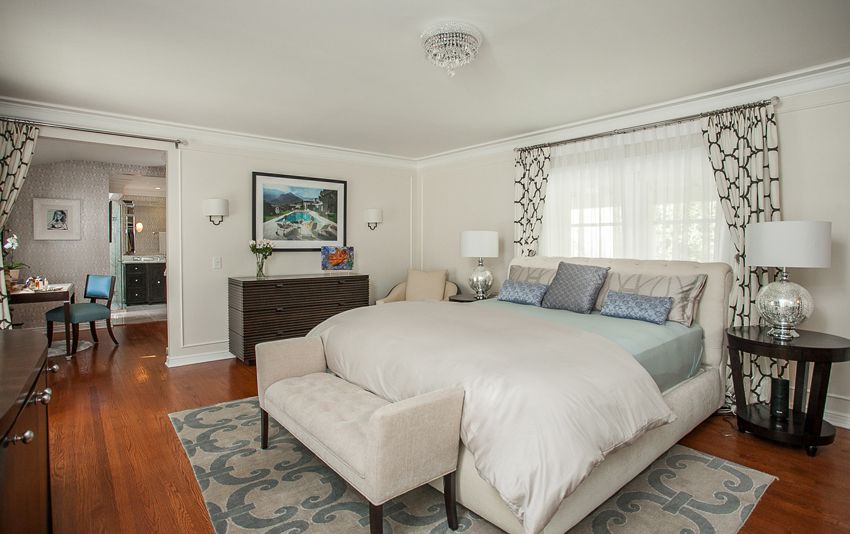 Photos Courtesy of Scott Thomas Interior Design
Scott Thomas Interior Design has been giving Billy Wilder's (Some Like It Hot) former historic home a complete makeover, transofrming it into the "Hollywood Glam Deco" haven it deserves to be. The residence was designed specifically for the screenwriter by famed African-American, Los Angeles-based architect Paul R. Williams in 1929 (who also built homes for the likes of Frank Sinatra, Lucille Ball and Lon Chaney). With phase one of the restoration complete, the home's master bedroom and walk-in closet are already finished and the rest of the house should only take six more months to complete.
"Paul Williams was a pioneer and working on this home is easily one of the highlights of my career," says Scott Thomas. "At a time when overt and de facto segregation ran rampant across the country, he became one of the most influential and successful architects of his time, despite the fact that we would not have been 'allowed' to live in many of the neighborhoods that he worked in."
The two story cottage-style house has five bedrooms, six bathrooms, and covers 4,428 square feet. The current owners, Alan and Lisa Stern, are only the second residents of the home (after Wilder) and enlisted Scott Thomas to help them bring it into the modern age without sacrificing the preexisting art deco and gothic architectural elements.
"I'm calling it 'Hollywood Glam Deco', which means that everything is inspired by old Hollywood and the glamour of the 1930s. We will include many nods to art deco forms and an overall luxe feel throughout. Think Joan Crawford meets 2013," says Thomas.