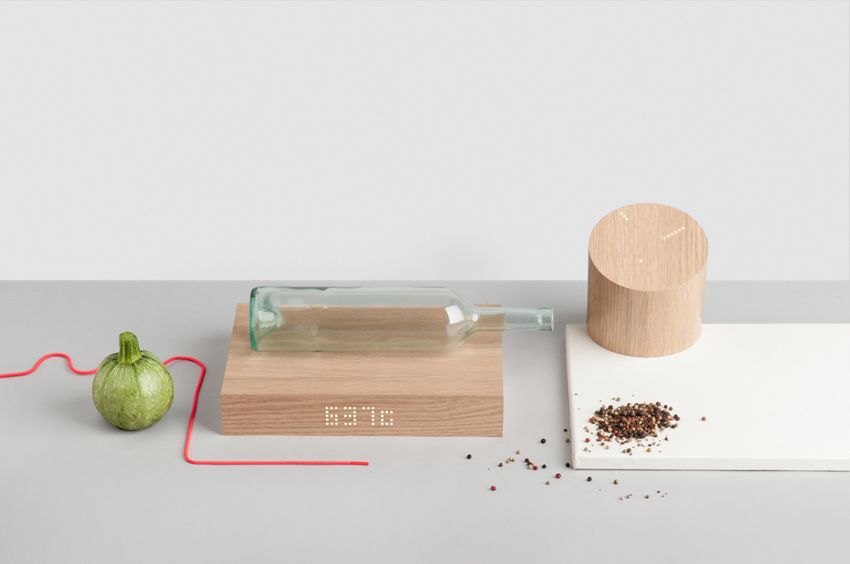 Photos Courtesy of THINGK
THINGK is a Made-in-Italy company that uses design and engineering to create unique objects that combine usefulness with gadgetry. Tired of single-function products, they set out to create beautiful items made out of natural materials like wood that actually interact with one another, and so far have two in their catalogue: GKILO (a smart kitchen scale) and CLOGK (a clock and timer).
GKILO (pronounced kilo) may just look like a block of wood, but when resting on one side it has LED numbers that act as a scale and will display the weight of whatever you rest on it. When you flip it to the other side, the lights will tell you the time. By using simple hand gestures, you can apparently reset the scale or time easily. Since it's technically a chunk of wood, you can even use it as a paperweight or shelf when it's in stand-by mode.
The other one is called CLOGK (pronounced clock) and is a modern interpretation of your average kitchen clock. The gadget is activated by touch, displaying an analog clock or cooking timer. Like its friend, this one can also be used as a standalone art piece when you aren't using it.
A wireless module allows THINGK products to interact with each other and the accompanying app. You can find whatever food you're weighing on GKILO on the app and it will suggest a cooking time for that specific food item and weight. The app will then automatically set CLOGK's timer for the correct countdown and when time is up, both devices will blink and either can be touched to stop the quiet alarm. Additionally, the devices are open-hardware products, meaning that you use their add-on or create your own wireless add-on.
The Thingk items are currently only in the prototype phase, which is why they started an Indiegogo campaign. They haven't met their $50,000 goal just yet (they are at $34,850 at the time of this article) and have until May 27 to get there. Pitch in $50 and you'll get a coupon for one GKILO or CLOGK (each with a retail price of $225) when they become available to buy on the website. If you don't want to wait until they go on sale to the public, for $120 you can get one before the official launch, and for $150 you can choose the type of wood finishing used (fair or burnt wood — they'll eventually offer marble and aluminum as well) and even get a personalized phrase on the back. It really only makes sense to buy both though and for $195 you can.