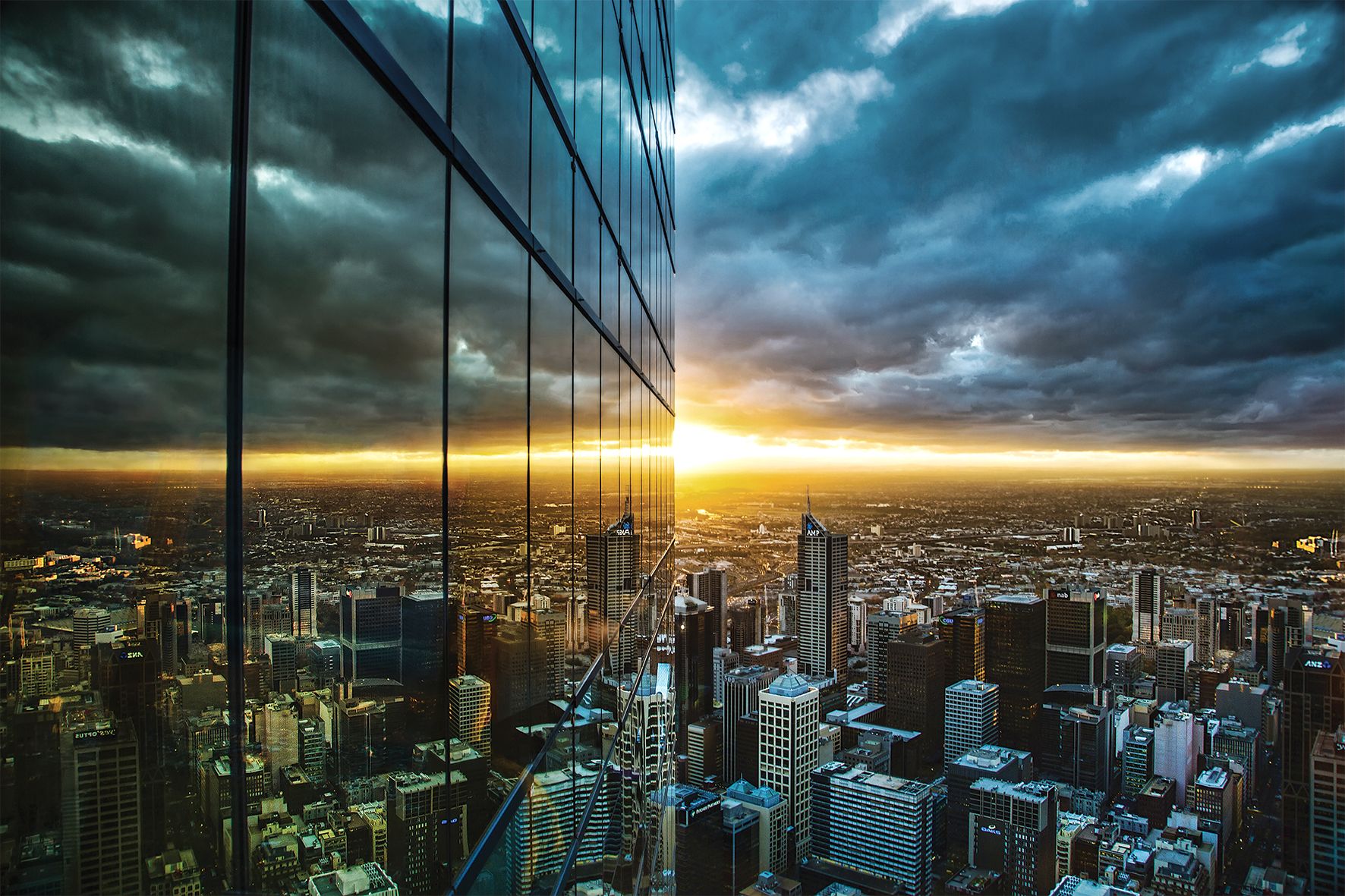 Photos Courtesy of Eureka Tower
We've been waiting to check out the one-off Eureka 82 Penthouse for a while now and we have to admit, it doesn't disappoint. Found at the top of Melbourne, Australia's Eureka Tower (which one of the tallest residential buildings in the world), the home is selling for $22 million AUD (which is around $20.7M USD) and spans the entire 82nd floor. The diamond-shaped luxury penthouse gives 360-degree views of the city skyline, ocean, and mountains through huge floor-to-ceiling windows. Seriously, just look at these photos. We want to move in immediately.
Designed by Fender Katsalidis Architects, with help from interior design architects Fitt de Felice and Molecule Studio, the penthouse was originally bought by the Jreissati family to be a private home. After filling it with luxury furnishings, modern art, and unique touches (like leather wall panels, Italian travertine marble floors, and a 20-seat hand-made dining table), the owners realized that it no longer fit their needs and decided to sell it. No one has ever actually lived in the apartment.
E82 is entered through a private lift lobby (there are actually four lifts in total), which opens to a long, stark white hallway that leads to several open living spaces and the view. There are five bedrooms and baths, three powder rooms with Italian marble, an executive office, and a family home theater room. Of course, the Eureka Tower's amenities are also available, like the 24-hour concierge, private cinema, fitness center, pool and saunas.
Like any great luxury home, it also has a full smart system that controls lighting, security and climate. iPads are on every wall, integrating with the SONOS audio system that's in every room — able to be controlled on and offsite via an iPhone or iPad. There are also five EcoSmart fireplaces, a INOA wine cellar by French designer EuroCave that's capable of storing over 1,300 bottles, Zip HydroTaps in the kitchen that supply sparkling water on tap, and of course, a butler's pantry and second kitchen for staff. The building also has eight secure parking spots reserved, so your friends and family will never have to worry about finding a spot on the street.
One of our favorite rooms is the master bedroom, which not only has direct access to the penthouse's bar, but has an adjoining wing with decking and a Kos spa that hovers over the city. Apparently, it's so high up that you can actually watch helicopters fly below you. Not too shabby at all.