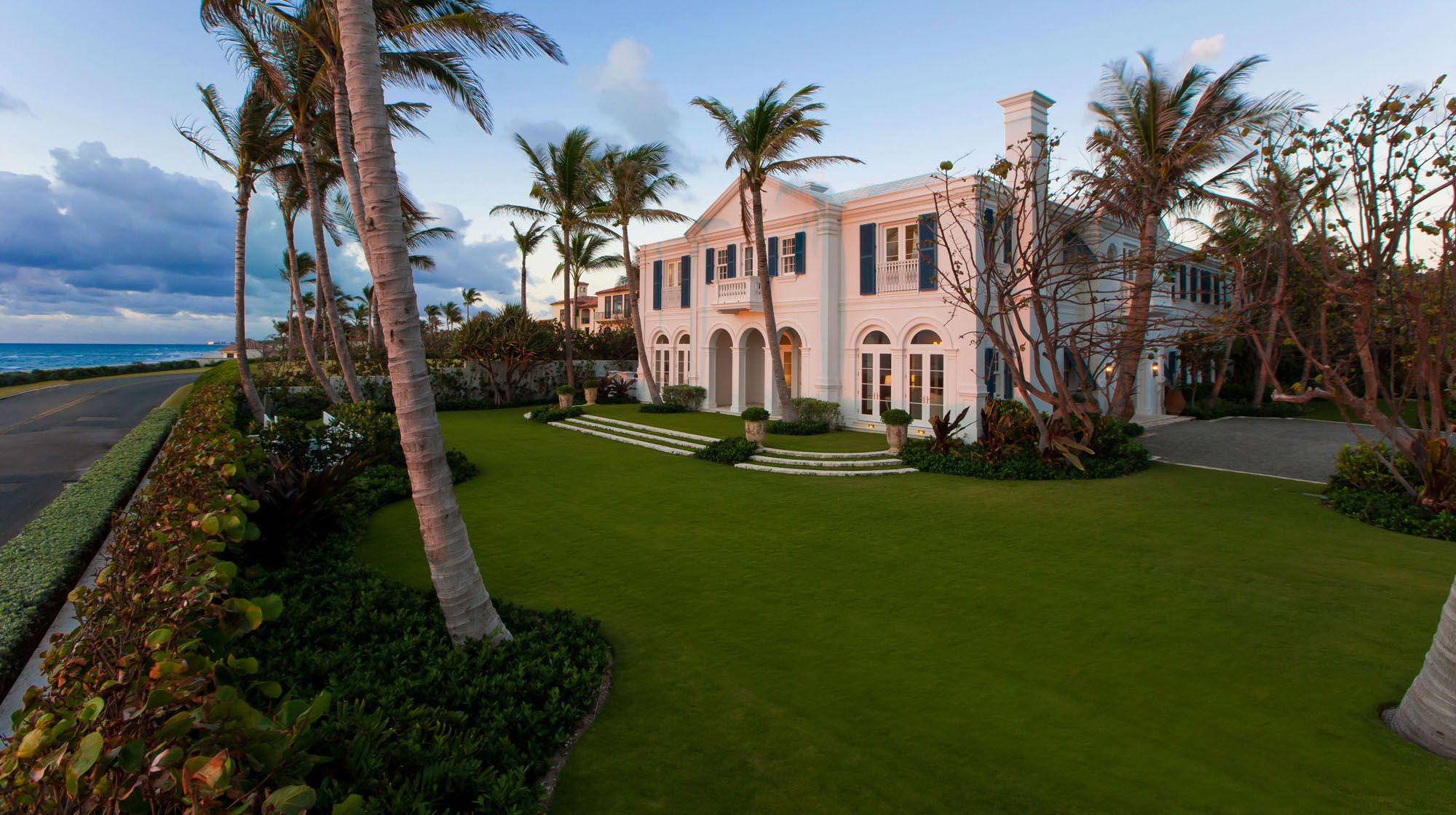 Photos Courtesy of Nievera Williams
Most people have no idea just what goes into landscape design, mistakenly believing that the job ends with plant placement. In reality, you should be thinking of hiring the right designer for the job outside just as seriously as you handle the one for inside the home—especially if you want your luxury residence to look like your celebrity neighbor's. After all, the outdoor living space is always what makes the first impression so you better make it a good one.
Keith Williams—the Lead Designer, Partner and Vice President at Nievera Williams—is one of the most sought-after landscape designers in the business, with offices in Palm Beach and New York. He goes to great lengths to make sure his million-dollar clients get exactly what they want, even if that means a 12-foot high aquarium (full of sharks!) with stairs up the sides leading into a guest house. Williams was kind enough to take some time to chat with us about his work, from his most extravagant projects to the most difficult.
JustLuxe: What would surprise people about landscape design?
Keith Williams: I think people would be surprised about the overall involvement and the scope of work that a landscape designer is responsible for. We are hands on from the beginning to the end of a project. We're responsible for the entire project site from designing and detailing to coordinating. As soon as you step out of the front door we're designing driveways, pools, planting, lighting, grading, drainage, irrigation and more. We even design buildings and structures, whether they're cabanas, pergolas, orchid house or pavilions.
JL: How does a meeting with a first-time client usually go?
KW: The first time you meet with a client is the most important time. Obviously you want to make an impression, but more importantly you want to create a bond and show a true understanding of the client's desire and expectations. It's very important that the client feels comfortable with you and you with them.
JL: What's the most extravagant project you've done and how much did it end up costing?
KW: I'd like to think all of our projects are extravagant, but if I had to choose one, it wouldn't necessarily be a project itself, but a component of the project. We once designed an outdoor Aquarium in the Bahamas. The aquarium was about 14' wide by 12' high. The back of the Aquarium was basically a retaining wall that held up the back of a hillside, with large glass panels in the front. We set up a pump and filter system that re-circulated water from the ocean creating a natural environment for the fish, sharks, octopus and other amazing sea creatures. The Aquarium had stairs on either side that lead you to a guest house, with a terrace at the top and bottom of the aquarium for entertaining and lounging. Let's just say the cost had a lot of zeros...
JL: What's the weirdest/most difficult request you've gotten from a client and were you able to make it happen?
KW: I honestly get a lot of strange requests, but I must say [the] weirdest request I received was not too long ago from a client whose project we had completed two years ago. My client midway through the design process asked me to make sure that her water bill did not exceed $500 a month. My own irrigation bill is $350 a month, but her property is three times as big. This was difficult, because our client wanted very lush, full gardens with shrubs that flowered at particular times of the year and a variety of plant species. The end result is that we met her requirement by creating a sustainable garden. That has since has been published and received an "award of merit" from the ASLA for sustainability.
JL: What's been your favorite design and why?
KW: All my designs are favorites as they all have something unique about them that separates one from the next. I'm particularly fond of a modern landscape we completed in Palm Beach three years ago. This project is also considered a sustainable landscape and has received the Lesly S. Smith Landscape Award from the Preservation Foundation of Palm Beach, for forward thinking.
JL: What was the last project finished, and do you have any new and exciting projects coming up?
KW: We just finished a residential project in Palm Beach, the house and gardens were designed to accommodate art and sculpture. The pool itself is a piece of art that's entirely tiled with small glass mosaics that create a pixilated Hibiscus flower—almost like a Warhol painting.
We also have a new, exciting commercial project getting under way in West Palm Beach, Florida. The building is a high rise, residential [project]. The building and the gardens will be LEED certified and we'll be incorporating some of the newest technology from irrigation systems to pervious paving materials and native landscape.
For general information regarding Nievera Williams, contact thomas@nieverawilliams.com, and to contact Keith directly regarding a project, email him at keith@nieverawilliams.com.