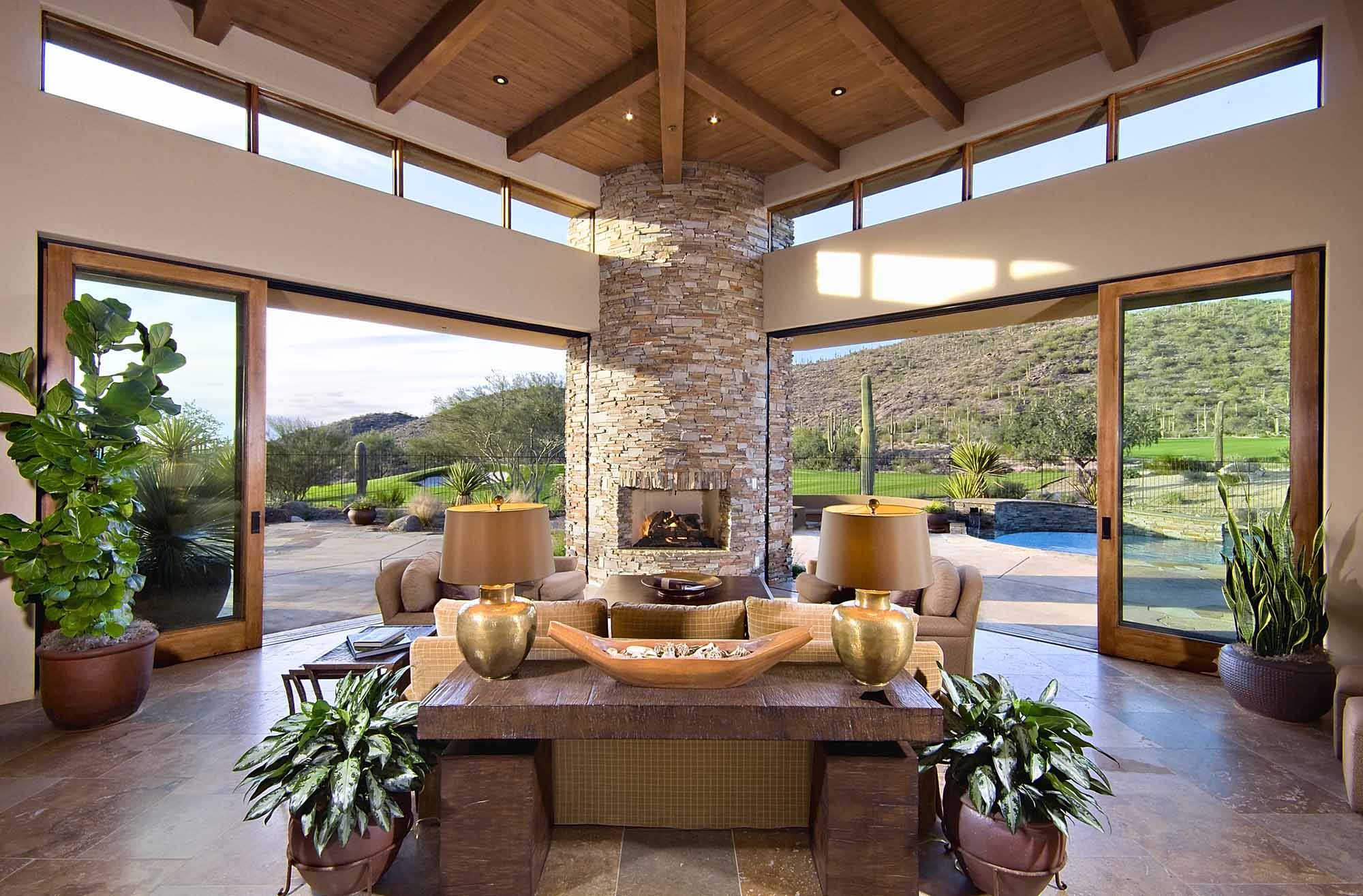 Photos Credit: The Ritz-Carlton, Dove Mountain
The drive from San Diego to The Ritz-Carlton, Dove Mountain in Marana, Arizona includes some major temperature spikes and terrain changes—you get rocky mountains, unforgiving deserts (including one that doubled for Star Wars' Tatooine), and miles and miles of Saguaro cacti. Though the thermostat may jump from to a suffocating 115 degrees by the time you hit Yuma, it's alright because Marana seems to be at least 15 degrees cooler than its neighboring towns and cities. Surrounded by the Tortolita Mountains in the Sonoran Desert, The Ritz-Carlton is definitely a little haven and after staying there for just one night, you may wish you could simply move in—and you actually can.
Recently I was invited to check out the resort and tour The Residences to get an up-close-and-personal look at what living there is actually like. After a too-short weekend, I would be lying if I said that I wasn't completely sold on the resort's collection of private whole-ownership homes. And The Residences almost didn't happen. It was right after Tucson developer David Mehl debuted the community that the Great Recession took hold, making it incredibly difficult to succeed in the real estate market. Thankfully, Google pioneer, mathematician and engineer Ray Sidney (who graduated from Harvard and MIT) stepped in with the money needed to make it a success. Sidney and Mehl went on to form Dove Mountain Investors, LLC, which is the company that owns, develops and markets the community.
With approximately 800 acres devoted to The Residences alone, the initial phase includes 100 homes and homesites that start at around 1,668 square feet. The goal is to sell eight to 10 homes a year, and with 42 already sold and a few others in the pending stage, the halfway mark is looking pretty close.
Like the hotel itself, the environment is carefully taken into consideration and the architecture blends in seamlessly with the surrounding mountains. Basically, the luxury houses are entirely customizable and usually cost around $2 million (that's not including the plot of land) to purchase. After getting a tour of the gated community, you simply pick where you want your house, how much land (ranging from 1/4 to seven acres), and then decide what style of home you want. The Residences team of architects and builders take it from there, so all you have to do is wait for your new house to be ready. Once you move in, you get all of The Ritz-Carlton's amenities, like housekeeping, valet, concierge and deliveries.
Within the community is a 27-hole Jack Nicklaus golf course, which is where the World Golf Championships-Accenture Match Play Championship is held every February. There is a 45,000-square-foot Golf Club on-site where one will find the fitness center, Members' Grill and Cayton's Restaurant. An additional Clubhouse is also there, which acts as the central hub for community members with dining options, outdoor areas for special events, a board room, and a tennis court.
Of course, living at The Residences means that you also have access to the Forbes Five-Star hotel and all of its on-site offerings. If you find yourself in need of some serious pampering, you can make an appointment at the spa, which is known as Arizona's best and the third best in North America. Their treatment menu is designed around the traditions of the Sonoran Desert, focusing on eco-holistic therapies and balance within the body, and nearly everything can be customized around the areas that need special attention.
There are also several different restaurant options, including CORE Kitchen & Wine Bar; I definitely recommend trying the Hass Avocado Tartare, which brings in summer Asian pear and wasabi to create an unexpected sweet/spicy flavor, and the Crispy Skinned Rainbow Trout on a bed of citrus risotto-style frisée fennel salad. To be honest, just say yes to whatever the waiter or waitress suggests, because going with the CORE Sticky Toffee Pudding with brown sugar toffee sauce for desert was the best decision I have made in a long time.
Since the hotel and Residences are surrounded by billion-year-old desert mountains (6,200 acres of which are owned by the resort and kept natural), there are tons of hiking trails in the area, including ones that go through Tortolita Mountain Park and Tortolita Preserve—keep an eye out for the petroglyphs carved into mountainsides that date back to 300 BC. You can choose to hike on your own or you can sign up to join one of the hotel's many guided hikes.
I joined the Night Scorpion Hunt (when scorpions are viewed under a black light, they glow) and it was way more fun than I thought it would be. Led by Ranger Ron (a dynamic employee of the Ranger Station, where you can find all sorts of native critters and crawlers), my group of 13 was led out into the hills with flashlights and black lights—we spotted a family of javelin before we even left the paved pathways of the hotel. There were times when we were just wandering the desert, in what seemed like the middle of nowhere, with nothing but the low-level black lights and beautifully glowing scorpions to see by. I'm also pretty proud to say that I no longer have a fear of tarantulas, after being the first in the group to volunteer to hold the Desert Blonde we came across—who knew they were so delicate, light and dare I say, cute?
With The Ritz-Carlton as your backyard, the sheer number of activities and experiences you can fit into an ordinary weekend is pretty remarkable. I can only imagine how much fun it must be to actually live there full-time and suffice it to say, I was pretty sad upon my departure. Especially considering my journey home involved off-roading in Tatooine in a sedan, getting stuck in unforgiveable sand, and gorging on Red Vines in a shame spiral while waiting in 115-degree heat for Yuma's version of Obi-Wan Kenobi to rescue me with his tow truck. I guess that's what I get for leaving The Ritz-Carlton.