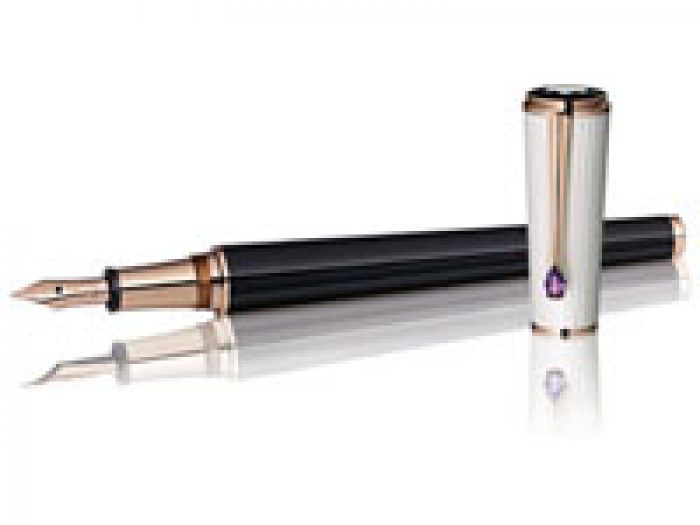 Luxury Pens: Montblanc luxury writing instruments has created a trio of writing instruments that pay homage to Ingrid Bergman, one of the greatest names in entertainment history.

Just as Ingrid was awarded three Academy Awards, for her roles in the 1944 thriller Gaslight, the 1956 drama Anastasia and the 1974 mystery Murder on the Orient Express, Montblanc has created three elegantly crafted writing utensils to celebrate the international actress' special achievement.

Each style of the Montblanc Edition Ingrid Bergman has an Italian name that hints at the years she spent in Italy, with her children and second husband, legendary director Roberto Rossellini, La Donna, L'Attrice and La Diva.

Each Montblanc Edition Ingrid Bergman features Montblanc's 18K red gold nib with its distinctive heart-shape incision, with the Montblanc iconic emblem on each opulent cap, in mother of pearl on L'Attrice and La Diva. The three editions also display an amethyst, which symbolizes traits often attributed to Bergman: calmness, clarity and tolerance.

La Donna is made of a sleek black precious resin barrel, reflecting Bergman's classic style, while the pleat-pattern mother-of-pearl-hued lacquered metal cap alludes to the skirts Bergman often wore and the red gold plated fittings reflect her ability to project passion on-screen. La Donna is available as a cartridge fountain pen, a ballpoint and as a rollerball.


L'Attrice is a special limited availability fountain pen, offered in only 75 pieces, reflecting 1975; the year Bergman won her third Oscar. The cap on L'Attice is a red gold Ingrid Bergman signature-engraved cap with a red gold clip adorned with an amethyst as well as a ring embellished with sparkling, brilliant cut diamonds designed to set off the floral motif upon the mother-of-pearl-hued lacquer barrel.

La Diva is considered the apex of the Montblanc Edition Ingrid Bergman, made of 18K hand-engraved solid red gold, and adorned with sparkling brilliant-cut diamonds. The highlight of the pen is the amethyst centered flower, inspired by a piece of jewelery worn by Bergman.

The Montblanc Edition Ingrid Bergman is the most recent Special Edition to honor a Hollywood legend, following Greta Garbo and Marlene Dietrich who have previously been honored with a Special Edition writing instrument.



For JustLuxe Carly Zindermann
Related Topics : Montblanc, Pens, Gifts, Lifestyle News