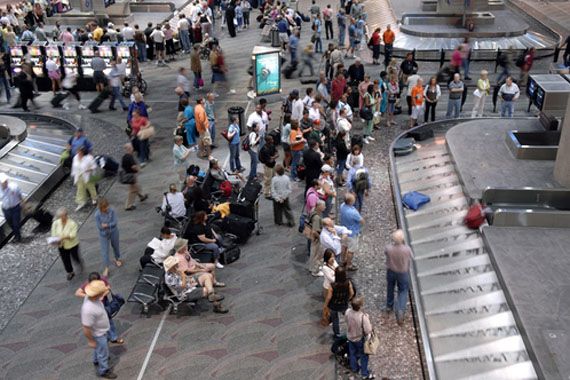 When you travel to a
vacation destination
, the big difference between mental baggage and physical baggage is that you want to leave the former behind and take the latter with you.
Unfortunately, the sheer aggravation of jostling along with heavy luggage or other vacation necessities (skis or golf clubs, anyone?) can make it all the more difficult to shed the mental burdens you're trying to get rid of in the first place.

The solution? Try shipping luggage and other vacation accoutrements ahead of time. A variety of shipping companies can help. It makes travel infinitely easier when the only items you have to worry about getting to the airport are yourself and a small carry-on for your makeup, medications, reading material and iPod. After all, there's no reason your suitcases and other vacation gear require the same luxury travel accommodations you do.


So short of hiring your own personal roadie to sweat the details-and we do mean sweat the details-you will save aggravation by shipping ahead.

Not only that, you can save real money, too. We've all become aware of the sometimes exorbitant baggage fees airlines now charge. Between basic fees, possible overweight charges and even tips for the redcaps, the cost of shipping ahead can actually save you a few dollars that would be better spent on the pure pursuit of pleasure.

The Specialists
Some companies specialize in shipping luggage and only luggage. They tend to be expensive, especially if you want to overnight it, because basically they broker it out to other shipping companies. But they add value in being there to deal with problems on your behalf. They pick up at your home and deliver to your room or bungalow. You can Google "luggage shippers," but here are some of the better-known providers (you may see a pattern in the site names):

Lugless.com
Luggagahead.com
Luggageforward.com
Luggageconcierge.com

The Parcel People: Fedex, UPS, DHL and others
These well-known shipping companies will pick up at home (for an additional fee) and deliver to your hotel or resort, although not to your room. But then the concierge should take care of that detail. You're limited to packages no more than 150 pounds and 165 inches in length and girth combined. Above those minimums, your shipment will fall into a freight shipping category. And it can get pretty expensive here too, especially if you go overnight.

Freight Shipping-Seriously?
Don't be scared off. Freight company trucks are the same kind of trucks that the others use. The difference is the others will pick up, offload to an airplane, then load back onto a truck for final delivery. So in the end, it's probably less grueling for your baggage to go freight than other modes of transport. The beauty part is that it can actually be the cheapest alternative as well. It depends on how much you're shipping. For example: consider four heavy suitcases and two sets of golf clubs. You're talking between 200-300 pounds. Freight is cheaper. The downside: You'll need to plan ahead to get the savings by shipping your stuff out three days or more in advance.

Obviously, shipping ahead requires planning. But think how nice it will be to avoid baggage check-in and pickup, overhead bin stuffing and sore shoulder muscles. You'll feel like you've started your vacation even before you get to the airport.