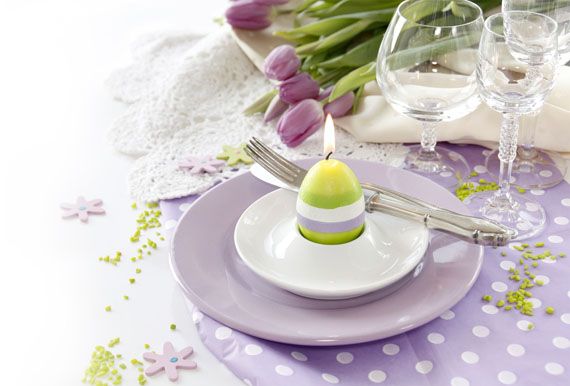 Easter isn't just for little kids anymore. These days there are plenty of grown-up ways to celebrate, without getting grass stains from egg hunts. Here's a look at everything you need for Easter entertaining, JustLuxe-style.

Stephanie Simek's 23k Gold Leaf quail egg necklace makes an elegant hostess gift or an extra special something for an Easter basket. The unique piece is made from an actual Japanese quail egg reinforced with plastic and lined with gold for a bright glow.



For a fun take on a real egg, Paloma's Nest has Custom Good Eggs: pure white clay "trompe l'oeil" eggs stamped with the words of your choice; perfect for use as place cards that guests can take with them as party favors. Or opt to decorate the Good Eggs with inspirational slogans. Eggs can be arranged individually or together. For luxe table settings, Horchow has brilliantly hued polka-dot plates as well as serving pieces, dessert stands and elegant table linens. Don't forget place cards for your guests with standing golden eggs that hold their name.



With all the decorating and planning for Easter, who has time to cook? Throw together a gourmet Easter menu with Horchow's Catered Easter. Wow your guests with carefully crafted favorite Easter foods with gourmet spins.

Choose from classic casseroles and hams or upgrade to seafood dips and rosemary lamb chops. For dessert, the "Magnificent Magnolia" cheesecake makes spring sweet and delicious, as do French macaroons and chocolate-covered strawberries.



When it comes to gift giving, Kuati offers luxury gift-wrapping services so that your fabulous holiday gift is complete. Simply choose your paper and leave the rest to expert gift-wrapping guru Jane Means who has wrapped gifts for royalty.

If you want this year's Easter to be truly luxe, follow these tips for an unforgettable celebration in the spirit of the season.