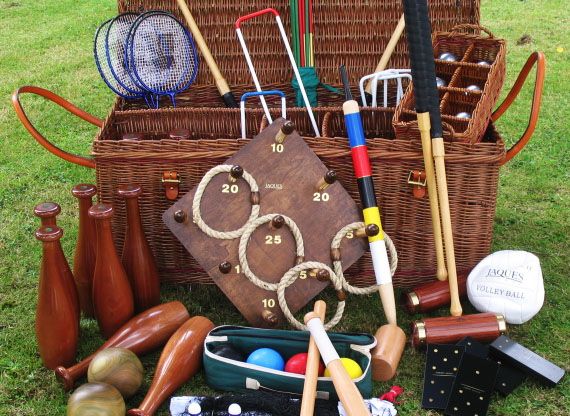 Photo Courtesy of Geoffrey Parker
Geoffrey Parker, London-based maker of the
world's most expensive poker set
for $7.5 million that we reported on last month, has come out with ultimate garden games chest in time for luxe summer lawn parties.
Priced at about $6,700, the enormous English willow wicker basket with bridle leather straps comes complete with 15 classic garden games as played at grand country estates. It includes croquet, skittles, boules, badminton, volleyball, quoits and more. The croquet pieces and other lawn party pursuits are crafted of the world's finest woods by Jaques of
London
, the inventors of croquet who introduced the game to the world at the Great Exhibition in 1851.
Geoffrey Parker
has been hand making luxury games in England for over 50 years, including numerous items for the world's most prestigious luxury brands. The firm's bespoke commissions have included an $800,000 diamond, gold and sterling silver Monopoly set within an alligator skin plinth made for a certain billionaire.
Refusing to craft anything outside of their English country workshops, they seek customers who appreciate items of great beauty whilst at the same time being the best of their type available.