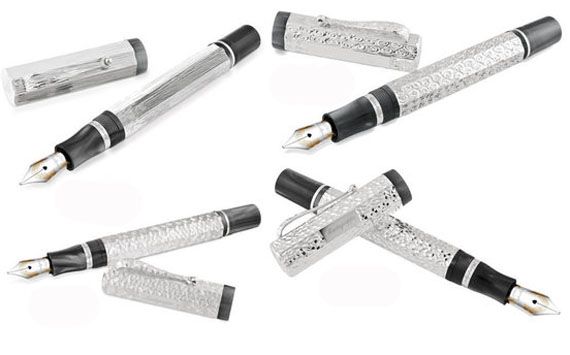 Photo Courtesy of Montegrappa
Italy-based luxury-pen maker
Montegrappa
announced this week that the Privilege Gioiello pen collection is now available. The limited-edition collection, which was originally inspired by a pen the company made in the 1930s as part of its museum collection, debuted at Baselworld, the largest watch and fine jewelry convention held yearly in Switzerland, this past March.
The revival of this highly regarded fine writing instrument brings the company full circle in claiming its position among the most prestigious manufacturers of writing instruments worldwide.
New engraving techniques used on the Privilege Gioiello collection, known as the "deep drawing" process actually alters the molecular structure of the writing instruments. The pen's disc is subjected to this process, which involves heating it to 800 degrees Celsius, eight separate times. Preceding the assemblage of the pens, all parts are chemically treated to remove residue and dirt. Montegrappa is one of the few manufacturers that deploy this tedious methodology with sterling sliver and 18-karat gold.
The Privilege Gioiello collection will be available in two formats. There is both a fountain pen and a rollerball model. Only 500 of each style will be produced. Four patterns will be offered: the Arctic, the Bark, the Peacock and the Wave. The Arctic model will feature icy cool reflections; the Bark will have a grained-wood, sylvan-like surface. The Peacock surface shows off the plumage of the vibrant bird; and the design of Wave distinctly captures the essence of flowing water.
For more information, visit www.montegrappa.com.