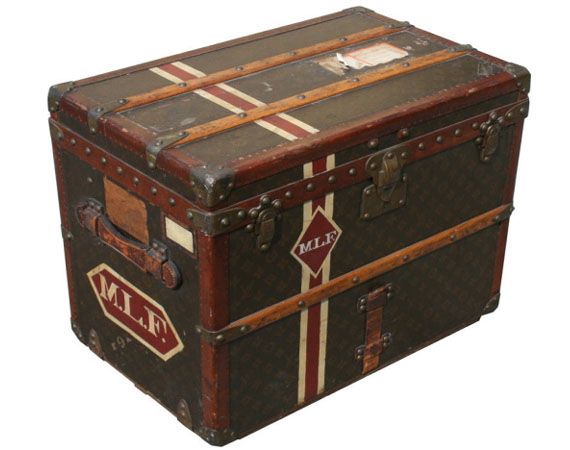 Photo Courtesy of N.P. Trent
A pair of customized
Louis Vuitton
steamer trunks that belonged to Mr. and Mrs. Douglas Fairbanks, Jr., the famed Hollywood actor and dandy, have been listed for sale by N.P. Trent Antiques of Palm Beach, Florida.
The trunks, priced at $9,750 and $8,750, are covered in Vuitton's signature monogram canvas and feature a hand-painted red and white racing stripe and the initials M.L.F., for Mary Lee Fairbanks, the actor's second wife (his first was Joan Crawford). Fairbanks purchased the trunks, originally part of a larger set, at Saks Fifth Avenue in New York for traveling in style with every conceivable accessory at hand.
One of the trunks bears a return label with the actor's address in Pacific Palisades, while two cruise ship labels are attached to the other; one from Cunard and another from White Star. The famous pair were frequent passengers on the QE2 to London where they maintained a chic residence.
Vuitton trunks such as these are icons of the golden age of travel, elegance adventure, romance and style; the celebrity provenance of this pair makes them even more valuable. At Doyle New York's auction in September, a large Vuitton steamer trunk with a cloth travel tag addressed to Captain Douglas Fairbanks, the actor's official military rank, fetched $5,938, almost tripling its estimate. Visit
NPTrentAntiques.com
to learn more.