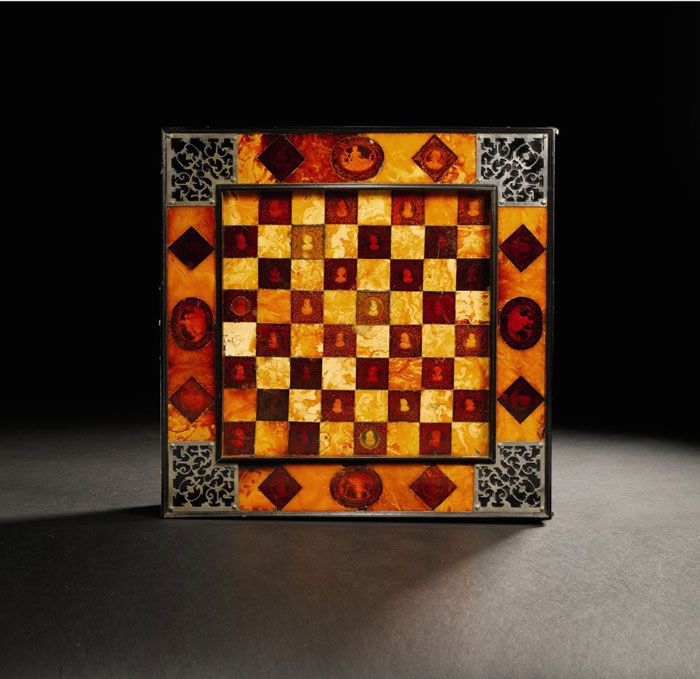 Photo Courtesy of Sotheby's
'Tis the holiday season, and while perhaps in the past ripping off the packaging of a new board game was the cause for bitter disappointment, this December
Sotheby's
will be auctioning off a unique 17th century amber board game that comes to the market with an estimate of £300,000-500,000 (approximately $480,482-800,803), sure to make any game and gift lover swoon.
The game is believed to trace back to King Charles I of England and Scotland (1600-1649), and later to the ownership of the Hesketh family of Rufford Hall, Lancashire and Easton Neston, Northamptonshire. The board was bestowed by King Charles I to his close confidant, William Juxon, on the day of his execution, according to Hesketh family tradition. Assuming this tradition is accurate, the board game was passed down within the Juxon family and was ultimately conveyed to the Heskeths in the 18th century.
The board is carved from white amber and placed under translucent red amber – typical of the Königsberg work of that era, according to Sotheby's - and is one of the most stunning 17th century amber objects the auction house has ever seen.
Pieces made of this luxury material are recorded in the foremost princely collections of the period. Given the outstanding quality of this exceedingly rare games piece, the present board has been attributed to the leading practitioner of the day, Georg Schreiber, with its closest comparison in the only known board to be signed and dated by this celebrated master.
This fine piece comes with a Chess board and a Nine Men's Morris board to the exterior, a Backgammon board (in two halves) in the interior and 28 beautiful checker pieces.
Offered by the Trustees of the second Baron Hesketh's Will Trust this luxurious item will be held for sale through Sotheby's European Sculpture & Works of Art. Estimates do not include buyer's premium.