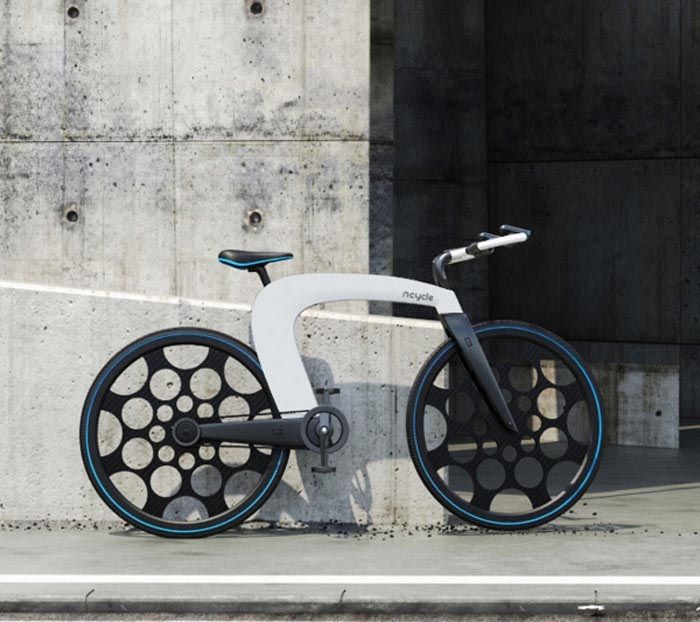 Photo Courtesy of nCycle
Nothing beats enjoying a beautiful bike ride in the great outdoors – that is, except for enjoying a beautiful bike ride in the great outdoors without the overwhelming exhaustion and muscle fatigue that tends to accompany it. The innovative electric
luxury bicycle
, nCycle has a sleek and lightweight one-of-a-kind design with a hollow-bodied shell that protects the inner electrical system, bringing the future to your daily ride.
Opting for a completely new design is just the start of unique attributes and functions that set this radical e-bike apart from all of the other electrical power bicycles available. A common inconvenience for many avid riders is the issue of locking your bike up. Carrying a clunky bike lock around at all times can contribute to a lot of racket during what would otherwise be a smooth ride; however, to leave it at home can lead to anxiety ridden situations. The nLock integrates the locking system into the handle bars allowing for a safe, portable and lightweight option.
If you're enjoying a brisk ride, the last thing that you want is a problematic backpack or an unattractive basket. The nCylce has come up with a solution by simply placing a retractable pocket located in the body of the bike that completely disappears when not in use. This modern e-bike also has a valuable folding option available that allows the bicycle to be folded up in two seconds, all the while maintaining its sturdy structure.
Another option for the nCycle is the electric drive version in which the bike is partly aided by a rear hub-mounted electric motor with the drive power battery found in the body of the bicycle. This choice provides a natural, metallic cover for the battery, as well as substantial cooling and increased performance and battery life.
Other features included in this elegant and electronic bicycle are integrated headlights, built-in speakers and a holographic display right on the handle bar. While the craft is just a concept for the time being, prices for the revolutionary nCylcle are said to start at $4,000.