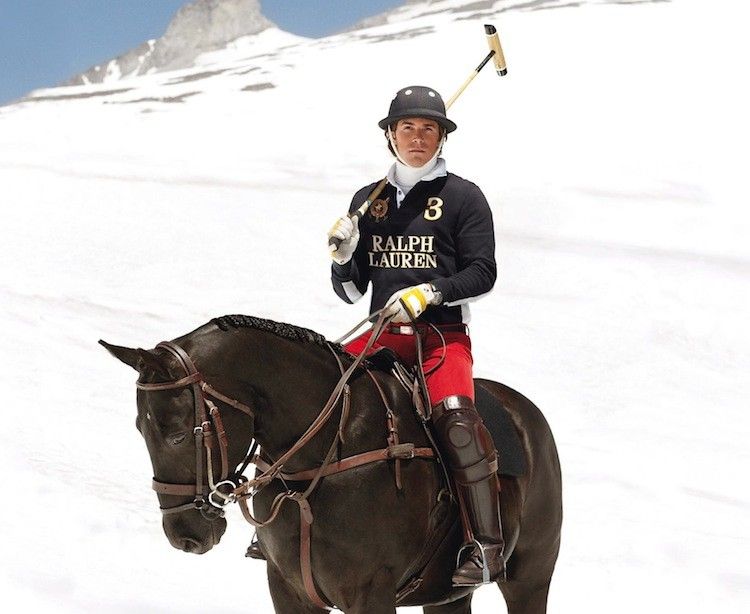 Photo Courtesy of Ralph Lauren
From January 24–27 posh Swiss ski resort St. Moritz will be packed with even more jet-setters than usual for the famed St. Moritz Polo World Cup on Snow. Last year's event was cancelled at the last minute due to weather conditions, the first time in its 28-year history; as a consequence perhaps of global warming, the ice on Lake St. Moritz was simply too thin to be played upon. Ralph Lauren had been set to make his debut as the new official outfitter of the prestigious polo cup, with the designer's spokesmodel Nacho Figueras taking the field for Team Ralph Lauren in their first appearance at the St. Moritz event. This year the Cup is expected to proceed as planned, with Figueras and the rest of Team Ralph Lauren tackling tough competition from the likes of Cartier, BMW and Deutsche Bank. 
As part of the partnership, Ralph Lauren will design the official shirts to be worn by the four competing teams, all on-site staff and volunteers. The shirt will feature the St. Moritz Polo World Cup on Snow crest as well as the crests of the Swiss Polo Association and the UK's famed Guards Polo Club. The official Ralph Lauren shirt will be available for purchase in select Ralph Lauren stores in St. Moritz, Gstaad, Zurich, Geneva, London, Milan and Munich, as well as the Ralph Lauren European e-commerce sites, the St Moritz Polo Club e-commerce site, and also the Ender Sport Store on the frozen lake during the tournament. Elite travelers in town for the event will be staying at the ultra-luxe likes of Badrutt's Palace and the Kempinski Grand Hotel des Bains.  
(Photo Courtesy of St. Moritz Polo)