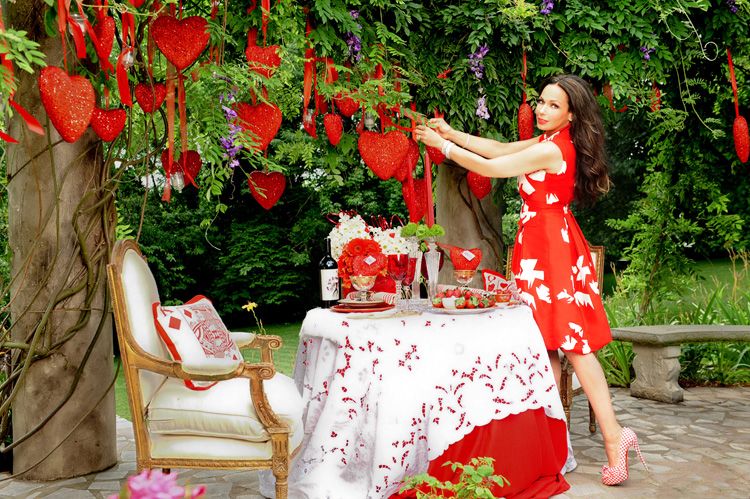 Photo Credit: Eric Anderson Photography
If you're anything like me, you may not know how to plan that perfect romantic moment without relying on clichés, but that's where
Moll Anderson
and her book
Seductive Tables for Two
come in. Picking up a book nowadays for tips on event planning may seem a bit archaic in a world of Pinterest, but there's nothing as immediate as holding source material in your hands. Plus, a page in a book isn't going to freeze up on you.
So, what makes Moll Anderson qualified to gives us tips on tablescapes that inspire romance? First of all, she's an accomplished interior designer who excels at using simple, everyday objects to transform a home into something new and unexpected. Additionally, she's won an Emmy for her turn as an entertainment reporter and was included on Donna Karan's
Women Who Inspire
list. As a married woman, she's also taken her straight-forward relationship advice to programs like
Access Hollywood Live
,
The Today Show
,
Dr. Phil
, and
Good Morning America
. Many national publications have featured her, including
InStyle
,
Cosmopolitan
, and
USA Today
.
Anderson even has her own satellite radio show on XMTalk 168 where she speaks directly and honestly about what really makes a difference in relationships — the little things. By sharing her personal experiences, she connects by showing that her advice isn't just regurgitated from elsewhere, it's tried and true. So if you're looking for that perfect way to seduce someone special, whether it be for Valentine's Day or for any average day of the week, take a minute or two to read Moll Anderson's tips on creating the perfect romantic moment in time!
Mila Pantovich: How early should someone start planning their Valentine's Day night (from the décor to the meal)?
Moll Anderson:
After the first of the year, with the winter holidays behind us, the stores begin filling up with Valentine's décor. The abundance of hearts, candies and cards and love theme décor should start you thinking about your romantic Valentine's night, and if you start early enough you can order your décor online. However, you don't need to let the traditional Valentine's symbols be your only inspiration for your celebration. Think about planning a romantic night that speaks to you and your partner's interests. I'm always searching for things all year-round and I tuck them away. The idea is that even though Valentine's Day is the Super Bowl of holidays for lovers, I want couples to do a table, a breakfast tray, picnic or even a cocktail all year round.
MP: What aspects are essential for any romantic evening?
MA:
My five must-haves for creating a sensory-scaped, romantic tablescape are color, lighting, music, flowers and fabric. These essential elements all possess important but different characteristics to bring your table together.
Color: A marvelous form of energy that has an amazing impact on the human psyche. Did you know that each color has an energy specific to it? Consider hues for your tablescapes that naturally draw your attention and evoke the sensual response you are searching for.
Lighting: A flip of the switch or the strike of a match changes the mood of every setting. But more than that, mood lighting is a natural phenomenon. An overcast day, a romantic sunset, or a brilliant, mysterious full moon—lighting affects us on a primal level. We are innately programmed to be moved by light, so use this easy tool to create the perfect atmosphere for your table for two. (Photo Credit: John Hall Photography)
Music: Set the atmosphere thermostat to fit the mood you desire in any space you want. In many ways, music is the most versatile lifestyle accessory. So, decorate your table with sound. Not only can music ripple through a room with incredible power, but it can also bring a new spark to your relationship.
Flowers: These extraordinarily versatile table accessories come in a variety of colors, sizes, and scents, perfect for a wide range of settings. It's been proven that women automatically feel more romantic when in the presence of these wonderful blooms.
Fabric: One of the most telling elements in a space is fabric. It adds texture and a wealth of personality. Linens can add that bit of pizzazz to spice up your table from the color to texture to the details, there are so many choices! One of the few design elements geared to the sense of touch, fabric, welcomes you with comfort.
MP: How does someone create a romantic meal that strays from the Valentine's Day clichés that so many people have grown to despise?
MA:
Transport your partner to a romantic or memorable destination with your menu selection. From the taste of Italy to the seduction of France, you can bring your favorite travel inspirations or favorite flavors to your table. I call it "Inspiration Destination" right in your own home.
Your romantic meal doesn't have to be dinner. Plan for a seductive dessert party or evening night-cap. A dessert night can start first thing in the morning with sweet and simple love notes all written in matching stationary. Write the cards in advance to have them ready to leave in special places that can be found throughout your lover's day. Perhaps you meet at a restaurant for dinner for two and then before you order desert, you hand the last note personally that suggests you go straight home for dessert instead. Include your partner's favorite sweet treats; cakes, candy, chocolates, cookies, or cupcakes. Whatever you serve will pale in comparison to you. (Photo Credit: beall + thomas Photography)
MP: What kinds of sneaky questions can you ask your partner to perhaps garner information about what he or she would enjoy best on a (surprise?) romantic evening?
MA:
You can always ask your partner about fantasies and dreams they have to come up with fun ideas to create at home. Remember if you are following the idea of having a seductive home and you are creating seductive tables for two then you will be in constant communication with your partner. I guarantee that you will never be at a loss for ways to please your partner! Listening is key to any relationship.
MP: Themes are a great way to decide on décor; what are some easy ways to come up with a unique and personal theme?
MA:
Transport yourself to any destination. Bring your favorite travel memories to your table theme. When I travel I take pictures of decadent details so that I can purchase them while visiting the vacation spot.
Music can evoke memories of past events shared together. Bring the decades back to life with a music-based theme. Music from Frank Sinatra can bring alive the romance of 50's and 60's, or maybe create a disco theme event with music from the 70's. Center your table around a memory of a favorite song.
Create your seductive soirée from a romantic scene you saw in a movie that spoke to your heart. Again paying attention to detail is key to creating your version of the memory.
Let your menu be your guide to your theme, think Mexican fiesta, Asian cuisine or tropical fare to create your tablescape theme.
Center your table theme around the gift you chose for your special someone; a men's tie, a sports gift, even a bottle of wine can inspire your décor. (Photo Credit: John Hall Photography)
MP: Roses are obviously a romantic staple but are there other types of flowers that would make more of a unique statement?
MA:
The fragrant smell of the flower is an intoxicating sensual awakening. Don't underestimate the power of the flower; it captures the senses in a most unique way and flowers play a tremendous part in capturing one's heart. Just remember that florals for a room can be fabulously fragrant, but your table needs to be a less fragrant scent of floral because you don't want it competing with the meal.
Orchids: With more than 200 varieties of orchids available there are so many choices and colors to add elegance to your home or table. Orchids symbolize love, luxury, beauty and strength.
Camellias: Beautiful in colors of red and white, camellias express love and devotion.
Gardenias: This white fragrant flower emits a sweet scent and symbolizes secret love and joy. Use as a single stem in a vase, or float with candles in a shallow bowl.
Peonies: A symbol of a happy life, good fortune and a happy marriage, romance your love with peonies in colors of white, pink, cream, and red.
Daisy: She loves me, she loves me not; daisies are the flowers of love and innocence, of love that conquers all. Gerbera daisies are available in bright colors bringing a cheerful addition to your table. (Photo Courtesy of iStockphoto | Thinkstock)
MP: What colors are best for the table setting and décor?
MA:
The ultimate color of romance is red. It can enhance the metabolism, increase respiration, and even raise blood pressure. Be sure and have a go-to selection of red tableware of linens to set the sexy tone for your dining experience. Red can be used anytime of year and the Christmas holidays as well. A quiet intimate or elegant table, can call for a more subtle color palette such as pale pink or lavender and you can bring elegance of luxurious cobalt blue or brilliant gold. To bring out your vibrant or wild side, choose hot bright colors such as hot pink, bright yellow, and vibrant orange. If you want to capture the memory of a beach getaway, set the tone with soft blues and creamy whites. Warm spice-inspired hues of chili powder, red pepper, paprika and cayenne are sure to add some heat to your table. These earthy tones are perfect compliments to a hearty meal. (Photo Credit: Eric Anderson)
MP: Many people associate feminine touches with romantic meals; what are some ways a meal can be romantic and pleasurable for even the manliest of men?
MA:
I'm always after women, whether they are creating a home or a tablescape, that they need to remember that a partnership in both is important. That's what a seductive home or table is all about, designing to the senses of both people male or female. It's only sexy if both people connect to the vibe. Men tend to love more simple scapes that are strong and bold, so remember that knowing your partner is the key to your home and relationship.
MP: What are some very simple ways for a man to create a romantic evening and environment? Just how much effort is it?
MA:
Cooking is not necessary. Men can save time by picking up carryout at a favorite restaurant. All they need to do is focus on the presentation. Presentation is everything, but creating a romantic atmosphere does not need to be time consuming or expensive. Create the mood for seduction with music; a play list of romantic music or their most memorable songs as a couple is a must. Setting the atmosphere with lighting is as simple as adding some candles, or votives throughout their space. The last must-have is flowers picked up at a local market. Music, lighting and flowers will all set the tone for romance. Remember the thought that he is taking the time in the first place is so fabulous! (Photo Credit: beall + thomas Photography)
MP: Is it better to sit beside one another on the same side of the table or on opposite sides?
MA:
So many of life's special moments are celebrated around the table. It's about being face-to-face, looking into each other's eyes and really seeing your loved one.
MP: What types of appetizers, dishes, and wines are your favorites for romantic meals?
MA:
Some of my go-to recipes are in the cookbook section of
Seductive Tables For Two!
Food choices are so personal, but I think some of the choices I made are universal. My favorite cocktail is "Orange You Going To Kiss Me" not only is it beautiful, but also it's a skinny version. For my husband it is a Scotch. Red Wine and California wines from Napa are some of our absolute favorites. (Photo Credit: beall + thomas Photography)
MP: Which herbs, spices, and foods work as the best aphrodisiacs?
MA:
Romance isn't just about the food you eat at dinner; it's really about creating an environment that allows your mind to let go and be receptive to being seduced. While some food components allegedly increase libido for desire by their shape or appearance; others have certain chemicals that contribute to your sensual well-being. In any case aphrodisiacs are a fun excuse for you and your partner to experiment with food! Here are a couple of suggestions to add to your menu that just might spice up your life.
Chocolate: One of the most known aphrodisiacs is chocolate! Chocolate contains phenylethylamine and serotonin, which are both "feel good" chemicals. These chemicals kick in and produce euphoric feelings when we are happy or in love.
Chili Peppers: Peppers mimic the physiological effects on our bodies that we experience during sex.
Ginger: Ginger has been deemed an aphrodisiac for its scent and stimulation of the circulatory system.
Honey: During the Medieval times, couples drank beverages made from honey, to promote sexual desire. In ancient Persia, couples drank mead every day for a month (known as the "honey month" — a.k.a. "honeymoon") after they were married in order to get in the right frame of mind for a successful marriage.
Nutmeg: Nutmeg is a sweetly scented spice and a very popular libido boaster in many cultures. It has been found to increase sexual behavior.
MP: Are there any foods you should stay away from?
MA:
Most people avoid garlic because they don't want to kill the mood with bad breath on a romantic night. However the high levels of allicin in garlic improves blood flow to your sexual organs, which is a definite turn on. So if you are adding garlic to your menu, be sure you and your partner both partake. Onions are another turn off for romance, so leave the onions out of your recipes on this romantic evening. (Photo Credit: John Hall Photography)
MP: With Valentine's Day approaching, what are some great seasonal ingredients for a romantic meal?
MA:
For many of us February is a cold month and we are in the midst of winter. Fresh local seasonal fruits and vegetables are not available. Those living in warmer climates, will have a greater selection of seasonal varieties. In the colder climates, a hot hearty soup, spicy chili or my "Hot and Flirty Pasta" by the fire are all a welcome retreat from the winter chill. For a special romantic evening like Valentine's, I like to include some of my husband's favorites in my menu.
MP: What are a few ways a couple could do to really make the night memorable (homemade gifts, handwritten messages, etc.)?
MA:
Placecards are something I always like to add to my table, even if it is just the two of us. Creating a placecard unique to the table is one way to make it special, and often times I add a trinket, ornament or gift adorned with the placecard at the table setting.
Sometimes I hide handwritten notes or little surprises within the table. It might be something they have been dreaming about, or it may be a treasured memento from a once shared experience, or even a trinket that reminds them of you. One of my most treasured items my husband did for me was a love note from our wedding day that he had framed in a small bejeweled frame. To this day it sits on my dressing table and I get to see it every morning. (Photo Credit: Eric Anderson Photography)
MP: Do you have any easy, go-to gifts that will be a good fit for anyone, beyond the typical chocolates and teddy bears?
MA:
The most thoughtful gifts are those that are selected for each person; gifts that let them know that you know their interests, hobbies, or personal style. It doesn't need to cost a lot of money to let them know you are thinking of them. Maybe it's a gift card to their favorite lunch or coffee place or tickets to a movie tucked in a Valentine's Day card.
For friends, family, or even a lover, think a table or gift book. I like to give a fabulous book and sign it with the date for a sweet remembrance. Magazine subscriptions bundled in a theme, or simply their favorites, are another gift idea that keeps giving for months to come.
Sheets to me are a total luxury gift and very seductive to buy in a color that's completely unusual to the recipient. If they always have white sheets, go for some soft pink or lavender if they are for a girl or some rich chocolate brown if they are for a guy.
Robes are so much fun! It is awesome to get them monogrammed with everything from initials to words that will spark romance. You might even put a spa basket together of bubble bath, soaps, body oil, lotion and a bottle of your favorite bubbly.
MP: If someone wanted to stray from using a table, what other ways could they set up a romantic meal?
MA:
Trays are a wonderful alternative for a table for any meal. Have two trays on hand for breakfast in bed, an evening night-cap or an after dinner dessert treat. Use a favorite blanket or quilt and set up a seductive meal for two on the floor by the fire, in the bedroom, or in a new location in your home. Scensory-scape with flowers and candles in votives. (Photo Credit: Eric Anderson Photography)
MP: Besides the home, what other locations would work great for a memorable experience?
MA:
Location, location, location — it's everything. Where you choose to have your table or picnic will set the tone for your meal. Even the simplest space at night will be a stunning location with just votives and music. Set in a private place in the woods, or under a canopy overlooking the water, it is sure to be memorable. The scenes for romance are everywhere; you just need to know how and where to find them.
MP: What kind of special evening can someone plan if their partner "isn't really into Valentine's Day"?
MA:
Add a little touch of whimsy to your celebration. Fun, whimsical and even unexpected accents to your gatherings may help him get in touch with your playful side. You might even try a super sexy movie of your choice to get your spouse's attention. Not many men will turn down a dinner and movie night that comes unexpected.
Set a game night tablescape with his favorite classic game boards, Scrabble, Monopoly, Clue, Dominoes, etc. Use the game board and player pieces for inspiration — Boardwalk anyone? (Photo Credit: beall + thomas Photography)