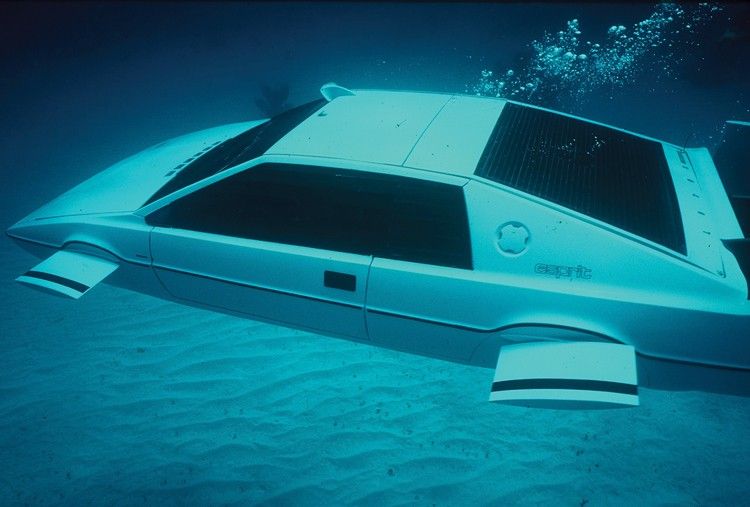 Photos Courtesy of RM Auctions
Few car chase scenes in the history of cinema are as memorable as the one in
The Spy Who Loved Me
. When the baddies were giving chase to 007, he drove his Lotus Esprit into the water, transformed it into a submarine, and disappeared under the waves.
Of course, like many of
James Bond
's famous trinkets, the amphibious Lotus didn't actually exist. But they
did
build a submarine to look just like the Lotus for the film, and now that one-of-a-kind, iconic movie prop is going up for auction.
The submarine has a rather unusual history. It was originally built for the studio by Perry Oceanographic in Florida at a cost of about $100,000, which would amount to about half a million at today's value. But just like Bond disappeared into the water when driving it in the movie, so too did the submarine disappear after filming was complete. The studio pre-paid for it to be stored on Long Island for ten years, after which the storage unit and all its contents went into a blind auction. A local couple placed the winning bid and were shocked to find themselves the new owners of this long-forgotten piece of cinematic history.
The sub was then displayed occasionally in a variety of museums and special exhibits, but has for the past couple of decades remained shrouded largely in obscurity. Now it has emerged as the centerpiece in
RM Auctions' upcoming sale
in London on September 8, 2013.
"We have a great track record in selling incredible and iconic movie cars, and this particular Lotus is certainly up there amongst the most famous cars of all time," said RM's European director Max Girardo. "Over the years, millions of moviegoers have stared in awe as the Lotus transformed itself into a submarine, and now, perhaps one of them will have an opportunity to own it. Her Majesty's Secret Service aside, it surely is the ultimate beach accessory!"
There's no telling how much some movie buffs may be willing to pony up to bring the Lotus-bodied submarine home, but given the ?2.9 million which RM raked in for the Aston Martin DB5 used in
Goldfinger
and
Thunderball
, it could be a very high price indeed.