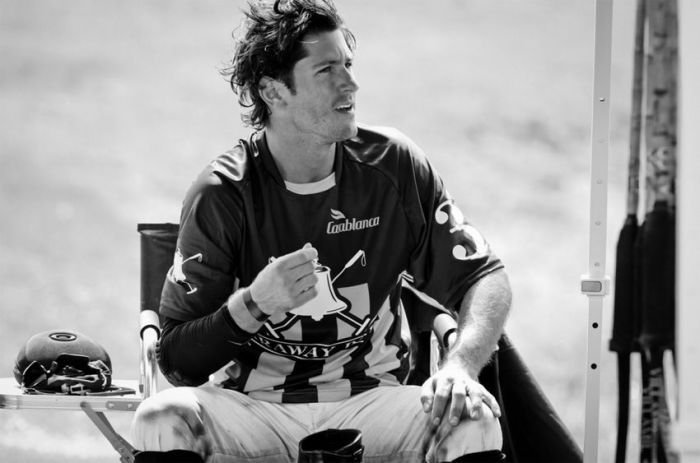 Photo Courtesy of Nic Roldan
We love the excitement of a good polo match, but having a dashing gentleman riding the horse just takes the game to new heights. And for whatever reason, most of the distractingly attractive ones come from Argentina — which is making some of us think we should relocate. Trust us on this, once you start looking for sexy horsemen, your productivity level just plummets, so maybe wait until you're home to check the following seven guys out in more detail.
Photo Courtesy of Nic Roldan
Nic Roldan
Age: 32
Born: December 4, 1982
Buenos Aires, Argentina
We have a hard time dealing with Nic Roldan over here at JustLuxe, ever since we interviewed him last month. Not only does his personality seem too good to be true, he's pretty darn nice to look at. He's like the Ryan Gosling of polo. Plus, he's pretty darn talented. The third-generation player actually won the US Open when he was only 15 and captained Prince Harry's team at the 2010 Veuve Clicquot Polo Classic on Governors Island. He's not single, but he's also not married…yet.
Photo Courtesy of Equus & Co.
Eduardo Novillo Astrada
Age: 42
Born: October 7, 1972
London, UK
Eduardo Novillo Astrada had numerous wins to his name by the time he reached 37, like the Palermo Masters Championship and the Triple Crown Open. Aside from being incredibly talented, he's the type of handsome that looks like he makes the best cup of tea ever to exist.
Photo Courtesy of Adolfo Cambiaso
Adolfo Cambiaso
Age: 39
Born: April 15, 1975
Cañuelas, Buenos Aires, Argentina
Have you ever wanted to know what Jon Hamm would look like playing polo? Meet La Dolfina Polo Team's Adolfo Cambiaso. He reach his 10-goal ranking at only 17 and has over 30 Grand Slam titles and Master Series wins (including the British Open, US Open, and the Argentine Open). He may be married to a gorgeous model, Maria Vazquez, but we can still dream.
Photo Courtesy of Facundo Pieres
Facundo Pieres
Age: 27
Born: May 19, 1986
Buenos Aires, Argentina
Facundo Pieres was born into a family of polo players — he's the second son of polo legend Gonzalo Pieres and his brother plays the game too. He's won his fair share of tournaments, like the Hurlingham Open and the Tortugas Open, but let's just take a minute to look at him on this horse. Look how majestic he is. It's like sun is setting just to illuminate his five o'clock shadow. Thanks, Mother Nature.
Photo Courtesy of El Remanso Polo
Charlie Hanbury
Age: 27
Born: May 15, 1986
United Kindom
El Remanso's Charlie Hanbury looks like he would fit in comfortably at a frat party, with his long blond hair and wide easy smile, but we sort of like that — probably because he balances that with his obvious love for horses. He is the older son of Christopher and Bridget Hanbury (his younger brother George plays polo too, and is just as dashing), and when he is in England, he is based at Cirencester and plays at Guards, Cowdray, Cirencester and Longdole.
Photo Courtesy of Ignacio Figueras
Ignacio "Nacho" Figueras
Age: 37
Born: March 4, 1977
25 de Mayo, Buenos Aires, Argentina
Ignacio "Nacho" Figueras is captain of the BlackWatch Polo Team, which is sponsored by Ralph Lauren. Not surprising (look at that chest hair — it's like he came from the cover of a romance novel), Figueras has been the face of Lauren's Black Label line since 2005 and was selected to represent the line of Polo fragrances.
We hate to say it, but he's been married since 2004 to Delfina Blaquier and the couple has four children. Let's move on to our last (but not least!) choice.
Photo Credit: Everett Collection/Shutterstock
Prince Harry (Henry Charles Albert David, Prince Henry of Wales)
Age: 29
Born: September 15, 1984
London, England
No one is really sure when it happened, but at some point Prince Harry far surpassed his older brother William in the looks department — it was probably overnight and the full head of hair helps. Though polo is just one of his many sporting loves (the other including motocross and skiing), we have to admit that we especially like him up on a horse. It just seems much more…regal — yeah, we went there.