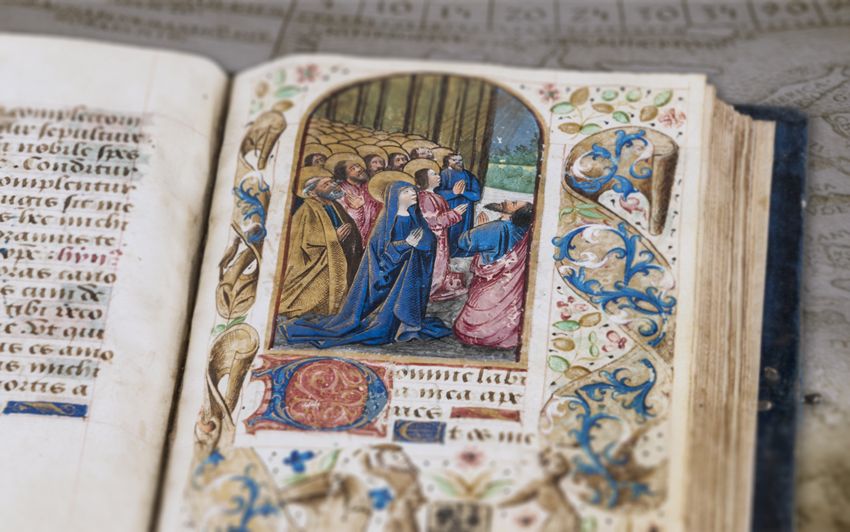 Lot 1; Photos Courtesy of Dreweatts & Bloomsbury Auctio
Dreweatts & Bloomsbury Auctions is catering to those obsessed with books with their Important Books sale on May 19. Taking place in their London saleroom, they are gearing up to auction off a slew of super rare tomes that you'll probably need to keep in a glass case, like a Cosmographia map of Britain from 1490 and an illuminate manuscript Book of Hours.
Lot 10
The distorted map of Britain from the Cosmographia (lot 10) was "conceived alongside others of the whole Roman Empire by Greco-Roman astrologer, mathematician and writer Claudius Ptolemaeus. Ptolemy's Cosmographia was a ground-breaking treaty that challenged medieval map-making and revolutionized cartography." Since maps at the time were made to reflect landmarks and powerful cities, the actual sizes were always skewed. Ptolemy actually used mathematical calculations though to try and accurately represent the land, dramatically changing future mapping. The lot contains a book that discusses the geography and one full of 27 copper-engraved maps of the known world, estimated to bring in £70,000-90,000 ($117,740-151,380).
lot 1
Coming from the medieval period in 1490 is the Book of Hours (lot 1), which was "produced on commission on a greater scale than any other book during the medieval period and played a vital role in the late Medieval and Renaissance cult of the virgin." It is expected to make at least £20,000 ($33,640).
Lot 94
The auction also includes three books previously owned by William Wordsworth (lot 94). One of the book's is Some Account of the Life and Writings of Lope Felix de Vega Carpio written by Henry Holland in 1806 and has an inscription from the author with Wordworth's ink signature. The item is bound in a decorative cloth covering, which were historically used to improve a book's appearance. Since the British Library has a similar copy of Holland's book that was bound by Wordworth's wife Dorothy, the auctioneer believes that she could have also done this one as well. The other two books (also bound) are John Dunton's 1818 two volume work The Life and Errors of John Dunton, which was owned by Wordworth's friend and peer Robert Southey. The auction house is hoping the books bring in at least £500 ($841).
Lot 2
Also included in the sale is Wordworth's copy of Yarrow Revisited and other Poems and later examples of printed books of hours, like Heures a Lusaige de Romme from 1521 and Hore beate marie secundum usum Romanium from 1507.
If you're interested in viewing the auction lot before bidding, visit the saleroom in Mayfair before May 18.
Lot 10
Lot 10