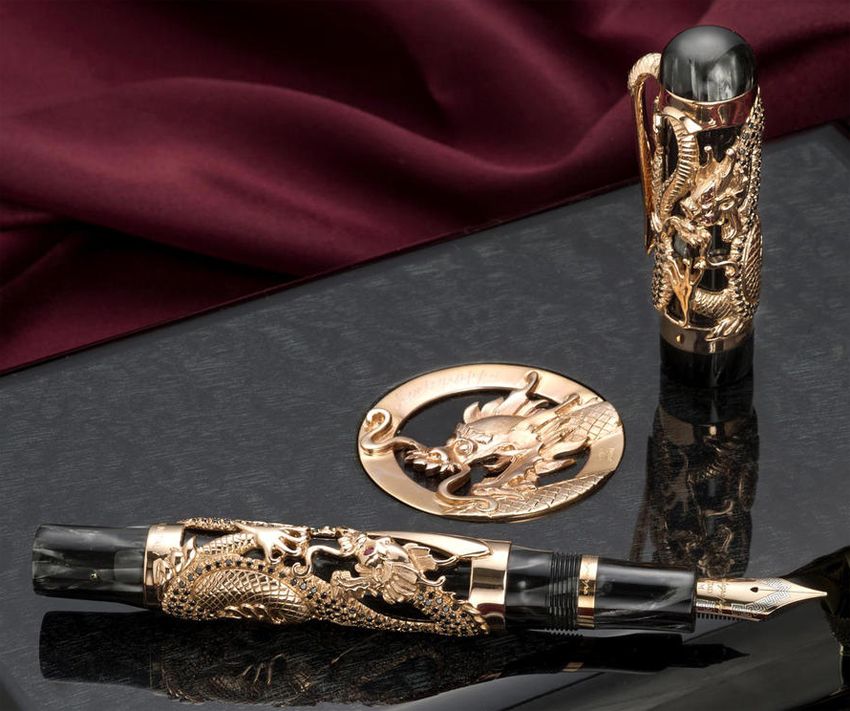 Photos Courtesy of Bonhams
Whether you're looking for the perfect way to celebrate your dad on Father's Day (especially if he's a John Lennon fan) or you just want to add to your collection, the Bonhams Fine Writing Instruments auction is one you shouldn't miss. Taking place in San Francisco on June 11, the event has over 260 pens on offer — including a rare Montegrappa Dragon 18K yellow gold fountain pen perfect for writing fan letters to George R. R. Martin with.
The artist's proof Montegrappa Dragon Limited Edition Prova d'Autore Fountain Pen features 590 brilliant-cut white diamonds (totaling to 6.95 carats) and has an estimated selling price up to $55,000 — which means it is leading the sale. Made in 1995, only 10 of these pens were made and they all sold out pretty much immediately, becoming really tough to acquire. This specific piece is one of two artist's proof pens, making it even more rare. The sale also includes different versions of this pen, including one made of blue celluloid with sapphires and a rare yellow gold instrument.
Beatles fans will want to take note of the Montblanc John Lennon 18K Solid White Gold Skeleton Limited Edition 70 Fountain Pen (estimated to sell for up to $50,000). The word "Imagine" encircles the barrel in honor of the iconic singer and poet's solo hit song, while the blue resin underneath symbolizes Lennon's trademark blue glasses. The clip was inspired by his guitar and is set with blue sapphire, and there the medium 18K gold nib is engraved with the singer's self-portrait.
Montblanc's Maecenas 18K Solid White Gold & Diamonds Special Limited Edition 20 Skeleton Fountain Pen is another noteworthy lot and will possibly sell for $30,000. The pen was made to mark the 20th anniversary of the Patron of Art series, honoring the first recorded patron in the history of arts and culture. Featuring a solid 18K white gold cap and end piece, the writing instrument is trimmed with gold and set with diamonds. The cap is engraved with an ode to Maecenas by Horace and the end piece has a Roman coin replica inset.
The sale also has an Omas UNICEF Signs for Children model ($50,000) and a Sakura Limited Edition 88 fountain pen ($12,000).