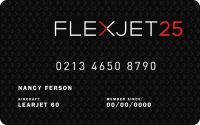 Shopping:
Today, luxury goods come in all shapes, sizes and categories. And, while there are any number of perennial favorites, such as wine and fine spirits, jewelry and haute couture, there are many lesser known fine living items flying under the radar.
Here's a glimpse of just a few examples of luxury goods you may not know about at a variety of price points:
The Flexjet 25 Jet Card
(www.flexjet25.com)
Operated by Jet Solutions LLC, Flexjet offers the Flexjet 25 jet card (starts at $107,900) that provides travel-by-the-hour on the exclusive Flexjet 25 fleet of Bombardier Learjet 40, Learjet 45, Learjet 60, Challenger 300 and Challenger 604 aircraft. The card is available as a traditional 25-hour program, and also includes options for 30 and 35 hours of flight time. Offering outstanding choice, flexibility and value, the Flexjet 25 jet card offers many unique features along with world-class Flexjet customer service. Flexjet 25 jet card owners can choose from four different price levels for each aircraft based on a preset number of travel days per year - ranging from an unrestricted 365-day jet card to a 355-day, 325-day or 275-day jet card. Flexjet 25 jet card owners are guaranteed that they will fly on the Flexjet 25 fleet 95 percent of the time or better, and card owners can take advantage of Flexjet's industry-leading secondary service area program, enabling them to avoid repositioning charges. Using simple interchange ratios, Flexjet 25 jet card owners may also opt to travel on larger or smaller aircraft, or fly internationally through Bombardier Skyjet International.
Cloud 9 Living (www.cloud9living.com)
As the emerging industry leader in the innovative category of experience gifts, Cloud 9 Living offers customers access to an unparalleled portfolio of over 1,700 unique experiences throughout the United States. The company turns incredible experiences into unforgettable gifts that create lifelong memories. With experiences ranging from dinner cruises, cooking classes, Americas Cup sailing charters and private concerts with famous musicians to private wine tastings, racing Nextel cup style stockcars, hot air balloon rides and glass blowing lessons, Cloud 9 Living's experience portfolio has something to satisfy nearly every taste and every budget. Prices range from $40 through $100,000, with 80% of experiences under $500 and 50% of experiences under $200.

18kt Gold Tee and Ball Marker Gift Set (www.MailliardDesigns.com)

Unquestionably the ultimate golf memento, Mailliard Solid Gold Designs' Gold Tee Collection ($3,200 per boxed set) has been painstakingly created with the passionate golfer in mind. Each gift set, including golf tee and custom engraved ball marker, is meticulously crafted in solid 18kt gold and is available in rose, white and yellow gold. The pair comes in a handsome hardwood presentation box lined with velvet. Each golf tee and ball marker gift set represents the quality, the prestige, the honor and the beauty that a true golf champion deserves. It's an extravagant gift item for those with discerning tastes, perfect for nearly any occasion including anniversaries, birthdays, graduations, holidays or any worthy momentous occasion when only the most extraordinary reward will do.

FIJI Water Annual Home Delivery Subscription (www.ShopFIJIWater.com)
FIJI is a premium bottled water that has naturally-occurring electrolytes, which is among the reasons it's become increasingly popular with many chefs, celebrities and others in the palate-sensitive crowd. Gifitng a FIJI Water Annual Home Delivery Subscription ($399-549 depending on size and quantity ordered) is not only perfect for those who are health conscious, but also for the green thinkers on your list. FIJI was the first bottled water brand to announce its carbon footprint and became carbon negative, meaning production and sale of every bottle actually results in a net reduction of carbon from the atmosphere. The company's sustainability program also includes 20% reduction in packaging and 50% more energy used from renewable sources. Each annual subscription also comes with a free Signature Silver Sleeve to dress up the bottle.

Evian Pr?t-?-Porter Bottle by Jean Paul Gaultier (www.ShopEvian.com)
Speaking of water, perhaps you know someone who likes to up the glam factor on all fronts? They'll be thrilled to know that Evian Natural Spring Water has again partnered with an internationally acclaimed French designer to produce the Evian Pr?t-?-Porter Bottle ($13.95 each, or $118.00 for a case of 12). This elegant "ready-to-wear" bottle by Jean Paul Gaultier possesses a style that is classic, yet modern all at once. Adorned with a pattern of interlocking snowflakes, the bottle recalls the crisp, icy mountain tops of the French Alps from which Evian Natural Spring Water is derived. Appropriately enough, Evian Pr?t-?-Porter Bottle by Jean Paul Gaultier made its global debut in Paris, France during Paris Fashion Week. With Gaultier having consistently pushed the boundaries of fashion, he's now also made an indelible mark with this pristine packaging effort.

Butterfly Limited's "Special Gold Reserve" Chocolate Fudge Butter Rum Cake (www.rum-cake.com)
For that person who simply has everything or for that extra special occasion, you simply must indulge in Butterfly Limited's outrageously divine Chocolate Fudge Butter Rum Cake adorned with 23k gold leaf flakes ($65, or $50 sans gold). This fine-textured "European wet" chocolate pound cake, saturated with rum, is an heirloom dessert made from a nine generations-old recipe. It is intended to be savored slowly, in small portions. Luckily and amazingly, it has a shelf life of three months when refrigerated. The Chocolate Fudge Butter Rum Cake, which is 2.25 lbs. offering 10-15 servings, is also delivered with an elegant calligraphic salutation that prepares your mind for what is sure to be a heavenly experience.

CatGenie Self-Flushing, Self-Washing Cat Box (www.catgenie.com)
Invented by a former rocket scientist, the CatGenie ($297) is a litter box-replacement and the world's only self-flushing, self-washing cat box. It works like a cat box, acts like a toilet, and cleans like a modern washing appliance. The CatGenie is the product of years of research and development by PetNovations, utilizing several technologies to achieve this innovative cat care solution. It uses permanent Washable Granules that never need changing, and after a one-time, simple DIY hook up to water, cat lovers will never have to scoop, touch, or change litter again. Did you know changing a litter box daily adds up to approximately 124 minutes per month - 25 hours per year? With the CatGenie, cat owners will only need to spend around 2 minutes per month. The CatGenie is also environmentally-friendly since it can be automatically programmed to flush cat waste down the drain and out of the home into sanitary sewers for proper treatment.

its-laS-tik Fashion Shopping Bags (www.whatsurbag-usa.com)

Now you can carry your groceries and parcels in in high fashion style with its-laS-tik's ($14.00-$24.00) line of colorful reusable shopping and grocery bags. Not only can using a non-plastic reusable shopping bag help reduce the plastic bag pandemic, but you can also make a fashion statement and support a nonprofit organization devoted to helping environmental, social and global causes - all at the same time since five percent of all sales are donated to Hope House in New Orleans, LA. The stylish, durable, versatile and reusable bags utilize a special flexible nylon and Lycra fabric blend, and are offered in 2 sizes a wild array of solid or metallic colors or prints. Unlike any other reusable bag, its-laS-tik stretches, bounces and moves with you while you walk, allowing you to hold more yet feel like you are carrying less. They take the shape of their contents and hold everything securely, while simultaneously taking the stress off your hands, back, shoulders and knees with their elasticity and flexibility. When empty, they spring back into shape and roll up into a very compact little configuration. The bags are washable, reusable, economical and oh-so-trendy.

The Luxe List product review editor Merilee Kern scours the luxury goods marketplace for new and innovative must haves. Product submissions accepted via e-mail at Merilee@JustLuxe.com.

- Merilee Kern

JustLuxé.com's "The Luxe List" Product Review Editor



The Flexjet 25 Jet Card

Cloud 9 Living

18kt Gold Tee and Ball Marker Gift Set

FIJI Water Annual Home Delivery Subscription

Evian Bottle by Jean Paul Gaultier

Butterfly Limited's Special Gold Reserve Chocolate Fudge Butter Rum Cake

CatGenie

Fashion Shopping Bags