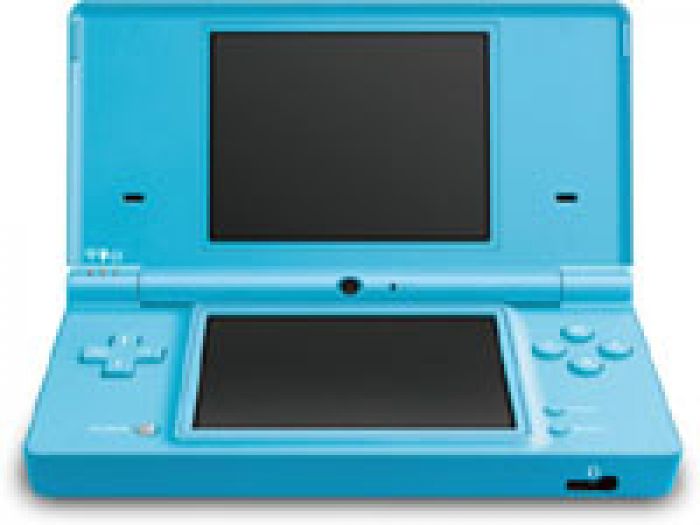 Shopping:
If you're one of "those" (as I admittedly am) who start making a holiday list and checking it twice even before the sun sets on the summer season, then this roundup is for you. Here's a mid-year temperature check on some creative and innovative playthings worth gifting to the special children in your life, whether for a birthday, the winter holidays, or just because. For infants and moms-to-be, be sure to check out the "Brilliant for Baby" section on page 3.


Nintendo DSi - $169.99
For your techno tot, Nintendo's new DSi is where it's at. Far better than its DS predecessors, already the world's best-selling portable game system, the sleek DSi boasts a host of new multimedia capabilities that make it much more interactive and enhance the overall gaming experience.

Case in point: among other fun new features, the DSi has two built-in cameras with various lenses allowing users to create all sorts of fun pictures with cool effects. Of the 11 available lenses, the graffiti lens allows users to doodle on the photos, while a distortion lens lets users bend, pull and stretch images. Photos can be saved to the device's photo album and even sent to other DSi devices in the room. Embedded PictoChat software allows one user to draw pictures, or up to 16 users within local range of one another to chat at once.

The DSi also offers neat audio features. Using the built-in microphone and enhanced speakers, kids will love recording and playing with voices and manipulating AAC file format music that can be loaded with a SD card (sold separately). Twelve different sound filters allow them to alter the speed and pitch of recorded sounds or music files leading to all kinds of silly sound shenanigans. Particularly cool is the Instrumental filter allowing kids to strip out a song's vocals so they can take the lead. Or, they can slow down a guitar solo to try and play along, or speed up a podcast to skip the boring stuff.


There are quite literally hundreds of games that you can get for the DSi across all genres: educational, racing, adventure, sports, strategy, and just plain fun. Wireless communication allows multiplayer action with just one game card, depending on the software. With a range is 30-100 feet, your child and their siblings or friends can enjoy the spirit of competition. What's more, the DSi connects directly to an existing wireless Internet connection, allowing kids to surf the Net, download software, and play games with friends near and far. Nintendo's proprietary Wi-Fi Connection puts users in touch with other players everywhere--from across the room to across the globe. With all of this interactivity, robust parental controls are also on board allowing parents or caregivers to manage access to DSi functions and accessible content.

The DSi comes in black or a turquoise blue, and has not just one but two backlit 3.25" LCD screen displays = one of which with analog touch technology. Five brightness settings better assure kids can view the screen comfortably, with the lower settings prolonging battery charge. The DSi also has a real-time clock with date, time and alarm settings. (www.nintendodsi.com)

HearthSong SINGER Sewing Machine - $159
HearthSong The Best of Sewing Machine Fun for Kids Book - $16.95
Crafty kids ages 10 and up will love this student sewing machine by SINGER featuring no less 35 stitch functions, including buttonholes, zigzags and others that can be easily set with the turn of a dial. This kid-friendly machine is as educational and practical as it is fun and engaging, allowing kids to be creative while also learning an invaluable skill that will last a lifetime. And, using HearthSong's SINGER sewing machine couldn't be easier with its quick and smooth threading, automatic four-step buttonhole operation and a handy free arm for swing hard-to-reach areas. The machine comes with a canvas cover, but is also offered with a hard-side universal sewing machine carrying case (sold separately) for easier transport and storage.

Be sure to also pick up HearthSong's 127-page The Best of Sewing Machine Fun for Kids book intended to encourage kids to use the sewing machine by offering beginner tips, games and projects with clear, colorful directions. The book details 13 age-appropriate projects that teach kids how to sew, with skills progressively building as they work their way through it. It also offers safety precautions and "Helper Star" notes providing guidance to the adults in charge. The Best of Sewing Machine Fun for Kids is sure to have the sewing machine humming away on fun tasks in no time, like making a soft bunny, lunch bags, ornaments and cool hair scrunchies. (www.hearthsong.com)
Magic Cabin Mermaid Beach Wrap and Dragonfly Towel - $35.98-$49.98 each
Magic Cabin's whimsical towels will spur your child's imagination while also keeping her or him cozy and content. The Mermaid Beach Wrap is a top-quality terrycloth towel with enchanting tail fins that that kids will love to get wrapped up in after a bath or afternoon in the pool or ocean. Made of soft, absorbent cotton and available in blue, green or pink, children ages 3-12 can wear this 58" Mermaid Beach Wrap either tied around the waist or shoulders. A 48" long mini version is available with an adorable hood for kids ages 3 and under.

Similarly, Magic Cabin's Dragonfly towel transports children to a fantasy world while they dry off from a bath or swim. Pockets at the wing tips allow kids to slip their hands in and make the large textured fabric Dragonfly draped across the length of the towel seemingly take flight. These towels are also made of an absorbent cotton terry with the addition of an extremely supple velour. Darling antennae complete the look. Magic Cabin's Dragonfly towel is available in blue or pink and measures approximately 48" x 36". (www.magiccabin.com)

The First Adventures of Incredible You Book--$32.95
What child wouldn't adore their own personalized storybook that makes him or her the star character? The award-winning The First Adventures of Incredible You book makes this not only possible, but easy!

This beautifully illustrated, full-color, rhyme-based hardcover book has been cleverly designed to accommodate any sex, race, or family structure, and has over 20 places to incorporate details about your child, the family, friends, and traditions and activities that mean the most. Information is entered through a quick and simple online order form. From family members, to a favorite dish and sports team, to the child's favorite beach location and zoo, the story weave's in a string of personalized information that makes it an exciting and endearing read. Vibrant colors and fanciful illustrations perfectly compliment the imaginative storyline. With a dedication page featuring a special message from the gift-giver, The First Adventures of Incredible You is a unique keepsake your child is sure to treasure all of his or her life. (www.CustomMadeforKids.com)

Eco & Fair Trade Certified Sports Balls - $29.99-$59.99
Now your kids can play sports in an Earth-friendly and humanitarian way! Fair Trade Sports has introduced a line of eco-friendly and certified fair trade sports balls that will satisfy their desire to top-quality equipment while upholding your family's values. The company's eco-certified Fair Trade sports balls are even vegan, and provide a "sweatshop-free" assurance that the adult workers who produced the item received a fair wage and work in suitable conditions. With after-tax profits committed to charities benefitting at-risk children around the globe, Fair Trade Sports is indubitably building a better world - one ball at a time.


I had the opportunity to test a few Fair Trade Sports balls and I'm here to tell you they are extremely constructed with top-quality materials. The size 7 Eco-Basketball adorned with the word "Respect" has a rubber exterior and interior and an all-weather, high-grip surface that makes it handy for year-round play. It is constructed to be the official weight and size to ensure that it conforms to all international ball standards. The rugby ball, also imprinted wit the word "Respect," is similarly made for year-round for training or match play. It has an all-weather premium rubber surface for a sure grip, a latex balance bladder, and also conforms to international standards. The soccer ball also conforms to international play and comes is sizes 4 and 5 to accommodate different age groups. The ball has been hand-sewn by the company's talented adult stitchers using high-quality Austrian PU synthetic shine leather. The ball also has a latex balance bladder that assures great bounce, shape and air retention. (www.FairTradeSports.com)

Cash Cache Beginning Personal Finance Organizer - $21.99
A Silver Winner of the 2004 Parent's Choice Award, the Cash Cache is a beginner personal finance organizer for kids ages 12-16. Intended to teach teens fundamental money management skills, the Cash Cache sets the foundation for a bright financial future. It demystifies the world of banking, investing and credit, while instilling an appreciation for delayed gratification.

Designed in a hip silver ballistic nylon binder with a security padlock, the organizer also features four pouches to organize cash for saving, spending, donating and investing; handy pockets for a calculator, coupons, bank statements and other financial documents; and templates for goal-setting and budgeting. It also includes a 36-page handbook on personal finance basics written for beginners, including sections on the stock market, credit cards, checking and savings accounts and paying taxes. This is a gift any mini mogul is sure to love. (http://msgen.com)


Money Savvy Pig Bank - $14.99 - 16.99
This 21st Century piggy bank teaches children ages 4-11 the fundamentals of money management. Made of a translucent durable polystyrene plastic, this brilliant bank is divided into four separate chambers - Save, Spend, Donate and Invest - where they can deposit their allowance and monetary gifts. Included with this early-learning personal finance system are goal stickers that help children better understand the value of saving and investing money. The Money Savvy Pig comes in six colors: blue, red, pink, green, purple and a platinum edition, which has a shiny chrome finish. If pigs aren't your kid's thing, there's also a cash cow or football design available. The bank fits all size coins, including dollar and Canadian-size, up to $300 worth. (http://msgen.com)

Millionaire Kid's Club Series Books - $12.95 each
This set of children's "real world" storybooks for kids ages 4-11 teach important lessons about living and succeeding in society, each ending with a "financially secure ever after." This beautifully illustrated 3-volume book series is co-written by financial literacy expert Susan Beacham and New York Times bestselling author Lynnette Khalfani Cox. Each of the books teach children that money is not merely something to be used for buying pizza and music, but rather should be used for four very important tasks, namely to save, spend, donate or invest.

Volume 1 is Garage Sale Riches follows Isaiah and his three BFFs as they prepare for and execute a daunting garage sale, and then ponder what to do with the earnings. Volume 2 Putting The "Do" In Donate puts $100 in the hands of young Dennis, but with a catch - he must use that money to help someone less fortunate. Volume 3 Home Sweet Home spotlights Stephanie whose family might have to sell their home since her father lost his job. Will they save their house, or will Stephanie have to move out? Purchase a copy to end the suspense. (http://msgen.com)
Kokopax Baby Carrier - $179.99
The Kokopax classic baby carrier offers a decidedly fresh and innovative take on traditional framed carriers. Designed as the go-to gear for the cheers and chores of daily life, this stylish, lightweight, user-friendly carrier offers a safe and comfortable ride for babies six months to two years of age up to 35 pounds. It is made with 100% cotton canvas and has a sturdy anodized, adjustable aluminum frame that provides an ideal fit for mom and dad, alike. What's particularly cool about this carrier is the "kickstand" that allows the unit to stand upright on its own for easy loading and unloading.

The Kokopax baby carrier collection comes in six fashionable fabric designs: bubbles, buds, sailor, espresso, garden and licorice. Other features of this include padded waist support, a handy storage pocket, a toy ring, a five-point safety harness and a carry bag. Although the Kokopax is loaded with features, it weighs a mere 2.7 pounds. This is the perfect carrier for jet-set families since it easily collapses and fits in overhead airline bins. It's no wonder celebrities like Charlie Sheen, Laila Ali, Trista Stutter, and Giada De Laurentiis have Kokopax of their own.

In addition to the baby carrier, Kokopax offers other items that make easier for young families-on-the-go, including blakely ring totes and sunhats that both coordinate with the carriers as well as organic accessories. (www.kokopax.com)


Kushies My Bag - $79
Kushies "My Bag" is the ultimate overnight or daycare carry all that is as fashionable as it is functional. This fully loaded duffel bag comes with everything a child needs for an outing, including an adorable insulated snack box, an insulated medicine box, "clean clothes" and "dirty clothes" bags, a soiled clothes bag with laundry bag insert, a spare shoes bag, one pillow and blanket, and a hook for hanging it up. It also comes with a free "Kritter" cuddly toy for good measure.

With a modern design aesthetic - blue and brown for boys and pink and brown for girls both with a cute dog caricature - this stylish satchel can survive many a venture out since it's made from highly durable nylon fabric. Each item in the main bag has name tag identifiers that may be personalized with the child's name to minimize the chances of loss or theft. The bag also features convenient compartments for mom and dad's stuff.

In addition to "My Bag," Kushies manufacturers a broad range of high quality juvenile products and accessories for newborn through toddler. Kushies ever-expanding product line currently stands at over 350 baby products, including apparel, the award-winning Kushies Zolo toy collection, and an array of essentials. (www.kushies.com)


Mutsy BabySitter Chassis - $50
Based in the Netherlands, Mutsy is widely regarded as one of the most distinctive and functional manufacturers of modern, stylish, flexible and scalable mobility product lines. Underscoring the adaptability of the company's products is the Mutsy's BabySitter Chassis - a convenient and portable stand that allows the Mutsy stroller seat (sold separately) to become a rocker or feeding seat. Made of strong, lightweight aluminum that coordinates with all Mutsy seats, the BabySitter Chassis frame can be stabilized for still seating during feeding and then readjusted allowing it to rock back and forth. The fully adjustable seat may be used in a sitting-up position with the food tray during meal time, or reclined so the baby can nap comfortably.

This BabySitter is one part of an interchangeable system utilizing the company's "intelligent click" mechanism, with other components including a travel cot (bassinet), a stroller seat, a car seat, or a fun set. With so many combinations of mobility units, parents will find it easier than ever to entertain the little one at home or on-the-go. All Mutsy products are available in various eye-catching fabrics and designs to compliment any child's personality. Mutsy is known to have a huge A-list celebrity following, including the likes of Tiger Woods, Tori Spelling, Heidi Klum, Halle Berry, and the Crown Prince of Spain. Mutsy is a must for the little prince or princess in your castle. (www.mutsy.com)

Le Baby Hair Gel - $10
Okay, how cute and cool is this? Give your baby a new doo with Le Baby Hair Gel - a safe and natural style solution that works on all hair types. Specifically developed to be hypo-allergenic without any harsh chemicals, parabens, sulfates or fragrances, this gel is actually a great option for any member of the family that likes to groom au natural - adults and children, alike. But, as the name implies, Le Baby Hair Gel is especially great for infants since it also easily rinses out with water. It never leaves hair stiff or sticky, but rather moisturizes the mini-mane while keeping it neatly in place all day long. Spit need not apply.

Le Baby Hair Gel was invented by a mother who had been searching for a product to tame and style her daughter's fly-away hair without aggravating her eczema or irritating her sensitive skin. Unable to find the right product, this mom-on-a-mission spent months experimenting with different all-natural formulas that eventually led her to create the perfect combination. Having since brought her praise-worthy product to market, your baby can now have the perfect hairstyle worry-free. (www.lebabyinc.com)

- Merilee Kern
JustLuxé.com's "The Luxe List" Executive Review Editor

The Luxe List product, service and travel review editor Merilee Kern scours the luxury marketplace for new and captivating "musts." Submissions are accepted via e-mail at Merilee@JustLuxe.com. View all of Merilee's Luxe List articles from here (scroll to page bottom).