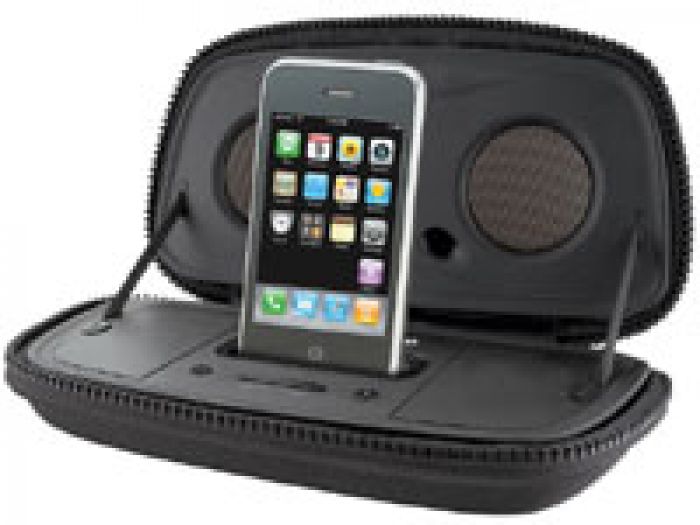 Posh Product Picks - This Months Favorite Finds:
Finding fabulous gifts for those who seemingly have it all can be a challenge at best - even if the gift recipient is yourself. Each month I scour the luxury marketplace to uncover new, innovative and otherwise exemplary must-haves - the best-of-the-best across a range of product categories. The gift-and-get-worthy goods that make The Luxe List cut a mix of tasteful, trendy, and high quality commodities - some extravagant, some practical - that are all sure to please.
Consider this month's favorite finds:

iHome Audio Portable iPod Speaker Case-$99.99
For all of you jet setters out there, here's a great piece of go-gear for you. iHome Audio's portable iPod speaker case is a great way to listen to your tunes loud, with great sound quality and, most importantly, without the discomfort and constraints of earbuds. Whether in a hotel room, in the car, on the boat or lounging beach or pool-side, this rugged, lightweight, splash-resistant speaker case - a compact 8.5" in length - allows you to enjoy your iPod or other MP3 music wirelessly. The speakers, which are housed in a trendy black fabric, also provide a MaxxBass effect, which seriously pumps up the sound lows and enhances the audio performance overall. When connected to the AC adaptor (included), this iPod speaker case also allows you to listen to your music while the player is charging in the built-in dock. It also comes with an Aux/MP3 line-in jack for other MP3 players and audio devices, as well as a detachable carrying strap. The iP29 model, which I tested and loved, also plays and charges iPhones. This item is a thoughtful gift for the traveler in your life and a must-have for that person whose ineradicably on-the-go. (www.ihomeaudio.com)


Novero TheFirstOne Bluetooth Earpiece-$149.00
Combining a minimalist, mod fashion aesthetic with high-level functionality, novero's TheFirstOne is a premium Bluetooth earpiece intended to compliment your lifestyle. Those with an appreciation for fine accessories will love this sleek and sophisticated earpiece, designed in lily white with chrome accents, which is fabulous in both form and function. Its simple façade is relatively unassuming, and does not command attention like other unsightly earpieces on the market. But, however stylish, a Bluetooth device must perform. I can tell you TheFirstOne duly delivers, with dual-microphone DSP technology reducing distracting background noise and, in turn, delivering crystal clear sound quality. A voice cue or simple push-button allows you to dial out or make a three-way call. Compatible with nearly every Bluetooth-enabled handset on the market today, TheFirstOne actually holds its charge for an impressive 4 1/2 hours of talk time before a recharge is required. And, because my love of accessories extends to gadgets as well, I was thrilled to learn that this elegant earpiece comes with a cache of accessories to ensure it's charged and within reach at all times. TheFirstOne comes with a car charger dock, desk stand, USB charger, necklace and a wearable clip. It also has seven interchangeable rings to ensure a snug and secure fit in the ear. What's more, TheFirstOne is delivered in an impressive package with the device majestically on display, which is sure to make quite a first impression on the lucky gift recipient. (www.novero.com)


Solio Classic Solar Charger-$89.95
Here's a gift that truly keeps on giving - the Solio Classic Solar charger available at Oakleigh of Vermont. And, don't let its compact size, just shy of a 10" diameter when unfurled, fool you. This hybrid, universal and portable solar charger will power and recharge your electronic gadgets at the same rate as your wall adapter! This green gadget lets you harness the power of the sun, or a USB port when needed, to charge virtually any electronic device - from mobile phones, to MP3 and game players, to digital cameras, to GPS units - from anywhere in the world, no matter how remote. Solio can accept power from either the sun or an electricity source, storing this energy within its internal rechargeable battery for up to a year. Solio then uses this stored energy to power or recharge your gadgets. For example, a fully charged Solio will charge a typical mobile phone more than twice or provide over 20 hours of iPod music (Just 1 hour of sunshine = 20 minutes talk time or 50 minutes of MP3 music). While it's particularly handy as an emergency power source or for those times you are away from power outlets, like when camping, I highly recommend using the Solio as your one-stop charging solution in your every day life to reduce your energy consumption and carbon footprint. Having multiple chargers for your various electronics is SO yesterday. Streamline, simplify and save with Solio, and shop Oakleigh of Vermont since the company donates 10% of its after tax profits to various charitable causes. (www.oakleighvermont.com)
Lia Sophia "Milky Way" Design Fashion Jewelry-$176.00 full set
Accessory aficionados like me are indelibly on the hunt for fashion jewelry that translates well among various types of ensembles, from career to casual to evening. This quest has led me to Lia Sophia - an extraordinarily innovative jewelry line crafted with exquisite attention to detail and an impeccably high quality standard. While the company's overall collection boasts a myriad of eye-catching statement pieces sure to elevate one's fashion image, I'm particularly enchanted by Lia Sophia's "Milky Way" design. This stellar trio set, comprised of a necklace ($68), bracelet ($78) and earrings ($30) all sold separately, boasts asymmetrical, free-form silver settings that showcase genuine mother-of-pearl, ebony enamel inlays and, in the necklace and bracelet, blue-gray glass domes. A double ribbon of black suede, which can be affixed as choker length or slightly longer, adds a dramatic finishing touch to the necklace. This set will perfectly compliment your crispest power suit, and will take class up a simple jeans ensemble. With this versatility, it's no wonder Hollywood fashion icons the likes of Kim Cattrall, Fergie, and Kate Moss have been seen sporting Lia Sophia jewelry. (www.liasophia.com)


Coffee Bean Direct Large Coffee Lovers Gift Basket-$99.95
There's one simple thing that makes all coffee lovers happy - more coffee! So, delight the java junkie in your life with a large, fair trade certified "Coffee Lovers Gift Basket" by Coffee Bean Direct. This bountiful hand-crafted basket overflows with fresh ground coffee and other assorted goodies. It contains five 1-pound bags of fresh ground coffee (select from regular or decaf flavored or roasts or a mix thereof), a 12-ounce package of chocolate covered espresso beans, a package of chocolate wafers, a Coffee Bean Direct T-shirt, a package of cookies, six assorted biscotti, and two Coffee Bean Direct coffee mugs. It all arrives packaged in a lovely dual-colored wicker basket that can and should be re-purposed and topped with a large red bow. Coffee Bean Direct roasts and packs its more than 70 varieties of coffees just prior to shipment to ensure consumers get the best brew possible, cup after cup. This gift is a sure to "perk" up friends, family members, teachers, colleagues, coaches or any other coffee connoisseur in your life. Give this Coffee Lovers Gift Basket and savor the smile you'll receive in return. (www.coffeebeandirect.com)


Plia Designs Bellini iPhone Clutch-$78.00
Suffice it to say I've seen my fair share of cell phone cases, but none nearly as chic and fabulous as Plia Designs' Bellini iPhone clutch. This Italian Bellini-inspired phone case is itself a delicious "cocktail" of fine craftsmanship, whimsy and glam. This elegant mini-clutch style case, measuring just 5.8" W x 3.6" H, features an exterior of shiny glazed leather stamped with a reptile skin pattern, 2 interior compartments (one for the mobile device, the other for money and credit cards), and a grey microsuede interior. My favorite feature, however, is the sleek, jewel-encrusted alligator perched atop the flap, which also has hidden magnets to keep it closed. The Bellini iPhone Clutch is offered with or without the bejeweled alligator, and in multiple colors: Black, Green, Rouge and Plum. It arrives in a lovely red hardshell gift box wrapped with a satin ribbon. While certainly petite, the pocket-sized clutch is actually roomy enough to hold your mobile phone, cash and a few credit cards, and a slim lip gloss - what else does a girl need for a fashionable night out on the town? Geek gear be gone! (www.PliaDesigns.com)


Strappity Do Da Designer Bra Straps-$32.99-$57.99
Stop fighting to hide your bra straps - flaunt them for all to see, but only if they're from Strappity-Do-Da! This company makes beautiful beaded bra straps that can be hooked into a convertible bra, corset, slip, bathing suit or top that has sewn-in bra tabs. Trust me-you'll want these stylish straps, hand-made by Columbian artisans, to be seen! There are an extraordinary number of Strappity-Do-Da designs available to suit any taste and occasion, from every day, to sporty, to evening wear and bridal. They even have stretchy options for those gals who need some extra give in their straps. This delicate yet durable shoulder jewelry is made from Czech glass beads, Swarovski crystals, semiprecious stones and other high quality materials, and come in a dizzying array of colors and styles to match any ensemble. Also thoughtfully engineered, these bra straps incorporate hypoallergenic hardware while the round glass beads are designed not to snag fine fabrics. The bra straps feature a patented adjustable system that allows them to support every bra size and shape. As beautiful as these bra straps are, even more lovely is the fact that this company provides financial opportunity, self esteem and hope to the artisans and other various contingencies who participate in the manufacturing process. Go ahead, show your support. (www.strappity.com)


Mumm Napa 2001 DVX-$55
Have a special occasion up ahead worthy of a bottle of bubbly? Make the occasion even more memorable with Mumm Napa 2001 DVX - one of Napa Valley's finest sparkling wines inspired by Guy Devaux, renowned for bringing champagne-making techniques to the production of sparkling wine. Mumm Napa 2001 DVX is a powerful and elegant tete de cuvee that captures the soul of Napa-region fruit through a meticulous selection of the best lots of Chardonnay and Pinot Noir grapes. Moderate summer temperatures led to a 2001 harvest of grapes with concentrated flavors at relatively low sugars. Only 11 lots of Chardonnay and Pinot Noir were selected for the final 2001 DVX blend. Fifteen percent of the wine was barrel fermented to add depth and spiciness. The blend was then yeast aged an average of six years in the bottle, which added a creamy vanilla quality infused with flavors of biscuit, bread dough, honeysuckle and white chocolate. The wine was disgorged as a brut style and aged another six months on the cork before its release. The elegant finesse of the cuvee is what defines DVX's signature style. The 2001 DVX is complex, with a brilliant golden-yellow hue and a gentle and ever-so-mesmerizing stream of tiny bubbles. The tasting notes for the Mumm Napa 2001 DVX, with which I concur having tasted the elixir, describe it as rich and nicely balanced, boasting an aroma of toasted brioche with a hint of oak spice, followed by the scent of green apple, ripe peaches, and fresh raspberries. The finish is refreshing and, in my case, left me effervescent and longing for more. (www.mummnapa.com)


Ravi Instant Wine Chiller-$39.95
Need a great gift for the consummate entertainer or wine connoisseur in your life, even if that's you? Well, chill out. The wine, that is, via the Ravi Instant Wine Chiller. Never again fear your wine is too warm to serve just before a party starts or a dinner commences. Surprisingly, red wines are often served too warm, causing the alcohol to predominate and conceal the fruit of the wine and alter its characteristics. Obviously the result is a less than optimal tasting experience. Indeed intended for red wine, the Ravi Instant Wine Chiller cools room temperature wine instantaneously to that of a wine cellar, namely between 54 and 64 degrees Fahrenheit. Ravi can also cool to perfection a white or rosé wine that has been left at room temperature for a bit too long. Considered to be the fastest wine chiller on the market today, Ravi's innovation is that the device cools the wine itself rather than the entire bottle. Simply store the chiller's inner stainless steel cartridge in the refrigerator or freezer so that it's always ready for use - a minimum of 6 hours is recommended. When needed, retrieve the cartridge, attach the base, and secure it to the neck of a wine bottle. Viola! When the wine pours through the Ravi into a glass, it will be at the perfect serving temperature. Since not all wines are drunk at the same temperature, Ravi also has a valve that lets you control the flow of wine to obtain the desired temperature. Recently featured in Wine Spectator magazine and now on the venerable Luxe List, the Ravi is sure to be a sensation this season. It's certainly a "cool" gift idea! (www.ravisolution.com)


The Wonderbar-$40-$130
Here's something interesting to add to your beauty and anti-aging arsenal. The Wonderbar, a skin care bar made in Malaysia, is purported to be an all-in-one product: a toner, cleanser and exfoliator that firms, lifts and rejuvenates the skin in as little as three minutes. Billed as a total detox for the skin addressing issues such as wrinkles, brown spots, large pores, acne, eczema, rosacea, psoriasis, dryness, and oiliness among other skin scoundrels, the Wonderbar has amassed quite a loyal following. "Many people don't want to use harsh chemicals and/or don't have the time and patience to use multiple products every day and night to achieve their desired beauty outcome," says a company spokesperson. This luxurious bar contains a unique mixture of an algae complex called Chlorey'nahre and a detoxifying, herb-rich Heilmoor clay with the essence of more than 700 herbs and plants that work together to flush out toxins trapped under the skin. The algae formulation moisturizes and assists in the skin's natural ability to rejuvenate cells quickly. But take note: the Wonderbar first works on healing and detoxifying the skin, which can cause some itchiness, dryness, peeling or even breakouts, which the company notes is an indication the product is working. You be the judge. (www.wonderbarusa.com)

- Merilee Kern
JustLuxé "The Luxe List" Executive Review Editor

The Luxe List product, service and travel review editor Merilee Kern scours the luxury marketplace for new and captivating "musts." Submissions are accepted via e-mail at Merilee@JustLuxe.com. View all of Merilee's Luxe List articles from here (scroll to page bottom).

iHome Audio Portable iPod Speaker Case

Novero TheFirstOne Bluetooth Earpiece

Solio Classic Solar Charger

Lia Sophia Milky Way

Coffee Bean Direct Large Coffee Lovers Gift Basket

Plia Designs Bellini iPhone Clutch

Strappity Do Da Designer Bra Straps

Mumm Napa 2001 DVX

Ravi Instant Wine Chiller

The Wonderbar