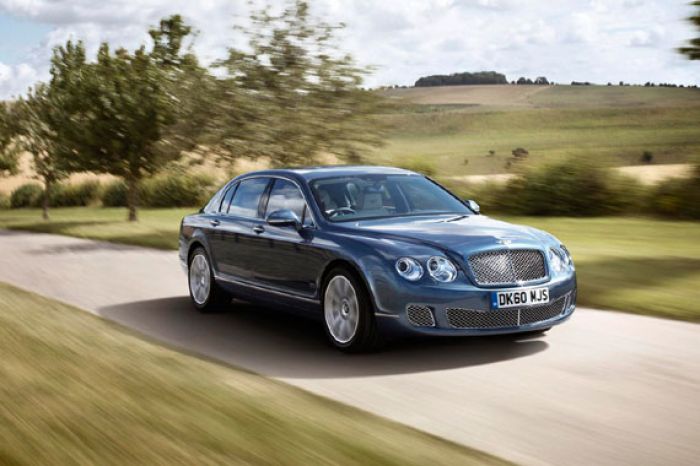 Luxury Cars:
Some of the top luxury car brands are making exciting announcements about their current and future models. Here's the run-down:
Bentley Continental
Bentley announced today that it will add the Series 51 (pictured above) designation to the 2012 model year Continental Flying Spur and Flying Spur Speed. For those who don't know, the Series 51 allows customers to order "off the peg" from an innovative and exclusive range of recommended combinations. The Series 51 made its debut back in 2009, on the Continental GT and GTC models. Now, the program offers no less than 14 unique Series 51 designs for the Continental Flying Spur and Flying Spur Speed, which means that the customers can tailor their cars to their individual tastes.


Lamborghini
Lamborghini revealed today the details and photos of its all-new V12 engine as well as its new ISR (Independent Shifting Rod) transmission. The new powertrain will enter production early 2011, and will be available on the new Lamborghini Murcielago successor a.k.a. Aventador a.k.a. Urus/Jota. As expected, the new twelve-cylinder engine with 6.5 liter displacement delivers 700 hp or 525 kW, as well as a maximum torque of 690 Newton meters.


Porsche
As expected Porsche revealed today at the 2010 LA Auto Show, the new Cayman R, a sportier version of the entry-level coupe, which promises to offer more precise driving experience than the Cayman S. The new car is powered by a tuned-up 3.4-litre six-cylinder engine developing 330 hp (243 kW) and mated to a six-speed manual gearbox that transmits the power to the rear wheels. With these numbers, the car can sprint from 0 to 100 km/h (62 mph) in 5.0 seconds and has a top speed of 282 km/h (175 mph). Using the state-of-the-art seven-speed Porsche Doppelkupplungsgetriebe (PDK), it can accelerate to 100 km/h (62 mph) in 4.9 seconds, while using the optional Sport Chrono packages, the time is reduced even further to 4.7 seconds. The model fitted with the PDK gearbox has a top speed of 280 km/h (174 mph). With the manual gearbox installed, the Cayman R delivers a fuel consumption of 9.7 l/100 km (29.12 mpg imp.), while with the PDK the fuel consumption is reduced to 9.3 l/100 km (30.37 mpg imp.).


Mercedes-Benz
Finally, Mercedes-Benz revealed today the 2012 CLS63 AMG at the 2010 LA Auto Show, a car that promises to deliver impressive performances and set a new benchmark in design and efficiency. As expected, the 2012 Mercedes-Benz CLS63 AMG carries the all-new 5.5-liter V8 biturbo engine delivering 518 hp and 516 lb-ft of torque. The acceleration is impressive: 0-60 mph (96 km/h) in just 4.4 seconds and a top speed limited to 155 mph or 250 km/h. Furthermore, Mercedes-Benz, offers the AMG Performance Package, which offers 550 hp and 590 lb-ft of torque, a 0-60 mph (96 km/h) in just 4.3 seconds and a top speed of 186 km/h or 300 km/h. The engine is mated to the AMG SPEEDSHIFT MCT 7-speed Sport Transmission.


BMW
Although the Concept 6 Series Coupe was revealed at the 2010 Los Angeles Auto Show, the Bavarian manufacturer decided to unveil the production-ready 2012 Bmw 650i Convertible and announced that the new car will go on sale in Spring of 2011. As you can see from the photo, the new car is clearly inspired by the Concept 6 Series Coupe, offering the new design philosophy for the Bavarian carmaker. As expected, the car is powered by a 4.4-liter V8 engine delivering 400 hp between 5,500 and 6,400 rpm and peak torque of 450 lb-ft between 1,750 and 4,500 rpm. The engine can be mated to the company's new 8-speed Sport Automatic gearbox or BMW's traditional 6-speed manual transmission. With the manual transmission installed, the new car can sprint from 0 to 60 mph in 4.9 seconds, while the 8-speed automatic transmission delivers the same time. Top speed is electronically limited to 155 mph. The new 6-Series also comes with new systems in order to reduce fuel consumption, such as Brake Energy Regeneration, intelligent lightweight construction and extensive aerodynamic refinement.

Andrew Christian
4wheelsnews
JustLuxe Contributor