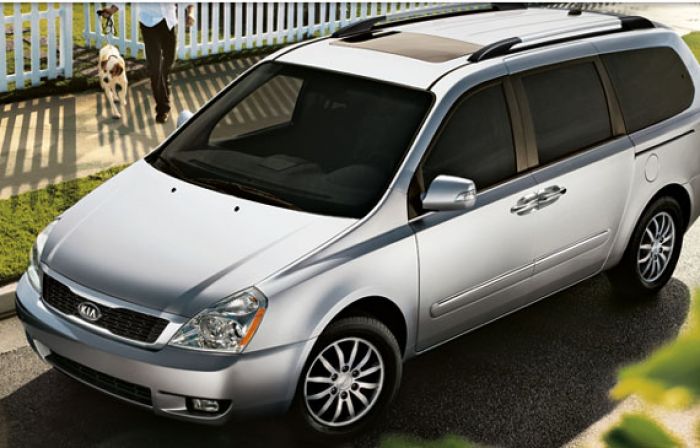 The Kia Sedona has been named "Best Minivan for the Money" for 2011 by U.S. News & World Report. With measurable value being more important than ever, the Kia Sedona is developing quite the pedigree in its short but
illustrious history
.
The award-winning vehicle is also a four-time recipient of the Top Safety Pick by the Insurance Institute for Highway Safety (IIHS). Additionally, that same institute cited the Sedona as the "safest minivan ever tested" in 2006.

"As one of the longest-running nameplates in the Kia lineup, we are thrilled that Sedona continues to be recognized for offering a complete package of standard technology, convenience and safety features at a tremendous value," said Michael Sprague, VP of marketing and communications, Kia Motors America. "In the current economic climate total cost of ownership is very important to consumers. The unique formula employed by U.S. News & World Report combines their own rankings with overall costs, and further solidifies Sedona's position as a segment leader in value."

U.S. News & World Report's evaluation process in making its selections stems from numerous reviews of automobiles combined with data provided by TrueCar that quantifies the value of automobiles. The average transaction price over the past 30 days and the five-year total cost of ownership, including depreciation, maintenance and insurance are evaluated for all cars included. This is the publication's third year of issuing the "Best Car for the Money" awards.

Kia Motors of America recorded its best sales year ever in 2010. It also marked the company's 16th consecutive year of increasing its market share in the U.S. The Sedona is available in two model styles: LX and EX. Excluding dealer's costs, the base price for the LX model and EX models are $24,595 and $29,195, respectively.

From the Clubhouse: LPGA Kia Classic in L.A.
Kia Motors America also is bringing the excitement of women's professional golf back to Los Angeles for the first time in six years. It is the title sponsor of the Ladies Professional Golf Association's (LPGA) Kia Classic. A field of 144 players, including the LPGA's top 20 ranked players, will compete for the tournament's $1.7 million purse. The LPGA tourney takes place at Industry Hills Golf Club at Pacific Palms from March 21-27. The event will be broadcast live on the Golf Channel.