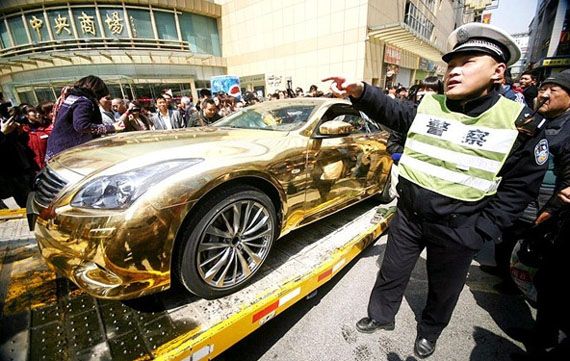 Photo Credit: Wantchinatimes.com
Nothing's more luxe than a gold-covered car, but Chinese police did not react with 'oohs' and 'aahs' to a gold Infiniti G-37 parked curbside. Instead, the shiny, eye-catching vehicle was towed.
China has a rising class of luxury lovers and a yellow-gold covered Infiniti G-37 is definitely symbolic of that. Impressive and stunning, the
unique car
drew plenty of onlookers and, unfortunately for the owners, police attention.
On Tuesday, March 29, in Nanjing, China in a crowded street, a super shiny gold covered Infiniti G-37 pulled up to the curb. As a crowd began to gather, a very well dressed man and woman got out of the car and headed to the sidewalk. Once on the sidewalk, the couple waited.
As the crowd grew in size, the couple continued to stand there silently, until the police took notice. First, the couple was slapped with a fine. Then the police noticed that the car had no license plates, so they decided to tow it away.
Amidst the camera flashes of the ever-growing crowd, the police managed to bring in a tow truck. While the towing was taking place, and even as the gold-colored car was vanishing into traffic, the couple continued to remain silent.
Apparently the incident was as completely random as it sounds - although the custom made gold car was evidently the product of a nearby auto shop, so it could have been all for the publicity. After all, it's not every day that a precious metal-colored car appears and disappears.
Via
Autoevolution