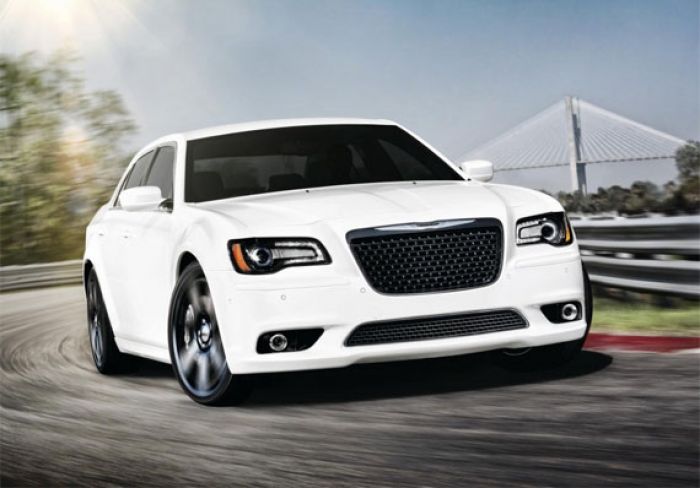 Photo Courtesy of ChryslerGroup
The 2012 Chrysler 300 SRT8 is the first offering from the newly formed SRT brand by the Detroit-based automaker. The car follows in the tire tracks of the automaker's modern Chrysler 300, which was launched in 2005, and is in the tradition of one of the first
high-performance automobiles
of its time: the 1955 Chrysler 300. The Detroit automaker calls the new 300 SRT8 its "most powerful, best handling sedan ever." The base price is $47,995.
Powered by a 470-horsepower, 6.4-liter Hemi V-8 engine, it accelerates from zero to 60 mph in less than five seconds. Additional performance stats include a top speed of 175 mph and a quarter mile run in less than 13 seconds. It also features a dual suspension system that is both adaptable to road conditions and changeable per driver's preferences.
"The Chrysler 300 SRT8 is the no compromises king of the hill in the 300 model lineup in 2012, featuring the ultimate combination of world-class luxury and performance in our most powerful, best-handling Chrysler brand sedan ever," said Olivier Francois, president and CEO, Chrysler Brand and lead executive for marketing at Chrysler.
Chrysler also reported that the new 2012 300 SRT8 improves fuel-efficiency for highway driving by as much as 25 percent, which is due to a new active-valve exhaust system. Along with a heated steering wheel with mounted-paddle shifters for hands-on-wheel shifting, a 19-speaker
Harman Kardon audio system
also is available.
The SRT (Street and Racing Technology) engineering team has beefed up the classy 2011 Chrysler 300 with a new level of performance and luxury standards. For more information, visit
ChryslerGroupLLC.com
.